Types Of Tea We Aren't Aware Of Yet
First of all, it's important to note that true "tea" all comes from the same plant; the Camellia sinensis. The classification of this depends on how the plant's leaves are prepared and processed. However, in modern times it is not only these traditional teas that enjoy popularity. There is a wide range of herbal drinks made from flowers, grains, leaves, and even mushrooms. While coffee is the drink of choice in most of the Western world, tea dominates the Eastern part of the planet (and the UK). Find out about different types of it and the uses.
1. Black Tea
Black tea is allowed to wither, which precedes a process called oxidation (sometimes incorrectly referred to as fermentation). During which water evaporates out of the leaf and the leaf absorbs more oxygen from the air. It usually undergoes full oxidation, and the results are the characteristic dark brown and black leaf. The typically more robust and pronounced flavors of this is got when brewed appropriately. Moreover, higher caffeine content  is seen depending on the type and brewing technique.
2. Oolong Tea
Oolong tea (also known as wulong tea) is allowed to undergo partial oxidation. These teas have a caffeine content between that of green teas and black teas. The flavor of oolong (wulong) teas is typically not as robust as blacks or as subtle as greens, but has its own extremely fragrant and intriguing tones. Oolongs (wulongs) are often compared to the taste and aroma of fresh flowers or fresh fruit.
3. White Tea
White tea is the most delicate of all teas. They are appreciated for their subtlety, complexity, and natural sweetness. They are hand-processed using the youngest shoots of the tea plant, with no oxidation. When brewed correctly, with a very low temperature and a short steeping time, white teas can produce low amounts of caffeine. Of course, steeping with hotter temperature and longer time will extract more caffeine. But certainly by definition, this does not have less caffeine than other teas.
4. Masala chai 
Take black tea and add ginger and cardamom (and sometimes cinnamon, clove, or anise), then serve it with milk and sugar, and you get masala chai.  Originating in the Indian subcontinent, the beverage has gained worldwide popularity, becoming a feature in many coffee and tea houses. The antifungal and anti-bacterial properties of masala tea of masala tea prevent colds and a nasal congestion. The immunity-boosting clove and ginger will also help you keep a cough away.
5. Green Tea
This traditional Chinese drink is made from leaves that aren't oxidized as long as black tea leaves, producing flavors that range from earthy to toasty to seaweedy. It's basically green! Though sometimes it could look yellow-ish. Reported Benefits- There's a bunch: increased metabolism, lower cholesterol, and possibly decreased risk of heart failure. Drink this in the morning around 10:00 to 11:00 pm or early at night. You can drink a cup of this between meals additionally, two hours before or after to maximize the nutrient intake and iron absorption.
6. Matcha
Of the many different types of tea, Matcha is a little peculiar. You won't find matcha leaves—this green drink comes as a stone-ground powder, and is so beloved in Japan. There's a ceremony centered around how to prepare and serve it. If you see green ice cream, that's mostly derived from matcha. Matcha is high in catechins which is believed to have cancer-fighting effects on the body.
7. Herbal Teas
"Herbal tea" is a catch-all term for most any type that doesn't consist of plant leaves. Instead, this drink is created by steeping spices, herbs, and other plants. Caffeine?Usually there is no caffeine in herbal teas. The antioxidants and vitamins found in herbal teas are great for helping fight disease and infections. Additionally, they can protect against oxidative stress and lower the risk of chronic disease.  Above all, it keeps you healthy.
Relate article- 4 Incredible Health Benefits of Dandelion Tea
Lockdown Desserts You Can Make At Home
With the extension of lockdown, we certainly don't see our routine life and social life coming back to normal. Therefore, this means that there is still a big NO to social gatherings, outings and trips to restaurants. The government is trying to reopen things step by step. However, it is going to be a while until we get to go out and savour out favorite desserts. Read this post to know about the Lockdown Desserts you can easily make at home.
Mango and Rice Treat
The first dish in our Lock Down Deserts is the mango and rice treat.
Ingredients
 Mango Puree- 1 cup
Ambemohar Rice- 1/3 cup
Milk – 1 cup
Water – 1 cup
 3 Sugar – tablespoons
Cardamom Powder – 1 tsp
How to Make it? 
Soak the rice in water for 30 minutes. Drain the water from the rice and add water and milk to it. After that, add cardamom.
Then cook this on a slow simmer till the rice is cooked. Later, add sugar and cook it for 10 minutes. Let the mixture cool down.
Once the dish cools, add mango puree to it. Then blend the mixture in a mixer. Pour it in a dish and chill it for an hour. Decorate the dish with garnishes of your choice. For instance, you can use fruits or different nuts in your kitchen.
Peanut Butter Bites
The next Lockdown Desserts recipe is of peanut butter bites.
Ingredients
Dates (seedless)- 50 grams
Peanut Butter- 40 grams
Oats- 30 grams
Cocoa Powder – 10 grams
Water – 15 ml
Milk Chocolate – 150 grams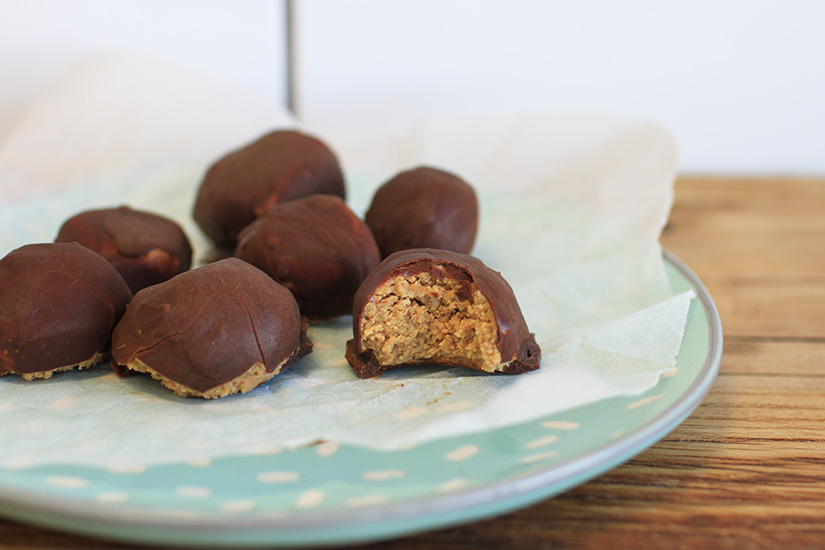 Method 
Mix all the ingredients except for chocolate together. After that, grind the ingredients into a coarse mix. Pour the mixture in a bowl and mix.
Make small balls of the mixture and refrigerate for about 30 minutes. Before you take out the balls, heat and melt the chocolate in a microwave or on a double boiler in the pan. Make sure the chocolate is smooth.
Dip each peanut ball in it. Chill these balls in the fridge for 15 to 20 minutes.
Lemon Drizzle Tea Cake
The last of our Lockdown Desserts recipe is Lemon Drizzle Tea Cake. Take a look at the amazing dish here.
Ingredients 
 Softened butter – 115 grams
Caster Sugar – 175 grams (if unavailable, use granulated sugar)
Egg (at room temperature) – 100 grams
Lemon Zest grated- 1
Flour – 175 grams
Baking Powder – 2.5 grams
 Milk – 85 mi
For Icing 
Icing sugar – 90 grams
Lemons – 2
Some granulated sugar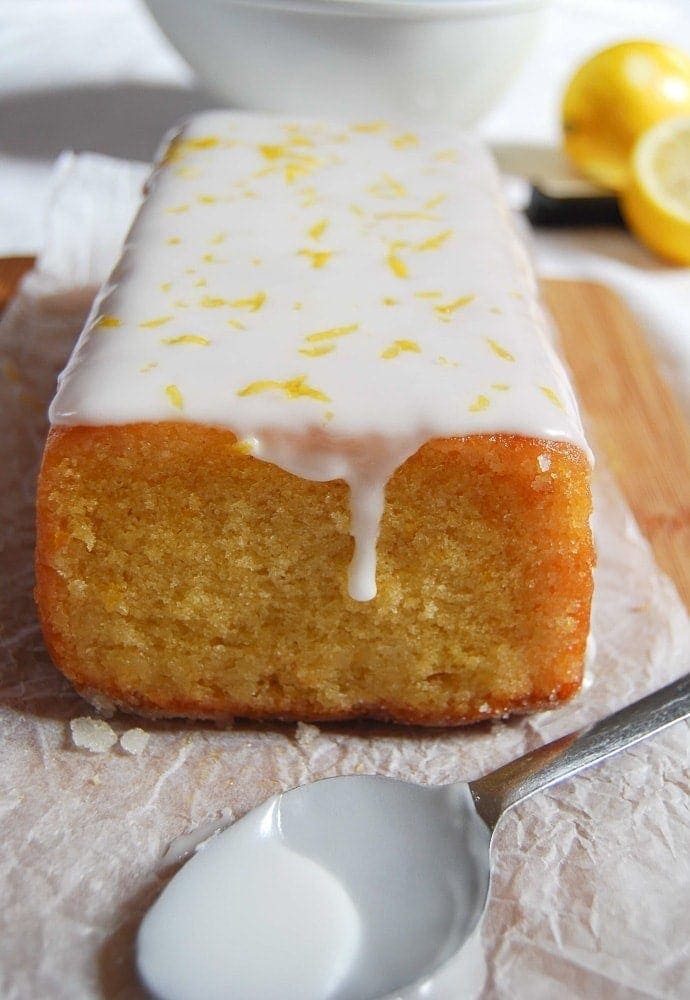 Method
Cream the sugar with butter. To this, add some lemon zest. After that sieve the flour for a few times with baking powder.
Whisk the eggs in a separate bowl. Grease a loaf tin and line it with baking paper. Add eggs in stages to the butter and sugar. After that blend well. Fold this in the flour. After that, add milk to it.
Make sure that the batter is in dropping consistency. Pour this mixture in the tin. Dip a knife in melted butter and then draw a line in the middle of the batter.
Bake this for about 30 to 35 minutes at a temperature of 17 degrees Celsius.
To make the icing, mix sugar with lemon juice. Then glaze on the cake after it is cooled. Sprinkle some granulated sugar on the top. For instance, this sugar will give a crunchy taste.
Also check out Atmanirbhar Bharat: Swadeshi Food Brands before you do your next shopping trip.
7 Delicious and Healthy Breakfast Smoothies
Breakfast is the most important meal of the day. While we all love different pot meals to start our day, starting your day off with delicious, fruit-filled smoothie is not a bad idea! There are different ways to make smoothies. Some might be confusing some might be simple. It is a 5-minute recipe with hardly 4-5 ingredients but, the task is to gain the freshness and fruitiness in a perfect balance.
Here are 7 breakfast smoothies recipes to kick start your day- 
Base Mango Smoothie Recipe
1 1/2 cup mango
1 1/2 cup blending liquid
1 tablespoon chia seeds
Isn't the simple one, the best of all? Simple Mango smoothie is full of taste and refreshment.
Anti-Inflammatory Turmeric Frozen Smoothie Packs 
1 1/2 cups frozen pineapple chunks
1/4 teaspoon of turmeric
1 pinch of black pepper
1 tablespoon chia seeds
1 cup packed spinach or kale
1 1/2 cups blending liquid
Turmeric with some greens? Why not call it a pure tropical bliss! As the name suggests, it is a pack full of anti-inflammatory resources.
Blueberry Coconut Water 
1 1/2 cups frozen blueberries

1/2 cup yogurt full-fat plain or greek

1/4 teaspoon coconut extract

1 tablespoon hemp heart

1 cup coconut water
Full of anti-oxidant rich blueberries, hydrating coconut water. It also gets a boost of protein with hemp.
Green Mango Superfood 
1 cup spinach packed

1.5 cups frozen ripe mango chunks

1 teaspoon ground flax

1 tablespoon chia seeds

1/8 teaspoon almond extract

1 1/4 cups almond milk
Packed with nutrients in the form of chia, spinach and flax, this drink is surely one nutritional one. Moreover, some almond extract with mango makes it tastes up to the notch.
Goji Peach Cherry 
1 cup frozen cherries

1/2 cup frozen peach slices

1 tablespoon goji berries

1 1/4 cup almond milk

1 tablespoon chia seeds

1 teaspoon ground flax
Cherries can improve your sleep pattern and we would proudly love to name this smoothie as "Good night wellness." Surprisingly, a combination of goji berries and cherries will provide you with a subtle chocolaty flavour when mixed together.
Strawberry Mango Chai

3/4 cup frozen mango chunks
3/4 cup frozen strawberries
1/4 teaspoon vanilla extract
1 1/4 cups almond milk or more as needed to blend
1/8 teaspoon chai spice blend
1 tablespoon chia seeds
1 teaspoon ground flax
1 cup spinach
Subtly sweet with a great depth of flavours from vanilla and chai blend. A handful of chia seeds and spinach makes this even healthier!
Matcha Avocado Smoothie 
3/4 cup frozen mango chunks

1/4 cup frozen avocado chunks

1/8 teaspoon vanilla extract

1 tablespoon chia seeds

1 teaspoon of this matcha powder

1 1/2 cups almond milk
The avocado helps in making the smoothie green, creamier & thicker which is, of course, more healthy-looking and it tastes much better than the regular one.
For more, checkout- Food articles.
Popular COVID Related Food Myths, Debunked!
As we all are battling COVID since the past couple of months now, there have been a lot of popular food myths that are doing rounds. The riskiest thing while battling such a disease is to stay away from myths. So here we are busting popular food myths and giving you a proper fact check!
1. Myth: Eating frozen foods such as ice-cream spreads the Coronavirus.
Fact Check: False. There is no scientific evidence that hygienically made frozen foods and ice-cream spread the Coronavirus.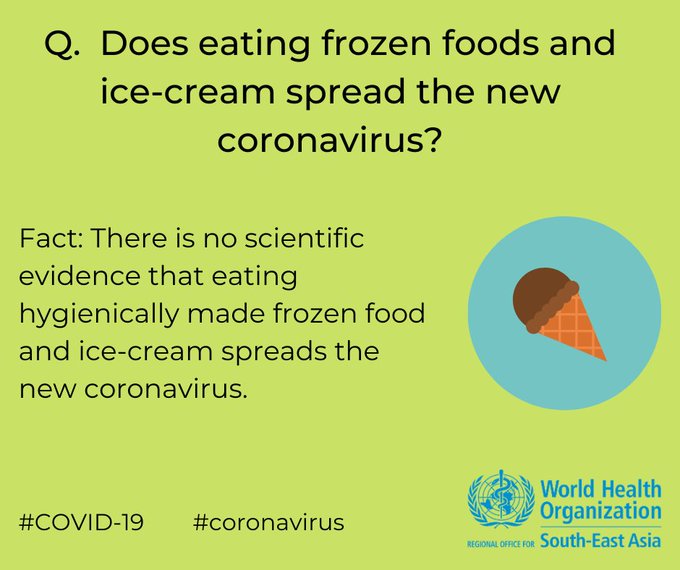 2. Myth: Adding pepper to your soup or other meals prevents Coronavirus.
Fact Check: False. Hot peppers in your food do not help in the prevention or cure of the Coronavirus.
3. Myth: Drinking lots of water every 15 minutes helps flush out the Coronavirus.
Fact Check: False. There is no evidence that drinking lots of water flush out the Coronavirus. However, for good health, it is recommended by WHO to have adequate water.
4. Myth: Lemon and turmeric help prevent Covid-19.
Fact check: False. There is no scientific evidence that lemon/turmeric prevents COVID-19. In general, however, the WHO recommends consuming adequate fruit and vegetable as part of a healthy diet.
5. Myth: Coronavirus can be treated by gargling with warm water mixed with salt and vinegar.
Fact Check: False. Coronavirus can not be treated by gargling with warm water mixed with salt and vinegar.
6. Myth: Eating garlic helps prevent infection with Covid-19.
Fact Check: False. Garlic is a healthy food that may have some antimicrobial properties. There is no evidence that eating garlic has protected people from Coronavirus.
7. Myth: Drinking fresh bitter gourd juice can cure the Coronavirus.
Fact Check: False. Drinking bitter gourd juice cannot cure Covid-19.
8. Myth: Eating chicken causes spread of new Coronavirus.
Fact Check: False. Eating hygienically prepared and well-cooked chicken is safe and does not cause the spread of the Coronavirus.
9. Myth: Using Mustard Oil in cooking can help prevent the spread of Coronavirus.
Fact Check: False. Mustard oil does not help to prevent Covid-19.
10. Myth: Spraying alcohol or chlorine all over your body kills the virus.
Fact Check: Spraying alcohol or chlorine all over your body can not kill the new Coronavirus.False.