Tips To Let Someone Down Gently In A Relationship
Not every relationship works out. And we cannot always say yes to every person we meet. It often happens that no matter how nice a person is, you still might not get along with them or they just won't be "the one" for you and you have to simply let them down.  It's very important to say no and let someone down without being rude and it's not as simple as it sounds.
Here are some tips to let someone down gently
1. It's very important to understand that you're being unfair to the other person if you haven't told them what's on your mind. You've been dragging them along while you have no plans of taking your relationship with them any further all this while and they have been emotionally invested in it. This is why it is very crucial to be upfront about your feeling with the other person without any delay whatsoever. Remember that the longer you wait, the more hurt they will be!
2. Never let someone down or end things with someone you've been in a relationship with via phone or text unless you're in a long-distance relationship. Getting closure is as important for them as it is for you so, don't deny them the opportunity to get the closure that they deserve.
3. Don't focus on their mistakes and the reasons why it didn't work and all the other negative aspects of your relationship. Simply focus on the positives and how it can open up new doors for both of you and the good memories you shared would be a better or rather a more positive way to end things.
4. Avoid making up excuses and lies in order to make things easier for you and your partner. Truth has a way of coming around and when it does it will leave your partner hurt and angry and it may even jeopardize any relationship you share in the future, be it friendship or anything else. Moreover, it often happens that your partner can tell if you're lying and it only adds more insult to the injury and makes things worse for them.
JUST SAY NO
5. Breakups are tough even if you were in a casual fling or whatever it may be. But it's important to ensure that when you let someone down, you don't leave anything lingering. You don't want them to live with hopes that things might turn around in the future. Ensure that you end things with immense clarity and make your stance very clear to them.
6. After you end things with a person, it's essential to give that person some space and let them heal. Don't expect them to immediately jump into a friendship with you because it might end up in a disaster. You do not want them to constantly struggle with their feelings just to keep you happy.
7. After letting someone down, you need to absolutely avoid jumping in bed with them. It's very easy to get back with your ex or simply hook up with your old fling but this only complicates things and makes them messy. Avoid making this messy mistake.
For more check out https://littleletterslinked.com/category/lifestyle/
This One Trick Can Help You Lose Weight
We all try our best to lose weight, isn't it? We try so many things out of comfort zone. These include gym memberships, strict diets, disciplined lifestyle, herbal teas! Yes, we try so hard only to shed a few kilos off our body weight or fat percentage. But what if we tell you that there is one simple tip which can massively help you lose weight? Yes, just a simple lifestyle change and you are done!
Firstly, let us tell you what happens when you overthink about losing weight. Thinking about losing weight often leads to losing your mind. Thus, in such circumstances, you ruin your eating habits. Then, either you stop eating, each leads to starvation and starvation leads to bloating. Or you eat too much, which again is ruins the game plan!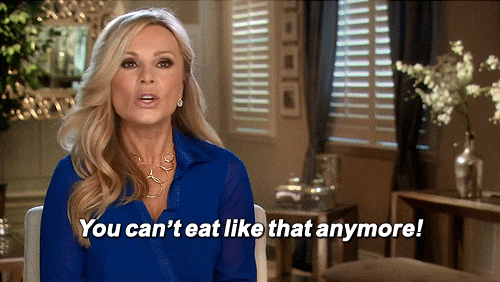 Source: Giphy.com
So, what is the secret trick?
By now, you must be really curious as to what is the secret trick, right?
Well, the tip is to simply change your eating habits. That is, to eat your dinner 2 hours prior to sleep. Now, that sounds too easy for massive weight loss, isn't it? But what if we assure you that this minor lifestyle change in your eating habits will be the number one help in losing weight? Will you believe us then?
For instance, if you are planning to sleep at 10:30 p.m., eat your dinner by 8:30 p.m. and so on!
But remember another thing, you need to let go of carbs for your dinner or else even a 2-hour gap would not help in the digestion. And we do not want any fat getting stored in our body, is it?
So start by the following table:
Day 1; 8:30 p.m. Vegetable soup with extra tofu, broccoli and mushrooms.
Day 2; 8:30 p.m. Grilled chicken or tofu with extra veggies and clear soup.
Day 3; 8:30 p.m. Besan cheela with tomato or onion gravy or baked potato with brown rice.
Day 4; 8:30 p.m. Repeat Day 1
Day 5; 8:30 p.m. Repeat Day 2
Day 6; 8:30 p.m. Repeat Day 3
Day 7: CHEAT DAY!!
So, from today onwards, all you have to do is time your dinner and sleeping schedule. Believe us, soon you will notice many changes, especially in your belly. A flat stomach and tight core is definitely coming your way! The only question is what are you ready for the change and reach your fitness goals?
If you know more such simple tips and tricks to lose weight, mention them in the comments.
For more such news, visit here.
Fashion Mantras To Look Your Best Every Day
"It's a new era in fashion – there are no rules." – Alexander McQueen
Fashion is different for all. We all have a different sense of fashion and our taste totally depends on our mood. But don't we all have a set of fashion mantras that we swear by? These mantras help us glide through everyday life without any stress. Well, if you've never thought about it, let's introduce you to our fashion mantras and maybe these will become your guide to looking your best every day. Here come the hacks.
Accessories: The More, The Merrier
You might have heard a lot of people tell you this, but honestly, the right accessory can completely change the way you look. You can wear your plain white shirt for a wedding if you accessorize it right. Yes! That's the power of accessories. Just wear a printed skirt and top your look with a statement neckpiece and you're good to go. Best part? You can also repeat the same outfit and look completely different from another pair of accessory!
Here Deepika has styled the most basic outfit with a pair of golden hoops & red heels, making a statement.
Always Wait For The Big Sale
Plan your shopping days around sales, and there are many these days, so you don't really have to wait for long. It'll be easier on your pocket and you'll be able to avoid impulsive buys. Speaking of sales, the most popular Black Friday Sale is here! Shop from your favourite brands at the Pacific Mall and avail amazing discounts.
Research Before Putting On A Look Together
Internet is a powerful tool. There are so many trends that keep coming and going. Going to a mall without knowing what you want can be time-consuming and a little heavy on the pocket.  Research before you put a look together so that it becomes easy for you to shop.
Try-On Clothes Before You Buy Them
How many times has it happened that you've picked something up from a store without trying it? You may be confident about your size when it's your regular brand, but you still need to try a piece of clothing on before you pay for it. Of course, you can always exchange/return, but more often than not, we get lazy and the outfit stays in the wardrobe for years. No wasting hard-earned money, right? So, try it before you buy it!
Know Your Body Type
Trends change really fast and know what suits your (beautiful) body type. We are the kinds who believe that fashion is about feeling good about yourself. Which is why knowing what suits your body is the best way to go about it. Know your body type and pick outfits that fit them well.
Reuse and recycle
Sustainability is the need of the hour! Even with your fashion choices, you can make a lot of difference and still make stylish statements. One example: Get your mother's old saree and make a great outfit out of that (maybe a maxi dress or a pretty skirt). You can also reuse your old T-shirt and tie a knot to turn it into a crop top. There are countless possibilities stored in your wardrobe right now, you just need to take a closer look.
Be confident
Self-confidence goes a long way. Try to embrace who you are and stay happy with the way you look. Confidence is the key to rock any look and that, my friend, is the only mantra you need sometimes!
8 Insanely Cool Christmas Gifts Ideas This Season
Christmas 

season

is

back

again. Oh!

so merry

.
There's no end to the possibilities when it comes to buying your friends, family and loved ones a gift. But if you overthink it too much, you'll panic and probably end up with something bad. Do the easy thing and the right thing, Go on to read what can be the best gifts you could gift this Christmas season.
1. Candles
Whether you've earned a little self-care or you're looking for an easy, but a totally great gift for your best friend, a beautiful, bespoke candle is a worthy option. From luxury pumpkin-scented ones to affordable reusable jar candles that smell like fall, and soy votives that will remind them of home, the best gifts for candle lovers all have one thing in common: They have the power to turn a bad day around. Is there any better present than that? Christmas is all about feeling that warmth of family and friends. So this would be an ideal gift option.
2. Chocolates
Why chocolates? Well to begin with it's velvety, smooth, rich, and sweet – its very nature speaks of luxury. Even the ancient Mayans used cocoa beans as a currency, so you know it's valuable. A beautifully packed box of handmade chocolate truffles not only tastes delicious but it looks classy as well, adding that sense of value to the gift. And by choosing a specific box for someone, it shows that you actually took the time to think about what they would enjoy, which makes the gift that much more meaningful.
3. Wine
Who doesn't like wine? You'd be hard-pressed to find anyone who frowns when they unwrap a bottle of wine, whether it's a prime vintage of Châteauneuf-du-Pape or humble table wine. Every bottle serves a different and equally important purpose, which means that you don't have to break the bank if you don't want to. It's well documented that the vast majority of people feel happier, more comfortable, more generous and generally awesome after consuming wine.
4. Throw pillows
Throw pillows are one of the easiest ways to enhance the look of a room, adding a pop of colour, an unexpected print, or an opportunity to tie a disparate decor scheme together. They're also a great way to add a dose of personality to space, which is why throw pillows can make an excellent holiday gift idea under the right circumstances. What better occasion than Christmas to gift such a cute and thoughtful gift.
5. Journal
A journal can be used in a variety of different ways. It can be a diary, a place to write recipes, family memory book, used to document a vacation, a sketchbook, a place to store images of all the cool things you want to be, do, and have. Journals are pretty! They are often little works of art that are so much fun to open. You can buy handmade journals on Etsy and other crafty websites and give someone a one-of-a-kind gift.
6. Wrist Watch
It's a way of expressing your love. A watch can be a perfect way to remind your loved ones how much you love them. Just looking at the watch, they will remember the one who gave them the gift and will enhance the love and thoughtfulness between them. It is timeless. This Christmas season head up to the nearest showroom and find a perfect watch as a gift.
7. A Musical Instrument
Let's face it. Sometimes, giving a musical instrument as a Christmas gift can be a bummer. That expensive guitar or keyboard can lay dormant in the corner after the initial excitement wanes, and eventually end up for sale. But given the right circumstances, it can also be the best gift you can ever give anyone, especially a child! Here are a few reasons why a musical instrument can be the most rewarding and lasting gift you'll ever give. Playing a musical instrument is one of the most direct ways to express one's emotions.
8. Perfumes
Perfume can be extremely personal to the wearer, based on favourite scents and the reaction to individual body chemistry. However, if you're looking to buy a gift that is both personal and luxurious, you can't go wrong with perfume. Perfume is easy to pick out with a few guidelines. Age and past scents are good things to keep in mind when buying a fragrance to give as a gift. Trendy designer perfumes endorsed by celebrities are perfect for younger women, while older women may prefer classic fragrances. If you know she has a favourite scent, find out what the main elements of that fragrance are. From there you can easily select something that is similar but new.
Related article- Top 10 Christmas Movies To Binge-watch This December