This One Trick Can Help You Lose Weight
We all try our best to lose weight, isn't it? We try so many things out of comfort zone. These include gym memberships, strict diets, disciplined lifestyle, herbal teas! Yes, we try so hard only to shed a few kilos off our body weight or fat percentage. But what if we tell you that there is one simple tip which can massively help you lose weight? Yes, just a simple lifestyle change and you are done!
Firstly, let us tell you what happens when you overthink about losing weight. Thinking about losing weight often leads to losing your mind. Thus, in such circumstances, you ruin your eating habits. Then, either you stop eating, each leads to starvation and starvation leads to bloating. Or you eat too much, which again is ruins the game plan!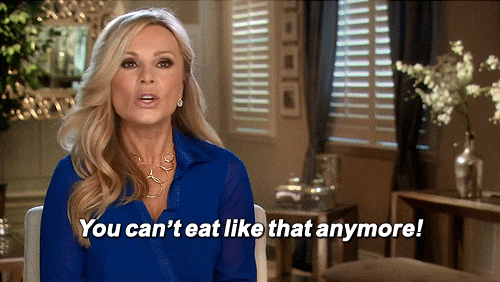 Source: Giphy.com
So, what is the secret trick?
By now, you must be really curious as to what is the secret trick, right?
Well, the tip is to simply change your eating habits. That is, to eat your dinner 2 hours prior to sleep. Now, that sounds too easy for massive weight loss, isn't it? But what if we assure you that this minor lifestyle change in your eating habits will be the number one help in losing weight? Will you believe us then?
For instance, if you are planning to sleep at 10:30 p.m., eat your dinner by 8:30 p.m. and so on!
But remember another thing, you need to let go of carbs for your dinner or else even a 2-hour gap would not help in the digestion. And we do not want any fat getting stored in our body, is it?
So start by the following table:
Day 1; 8:30 p.m. Vegetable soup with extra tofu, broccoli and mushrooms.
Day 2; 8:30 p.m. Grilled chicken or tofu with extra veggies and clear soup.
Day 3; 8:30 p.m. Besan cheela with tomato or onion gravy or baked potato with brown rice.
Day 4; 8:30 p.m. Repeat Day 1
Day 5; 8:30 p.m. Repeat Day 2
Day 6; 8:30 p.m. Repeat Day 3
Day 7: CHEAT DAY!!
So, from today onwards, all you have to do is time your dinner and sleeping schedule. Believe us, soon you will notice many changes, especially in your belly. A flat stomach and tight core is definitely coming your way! The only question is what are you ready for the change and reach your fitness goals?
If you know more such simple tips and tricks to lose weight, mention them in the comments.
For more such news, visit here.
Bhagyashree's Two-Ingredient Hair Mask
We take all take the beauty tips shared by our celebrities seriously. In the middle of the pandemic, a lot of celebrities tried their hands on various leisure activities, the most popular one was sharing their personal health and beauty tips; Ingredients they swear by!  Maine Pyar Kiya actor Bhagyashree has her own fan following. Though she stopped acting ages ago, she still rules the hearts of her fans. Bhagyashree's new series, Tuesday Tips is all about skincare and haircare routines that she swears by. Recently, Bhagyashree shared the recipe of her favourite hair mask, 2-ingredient hair care pack.
Moreover, she added, "I had so many of you asking me about hair care so first let me tell you that the most important factor is the food you eat, cause health begins from inside. Vit A, biotin and your Omegas are important in maintaining your hair and skin. But along with that when we are constantly torturing our hair with heat and chemicals when we blowdrying, style and/or color our hair, it is also essential that you nourish and pamper it (sic)."
Check it out as it's a super simple hair mask recipe:
Things Required:
1 Small Bowl Methi Seeds
1 cup Coconut Milk
Preparing Coconut Milk At Home
If you don't wish to buy coconut milk from the market then you can make it easily at home. Just take a fresh coconut and start grating it. Squeeze the grated coconut using a muslin cloth and store all the milk in a bowl. Add this milk to a pan and let it cook for 5 minutes. Let it cool and then freeze it. The next morning, coconut milk is ready!
Directions

:
Soak methi seeds or fenugreek seeds in water overnight.
The next morning, in a blender, add methi seeds and coconut milk.
Blend to make a thick paste.
Part your hair into sections and start applying the paste all over your hair roots to the ends. Keep it for 40 minutes to 1 hour and then wash off with a mild shampoo.
This hair pack works as a conditioner and you don't need to follow the shampoo with your regular conditioner after using this hair pack.
Benefits
Lauric acid in coconut milk strengthens the hair follicle and reduces the hair loss problem as it is also one of the best conditioners. Methi is rich in nicotinic acid which too is beneficial against hair fall. It contains lecithin which hydrates each strand of the hair and brings back the lustre and bounce.
Read: Poonam Pandey's Husband Sam Bombay Arrested For Assaulting Her Just 13 Days After Their Wedding
Best Mughlai Eateries In Nizamuddin, Delhi
Delhi has a vast history with street food that goes back hundreds of years. The capital city of India was a heavenly abode for all food lovers, from the lanes of Chandni Chowk to the streets of Hauz Khas. There is a common belief that the best street food is located in Purani Dilli. However, long before the streets of Old Delhi, lies Hazrat Nizamuddin, a much wider lane that is less noisy and overcrowded at all times. Also, it is a place that houses the famous Nizamuddin Dargah, where eternal peace can be found. Not only that, Nizamuddin is also famous for its relevance to the food and architecture of Mughals. Moreover, many Bollywood films have been shot in these best Mughlai eateries.
Ghalib Kebab Corner
This 40-year-old restaurant is situated near Dargah and attracts many food lovers. Try their shami kebab, chicken kebab, and mutton tikka and be certain you've tried one of the best kebabs. Within your mouth, the crispy kebabs will melt as soon as you take the first slice.
Hussaini Hotel
One of the most well-known locations in Nizamuddin is the notorious Hussaini Hotel. Featured in Rockstar, the famous Hindi film, this place has one of the best Nihari and Tandoori Rotis at very cheap prices, too. They serve a special biryani which is served every Thursday and Saturday. Moreover, it is one of the best Mughlai eateries in town.
Kit Care Kebab Corner
You must visit this spot, which smells of kebabs, for delicious and melt-in-your-mouth snacks. The wide range of the menu provides you with a lot of choices to choose from. Further, don't be disappointed if you are a vegetarian, as it also has some excellent vegetarian kebabs.
Al-Quresh
If you are a hygiene freak and can not afford to pose a danger to your health with eateries on the roadside, head to Al-Quresh to give you safe dining experience. This air-conditioned restaurant has a proper seating arrangement for fine dining. Also, it is best known for its kormas and gravy dishes.
Zaika-E-Nizamuddin
Popularly known as ZeN, this restaurant has a variety of kebabs and is run by 11 women. All these women are from Nizamuddin Basti, which has a culinary heritage and is 700 years old. They also have a good range for all the vegetarians with paneer tikka, soya kebab and Hara Bhara kebab.
Nasir
Even if you are not a sweet dish enthusiast or a dessert guy, the kheer from Nasir is a must-try for all. The sweet dishes made in this shop can not be found anywhere else. Moreover, they will leave a long-lasting impression on your taste buds, served in little earthen pots.
Manpasand Nahari Roti Wale
This popular restaurant specialises in Nihari, Nalli Nihari. Also, Khameeri Rotis and Mughal dishes as well! The restaurant serves the finest and authentic Mughlai dishes and has to be a visited one while you are Nizamuddin.
How To Make Herbal Sanitizer At Home
Making your own hand sanitizer at home probably would have never been on your mind until a month ago. Hand sanitizers are quite cheap and are easily available in stores. However, situations have changed. The entire world has been gripped by the COVID-19 outbreak. The best way to prevent the spread of this infectious disease would be to wash your hands thoroughly at frequent intervals using soap and water.
Why Hand Sanitizer?
But what if you have no access to soap and water always? You can carry a bottle of hand sanitizer with you. Unless you have stocked up store-bought hand sanitizer earlier on you probably don't have even a small bottle of hand sanitizer with you now. Most of the retailers are having an extremely difficult time meeting the demand for hand sanitizer due to the quick spread of this disease.
Wondering How to make herbal hand sanitizer own your own? You can make a simple and effective hand sanitizer using the ingredients easily available within your home. Let's find out more.
The Benefits Of Making Herbal Sanitizer At Home
Quicker than washing hands
The easiest way to get rid of microorganisms
Bacteria on your hands can be minimized
Easier access compared to using soap and water
Good for the skin compared to the use of soap and water
No side effects
How To Make Herbal Hand Sanitizer At Home – Ingredients And Step By Step Process
You can easily make herbal hand sanitizer at home using a few easily available ingredients.
Ingredients
Neem Leaves: 100 grams
Fresh Aloe Vera
Basil Leaves: Around 20 numbers
Camphor: 10 grams
Alum: 10 grams
Water: 1 litre
Homemade Hand Sanitizer – Step-By-Step Process
Add 100 grams of neem leaves to a litre of water
Add basil leaves
Boil the water with these leaves thoroughly for several minutes
Add the Aloe Vera gel from a freshly cut Aloe Vera Leaf
Boil the water for a few more minutes and add Alum and camphor to it
Allow this mix to cool completely
Filter the mix properly and store it in a properly sterilized bottle
So, stop panicking! Maybe you've had no success in getting a hand sanitizer at a local store or online or the bottle you've been using is almost empty. You can make it using ingredients easily available at home.
Follow the simple steps mentioned above and make your own herbal hand sanitizer. You can kill the germs quickly without having to worry about the side effects of your manufactured one.
While most people have probably only purchased manufactured ones, it can be challenging, especially during tough immune seasons, to find these items in stock. Don't panic if your current bottle is almost out, the formulation team at Gaia Herbs has developed a homemade DIY Herbal Hand Sanitizer recipe using our liquid extracts.
This recipe meets the CDC recommendation for an alcohol strength of at least 60%. And best of all, recipe is simple to make, has a pleasant herbal fragrance, is easy on your hands, and most important is convenient to carry with you.
Thanks for reading! 🙂
Also read- Branded Masks That You Can Buy
You can also watch- https://www.youtube.com/watch?v=4CNjuxzfuAA