The Green Wave In Tourism
While we were locked in our homes, mother earth was healing. For instance, due to this lockdown, we are all seeing the way nature is healing, the clouds in the skies and surroundings without any pollution. We are all coming closer to nature. So, is this The Green Wave In Tourism?
However, the important question remains if we will be able to live in this clear and pure environment even after we get back to our normal lives? Will we be able to consciously care about the environment even then?  So, thinking of it, it is not exactly an impossible task. We can, of course, move to some greener options and that exactly what we are calling out as the green wave in tourism. For instance, making mindful choices, using greener means of transportation and going for eco- friendly options of staying.
The Green Wave In Tourism
Tips for a Greener Stay
Avoiding the use of single-use plastic.
Safe garbage disposal
No littering
Careful use of water and water conservation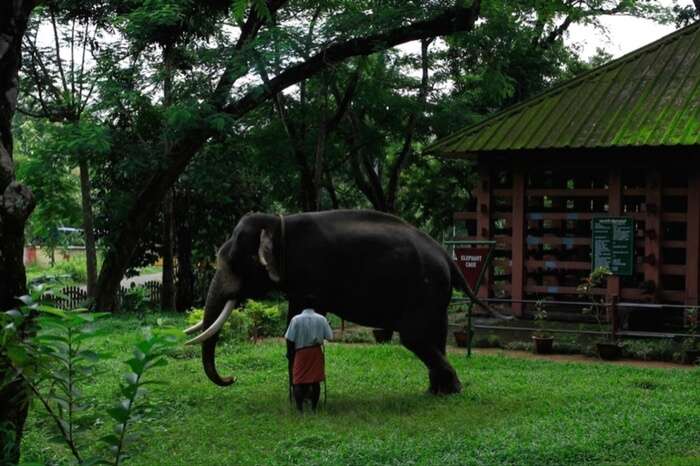 The Green Wave
It isn't the case that green tourism and Eco-friendly options did not exist before the outbreak of this pandemic. The options have been there for quite a long time. However, the pandemic has encouraged the practice more. For instance, those who were already using green tourism methods will stick to it. In addition, those who were on the verge of it or were planning to shift to greener options will be doing it at a priority.
This will provide a wide range of greener options to the tourists. Therefore, enabling to consciously choose for a better option.
Zero Contact as a Medium to Wellness
The challenges in front of the tourism industry are increasing due to the pandemic. Along with increasing the green quotient, the hotels and stakeholders in the tourism industry will also have to adapt to contactless means of providing their service. For instance, for booking agencies distribution of tickets and collection of payments will be safer if done in a zero contact manner. In addition, even in hotels, the delivery of foods within and outside the restaurants have to minimize contact.
In this attempt, a lot of technology has to be used. For example, the gesture controls, automation devices, sanitation zone. In most of the services that the companies are offering, the contact should be minimized.
Also read Post-COVID 19 Travel Changes
Micro- Wellness Holidays
It is necessary to identify the needs and reasons why tourists would want to travel amidst such risks. Tourism just for the sake of it will now minimize. Therefore, there will be a rise in eco-friendly and wellness type tourism. In addition, the sightseeing part of tourism will reduce as people would like to reduce contact with the outside world.
In addition, more and more people will look for travel options around their locality. Thus, air travels will go down, reducing the carbon footprint by the air travels.
Another trend foreseen is people travelling away from the fast-paced city life to calmer villages. For instance, this will help them to slow down and reconnect with the world. Therefore, longer and less frequent travels in nearby villages can be expected.
Cheap Places To Travel When You're On A Budget
If you still believe traveling is costly, think again. There's more to travel and explore than just sitting and thinking about how much it would cost. Some of the cheapest places to fly are often the loveliest!
Many travellers travel up to over 85 countries and while many may assume that only rich people can do this, it could not be further from the fact. There are many cheap places across every continent that budget travellers can easily enjoy.
So which countries offer visitors the most value? Where can you buck the most bang for yourself? Which place would be the cheapest and loveliest to visit? Let's dive right in.
Alberta, Canada
Canada isn't a cheap destination in the world, but the best province to go might be Alberta if you're dead set on going to Canada on a budget. Mainly because they easily have the lowest tax rate in Canada at 5 per cent. It is one of the most beautiful and cheap places you can travel to.
But the easiest way to get Canada completed at a low cost? Grab a friend, rent a car or campervan, pick up a tent, visit in the summer, and go on a road trip. Don't waste money on indoor lodging, but pay on the way for campsites, and go out on endless hikes. Besides a Parks Canada pass Nature costs is completely free!
Guatemala
In Guatemala, for a fraction of the coast of Costa Rica, you will have an amazing time in the lush jungle, scale volcanoes and enjoy the coastline. They have amazing wildlife, sailing, fantastic food, zip-lining and old ruins. Believe me not? Just go through the costing of Guatemala.
Nicaragua
Nicaragua has secluded, world-renowned beaches, lively nightlife and a heavy emphasis on ecotourism. Tourism was that in Nicaragua but this has not yet been reflected in the rates.
Food is definitely some of the best value you'll find. A street food plate will cost you 75-100 Córdova ($2-$3) everything. Also-if you want rum and plantains you 're going to be in heaven here.
Ecuador
Ecuador is a relatively cheap place to visit around the world. If you are visiting Quito or going to the rainforest, you will find a good deal nearly anywhere. You will get buses ranging from $5-10, a whole plate of fresh fruit for $3, chicken dinners for $2, and a dorm room for under $15 in the hostel. For a total of $400, you can backpack the entire country for nine days.
Southern Italy
A beautiful Mediterranean coastline, vineyard-rolling hills, world-class food, Dolomite skiing and €1,30 cappuccinos? Italy may sound like it's going to be an expensive holiday, but in fact, you can enjoy an inexpensive Italian vacation.
First, you have planes, many of which come from North America, which makes them cheaper. Then there are also a wide variety of lodging options, transportation options (train, bus, car rental) and you don't care about the food.
Heartbreaking Stories From The Tragic Air India Plane Crash
A disastrous Air India Plane Crash took place in Kerela's Kozhikode. It was an Air India plane which on en route to India. However,  due to some issues with the weather, Air India Plane Crash occurred due to skidding off the runway. As per reports, nearly two hours before the fateful accident another flight (IndiGo flight 6E7129) landing happened on the airport which went through similar issues. Similarly, just like this flight, even the other flight had to abort the first landing attempt due to bad weather conditions.
Reason Behind the Tragedy
The heavy rains in Kerela. The accumulation of rainwater on the runways becomes very risky in-flight landing. In addition, the wheels of the aeroplane are blocked while braking. These wheels are released later. However, if there is water during this time, there are chances that the plane will skid. Also, the plane may get out of control to either direction and not stop at all.
The lighting conditions at the airport aren't too great either. In addition, a tabletop runway landing for most pilots is nightmarish.
The crash was so serious that the plane broke down into two parts after the crash.
The Aftermath
18 people on board the flight lost their lives in the accident. Most of the people who were in the flight were those Indian who was in Dubai due to work. However, what was supposed to be a merry homecoming took a tragic turn during the landing.
Some of the Heartbreaking Stories
Deepak Sathe
The pilot of the flight was one among the 18 people who lost their lives. Captain Deepak Vasant Sathe is an ex IAF wing commander who was working as a commercial pilot after his retirement. He is also a recipient of the 'Sword of Honor' award.
Captain Sathe did not meet his parents staying in Nagpur since March when the lockdown was announced. However, he has plans to visit them this Saturday on the occasion of his mothers birthday. The tragic event did not spear him to go to his parents and light up the mothers birthday.
Captain Sathe ais survived by his wife and two sons Dhananjay and Shantanu.
Akhilesh Kumar
The co-pilot and soon to be father Akhilesh Kumar too did not survive the crash.
#KozhikodePlaneCrash | Co-pilot Captain #AkhileshKumar was cremated in #Mathura today in the presence of his family and @airindiain officials. The 32-year-old pilot is survived by his pregnant wife#AirIndiaExpress #PlaneCrash pic.twitter.com/Ks5XGKNZHv

— Mirror Now (@MirrorNow) August 9, 2020
Azam Muhammad
Azam Muhammad, a one-year-old born in Dubai was on his first-ever journey to his parent's motherland. He was here to meet his maternal grandfather and other relatives. During the landing, Azam was with his mother Sahira Banu on her lap. Sahira along with her three kids boarded the flight leaving her husband in Dubai. However, due to the crash, Sahira and Azam passed away. The other two kids, Ilham and Mariyam are recovering in the hospital.
M. Sharafudheen
Sharafudheen, along with his wife Fathima and daughter, Amina was on the flight that day. However, he sadly became one of the 18 people who lost their life. Sharafudheen came to India on a 2 month holiday. The daughter and wife joined him a few months ago. However, due to Covid-19, their visa's expired and they could have to leave for India. Sharafudheen did not want the two ladies to face quarantine alone so he took a 2-month leave and had his place ready for a 21-day quarantine with the ration and fruits stocked for the month. However, only the two ladies could make it through the accident.
Held by Humanity
The kind locals from around the crash site came forward to help selflessly. Due to the heavy rainfall, people were advised by the state government to stay indoors due to heavy rains. Therefore, most people were back from work early.
Kerala kocals swing into action: What sets Malayalis apart is our spirit &unity, during floods, the pandemic &now the aircrash. When a mishap occurs, people throw themselves into the situation regardless of religion/caste/class. That's my#KeralaModel! https://t.co/Wz5GlgwJP1

— Shashi Tharoor (@ShashiTharoor) August 8, 2020
On the news of the crash, many locals without thinking about Covid-19 and being selfish came ahead to help. A message was also floated across the groups of taxi drivers who came ahead to take the injured to the hospitals.
The locals helped to rescue those who were injured. Soon, they also made use of their networks to spread messages about those injured asking people to circulate them so the family could get in touch.
An Appeal
It took just an appeal and many locals from the area came forward in huge numbers to help those in need.
#SOS #Kozhikode #Kerala
All Blood group donors are requested to come forward and donate blood at Kundotti Mercy Relief Hospital and Kozhikode Medical College Hospital due to Air India plane crash in Kozhikode. #Calicut #AirIndia #AirIndiaExpress #Blood #Dubai #BloodMatters

— Blood Donors India (@BloodDonorsIn) August 7, 2020
This makes me believe that humanity is not dead
People waiting in queues in midnight following covid protocol to donate blood to the injured
Prayers for the speedy recovery of the injured.. 🙏#AirIndiaExpress #AirIndiaCrash #KozhikodeAirCrash pic.twitter.com/Ei6YWCqd0N

— Nipun.$. (@iamNipun9) August 8, 2020
Strange Places In The World: Human Entry Prohibited
In spite of globalization, technology, and advances in transportation, there are some strange places which prohibit the entry of humans. While some of us are fixated on space exploration and colonizing Mars, the truth is that some parts of our planet are still practically untouched or have even been forgotten. Other areas are home to military bases, espionage secrets, or have even forbidden to the public on the grounds that they're "legally haunted". These forbidden places will blow your mind due to their weird past or some idiosyncratic secret.
Some of the strange places are:
 Poveglia Island, Italy
Poveglia is a small island located between Venice and Lido in the Venetian Lagoon, northern Italy.  Initially, used as a quarantine station for those suffering the plague and other diseases, and later as a mental hospital. Because of this, the island is frequently featured on paranormal shows. The mental hospital closed in 1968, and the island has been vacant since. Visits to the island are prohibited, but various books and articles discuss visits by a writer and/or photographer. One of the latter described a place of "peace and serenity."
Snake Island, Brazil
The mysterious island is known as Ilha da Queimada Grande, and it is so dangerous to set foot there that Brazil has made it illegal for anyone to visit. The danger on the island comes in the form of the golden lancehead snakes – a species of pit viper and one of the deadliest serpents in the world. The island is small in size, only 43 hectares (106 acres), and has a temperate climate. The island's terrain varies considerably, ranging from bare rock to rainforest. This strange place is extremely dangerous!
North Senital Garden, India
North Sentinel Island is one of the Andaman Islands, an archipelago in the Bay of Bengal which also includes South Sentinel Island. It is home to the Sentinelese, an indigenous people in voluntary isolation who have rejected, often violently, any contact with the outside world. They are among the last tribal people to remain virtually untouched by modern civilisation. The Andaman and Nicobar Islands Protection of Aboriginal Tribes Act of 1956 prohibits travel to the island. The area is patrolled by the Indian Navy.
North Brother Island, USA
Japan is globally popular for its shrine culture and houses approximately 80,000 shrines. The most important among all is the Ise Grand Shrine. It is one of the most expensive temples in Japan due to its architectural grandeur. To maintain the Shinto traditions dating back to the 8th century, this temple is rebuilt every 20 years. And that comes with a million-dollar price tag. Unless you are a member of the royal family, you are forbidden to enter the hallowed halls of this ancient Japanese representation.
Area 51, US
Area 51 in Southern Nevada is always wrapped in conspiracy theories. It is a US military base and has the reputation of being the testing ground for weapons and aircraft. But there is wider speculation about the same. Conspiracy theorists believe that the officials conceal alien evidence at the base. It is totally off-limits to the commoners, and even the USA barely acknowledges the existence of Area 51.
Niihau Island, USA
Niihau Island, with a population of 160 inhabitants, is prohibited to the general public. The only way to visit this region is either to be a part of the US Navy or to have a relative on the island. To preserve the environment and wildlife on Niihau Island, the government has restricted the entry to outsiders. No wonder, it is a forbidden place that one cannot reach.
Check out:https://littleletterslinked.com/best-travel-jobs-that-will-help-you-roam-the-world/