The Grand Welcome and Name of Baby Pandya!
Just a week ago we came to you with the amazing news about Hardik Pandya and Natasa who became proud parents of a baby boy. The celebrations have been going on in the Pandya household ever since then. In addition to the new parents, the cricketer's older brother and sister in law are also overjoyed with the arrival of the cute munchkin. Read this post about how the Baby Pandya spent his first week and much more.
Meet the Pandya Family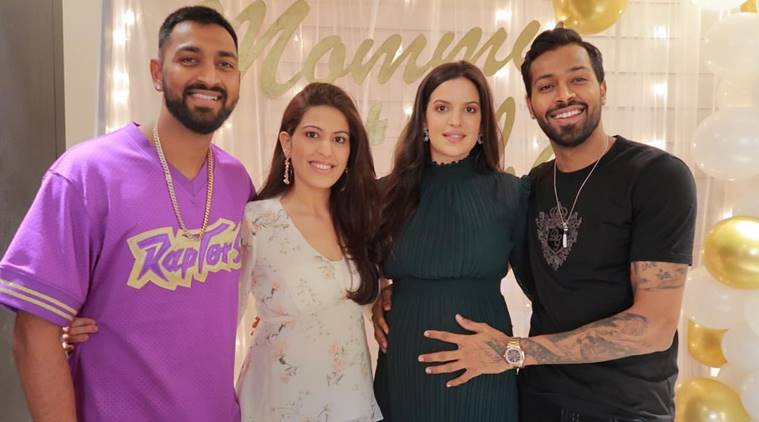 Not just Natasa and Hardik but it is the whole family who cannot contain their happiness since the arrival of the little one. In return, we get to watch cute pictures and celebrations that are taking place on the joyous arrival of Baby Pandya.
We saw the first glimpse of the Baby Pandya from an Instagram post made by the father himself, Hardik Pandya.
Later on, the parents celebrated with the team of doctors who brought their bundle of joy in the world. We also saw Natasha in her post-pregnancy glow. After all, that's the magic of motherhood right? It makes you forget all the pain, all the sleepless nights, and everything else and still gets you that glow which just becomes brighter when you are with your little one.
Not just Hardik, others from the family too shared their happiness and love for the little one. For instance, Krunal Pandya was one of the happiest as he became 'Bade Papa' to the little munchkin.
Even the sister in law, Pankhuri had a special message of Baby Pandya. "Welcome to the Mad House" read her post on Instagram.
Fatherhood
Hardik is getting used to the new life with the baby now at home. However, the humor won't easily die! For instance, Hardik, after shopping for diapers went ahead with a special way to inform the new mommy that the diapers were on their way.
The Homecoming
With the arrival of Baby Pandya, Pankhuri Sharma organized a surprise for the couple and a small welcome for the baby. Along with the welcome, we also got a peek into the name chosen for the baby.
The cute baby goes by the name 'AGASTYA'. The name appeared on the cake ordered to welcome the mother and the baby back home. "Welcome Nats and Agastya" read the cake. Check it out here.
Beauty Tips Shared By Our Beloved Celebrities
Life amidst the Covid-19 pandemic has been difficult and distressing. A lot of people had no work to do as it required travelling, so they sought refuge in cooking, baking, gardening and even becoming hair-cutters. Moreover, Bollywood celebrities shared their beauty and work-out routine, opening their youtube channels. We all want that crystal clear skin and natural glow on our faces that the ladies of Bollywood have. Here are a few beauty and healthcare tips followed by our celebrities that they shared during the lockdown with their fans:
Priyanka Chopra's Sea Salt Lip Scrub
In an interview, Priyanka Chopra shared her recipe for making your very own lip scrub at home. She said, "Add a pinch of sea salt, a few drops of pure glycerin, and a few drops of rose water to a bowl. Mix to combine, then gently rub the mixture over your lips. Wash it off, and you will see plumper, pinker, and smoother lips instantly. A few drops of fresh lemon juice can be added to brighten the uneven colour."
Bhagyashree's Hair Conditioner
Bhagyashree swears by using coconut milk as a key ingredient. She shared, "Lauric acid in coconut milk strengthens the hair follicles and reduces the hair loss. Also, coconut milk is packed with essential nutrients that nourish your hair and promote hair growth.  Coconut milk works as a conditioner for our hair. If not with anything else, you can use coconut milk along on your hair. It works like a leave-in conditioner, making your hair thick and strong. "
Anushka Sharma's Dental Tip
Anushka spoke about the importance of regularly practising the ancient Ayurvedic method of oil pulling. She shared a string of pictures on Instagram where she is seen performing the "morning ritual". "My morning ritual of Oil pulling in the company of my sweet-smoosh-doggo Dude! Oil pulling is an ancient Ayurvedic practise known as 'kavala' or 'gundusha', a dental technique that involves swishing little oil in your mouth on an empty stomach for few minutes and then spitting it out. This action is excellent for dental hygiene and health and also draws out toxins in the body.
Raveena Tandon's Hairfall Remedy
Tandon has shared many beauty tips on her IG. To prevent hair fall, she posted a video on Instagram, where she talked about the benefits of "amla" or gooseberries. Furthermore, she said, "Since the lockdown, it's been a bit of a break for me as there are no shoots, so no excessive blow drys, tongs or curlers in the hair, since a month and a half, taken through a natural cleansing routine, no chemicals or chemical-filled shampoos."  She also added the caption, "#gonatural #beautytalkieswithravz".
Malaika Arora's love for Aloe Vera
Malaika Arora has many beauty tips up her sleeves.  She spoke about her faith in Aloe-Vera: "Skin issue is something that almost everyone in the world resonates with irrespective of their age or gender. Some have dry skin, some have oily, some have acne-prone skin and some have extremely sensitive skin like I do. I have to be extremely careful of what I put in my skin cos any wrong product can do more damage than benefit." Arora said she swears by fresh aloe vera gel. "A natural ingredient that I swear by for my skin is fresh Aloe vera gel right from my very own home garden. Fresh Aloe vera agrees with most of the skin types so anyone can try it. Just cut one piece, slice it open and scoop up the gooey goodness from within and apply it evenly on ur face like a cooling mask."
Indian Web Series Based On True Events
Indian streaming platforms are rife with real-life related content. The OTT platforms have been providing viewers with a semi-fictionalized account of real-life events, be it SonyLIV's Avrodh: The Siege Inside or Netflix's Delhi Crime. So, if you want to watch some serious content based on real-life events find below our list of Indian web series which are based on true events.
Indian web series that took inspiration from real-life events:
The Verdict: State vs Nanavati
Streaming on: ALTBalaji, ZEE5
The Verdict: State vs Nanavati borrows their storey from the notorious case of KM Nanavati vs Maharashtra state. It focuses on the murder case of 1959. Moreover, it distinguishes the 10 episode web series is that it not only observes the true tale but also uses the actual names of those involved.
Avrodh: The Siege Within
Streaming on: SonyLIV
Avrodh: Streaming on SonyLIV, Siege Inside recounts the preparation that went into the decision of the Indian government to avenge the killing of 19 soldiers at the Uri Army base camp with surgical strikes on terrorist launch pads across the Line of Control (LoC). Further, the plot of the nine-episode web series is comparable to the 2019 National Award-winning film Uri: The Surgical Attack, it is quite different in treatment.
Kaafir
Streaming on: ZEE5
Inspired by a true storey, Kaafir is set in Kashmir, starring Dia Mirza and Mohit Raina in the leading roles. The web series is directed by Sonam Nair and written by Bhavani Iyer. In addition, it tells the storey of a woman from Pakistan-occupied Kashmir, Kainaz Akhtar, who ends up in a prison in India and is branded a militant.
Delhi Crime
Streaming on: Netflix
The Netflix series of seven episodes brings us back to the horrific rape that occurred in Delhi in 2016. It highlights how the Delhi police nabbed the six men responsible for the murder. What makes Delhi Crime a great binge-watch is its competent Shefali Shah-led cast and Richie Mehta's crisp narrative. Indeed, it's one of Netflix's best Indian series.
Abhay
Streaming on: ZEE5
The first episode of ZEE5's crime thriller Abhay took inspiration from the horrific account of serial killings, cannibalism, sexual assault and necrophilia. Which held in Nithari, a small village in the Noida suburbs that had left everyone shocked in 2006.
Jamtara
Streaming on: Netflix
The tale of Jamtara-Sabka Number Ayega is based on real events in the town of Jamtara, Jharkhand, linked to phishing scams. A gang of school dropouts led by Sunny Mondal rob people of their money by posing as employees of respectable firms. Moreover, to extract personal information including passwords and credit card numbers.
Special Ops
Streaming on: Disney+ Hotstar 
Disney
Plus+ 
Hotstar
spy
drama
Special 
Operations,
led
by
Kay
Kay
Menon,
draws
inspiration 
from
many
terrorist
attacks. Mainly the ones 
that
have
taken
place
in
India
over
the
past
19
years. 
Beginning
with
the
attack
on
the
Indian
Parliament
in
2001,
it
continues 
to
pursue
the
one
mastermind
behind
26/11
attacks
and
terror
attacks
in Kashmir
.
Also, for more, entertainment articles. Click on the link!
Salman Khan's SK27 Gym Opens In Vasant Vihar, Delhi
Salman Khan is known for his chiselled physique and brawny body. And yes, he was the one who started the trend of going shirtless in Bollywood. Bhai is all about fitness. From regularly sharing his workout routine to cycling on the streets of Mumbai, he promotes the importance of keeping fit. We all know that he is a gym enthusiast, never skipping his gym workout even after having such a hectic schedule. A lot of his male fans love his body and strive to attain those abs and cuts. Well, good news for them as Salman Khan has just opened a new gym in New Delhi: SK27 Gym. After the success of the 'Being Strong Fitness Equipment', Salman tried his hands on this venture. He aims to open 300 gyms across the country.
SK27 Gym
Location
3 Basant Lok PVR Priya Complex,
Vasant Vihar Delhi – 110 057
 Landmark – Opposite PVR Priya Cinema
+91 9907040704, +91 9907050705
SK27 Gym Facilities
The gym specialises in various arenas like Cardio, Strength Training, Functional Training, Free Weights, Shower, Pro-Shop, Group Fitness Studio, Nutritionist & Physiotherapy.
SK27 Gym- Virtual Tour
The SK27 gym is quite spacious. There are separate spaces for different types of training. Don't forget to look at the washrooms which appear to be immaculately clean–Well, that the need of the hour!
Safety Procedures – Vacuuming/ Sanitation
Taking all the safety measures and precaution, the gym owners shared various pictures of sanitisation. Moreover, they captioned one of the posts as,
"Your safety is our priority. Each floor and touchpoints are thoroughly sanitised after each slot. We also vacuum the whole training floor to maintain pristine hygiene. We strictly comply with the COVID-19 guidelines shared by WHO.
We are extremely excited to announce that we are open! #back2gym
The Delhi government has lifted the ban from the gyms and fitness clubs to operate with complete adherence of COVID sops and norms.
We shall be deploying 15th, 16th and 17th for deep cleaning and sanitising and therefore official open for workout from Friday that is 18th September 2020. "
Pre-book your slot now.
Call us: 9907040704 / 9907050705
Visit: www.delhi1.sk27gym.com
Mail: delhi1@sk27gym.com
To know more about our facilities and safety.