Scholarships That Aids Your Study Abroad
Studying abroad is an opportunity not only to experience a different culture but also a different system of education.
India has emerged as one of the leading markets for foreign education. Every year over 4 lakhs students from various corners of the country study abroad for higher education.
Why Study Abroad?
 There are tons of reasons to study abroad. International education attracts many students because of the quality education, exposure and possibilities of a better career in the future. Overseas education widens your knowledge. It shows you a new environment which encourages critical thinking and observations helping you to sustain in that environment.
Indian Students opting to study abroad reduced between 2010 – 2014 because of the harsh economic conditions around the globe. But it is growing again and recently it crossed the 350,000 marks. Out of this more than 85% of the Indian students headed abroad choose to pursue their education in these five countries.
United States of America
United Kingdom
Australia
Canada
New Zealand
These countries have emerged as the strong favorites because they have a large English speaking population and most of the education system in these countries relies on English as the primary language of instruction.
Studying in top international universities is a dream for many Indian students. But sadly financial constraints can sometimes be a hindrance to such dreams. Here are the top 5 scholarships you can apply for if you are planning an education in countries such as the USA, UK, Europe, Canada and China etc.
1. Fulbright-Nehru Fellowships
The United States-India Educational Foundation, or USIEF, offers these scholarships to Indian students who wish to pursue either a master's course or research in any U.S. institution.
Scholarship Eligibility – Students should have completed the U.S. equivalent of bachelor's (4 years of education), and should have at least 3 years of work experience in the area they wish to study in. Leadership and community service, communication skills, and motivation to pursue study and contribute to nation-building.
Expenses Covered – The scholarship covers tuition fee, airfare (economy), textbooks, and a living stipend.
Areas of Study – The scholarship gives preference to candidates who wish to study in the areas of Arts and Culture, Environmental Science, International Legal Studies, Public Health, Gender Studies, Urban and Regional Planning, and Public Administration.
Application Time – The application time for these scholarships is June prior to the year of the start of the program. The scholarships are open by June and will close shortly before August of any year.
2. Tata Scholarships
This scholarship makes it possible for Indian students to study at Cornell University, the USA for their undergraduate courses.
Scholarship Eligibility – Candidates applying for this scholarship should be Indian Citizens who have secured admission to Cornell University, and require a need-based financial aid.
Expenses Covered – The Tata Education and Development Trust covers the tuition fee for undergraduate programs up to eight semesters. For programs exceeding that duration (such as Architecture), the student will need to bear the additional cost.   They also cover living expenses, food, medical, and travel expenses
Areas of Study – Students accepted to the College of Architecture and Planning, the College of Engineering, the Applied Economics and Management major in the College of Agriculture and Life Sciences, and majors across Biological Sciences, Physical Sciences,  (such as Biology, Physics, Chemistry, etc.) Sciences, and Social Sciences.
Application Time – Applications for this scholarship open around the time of college applications, generally in October/November each year, and awards are given out in December.
3. Commonwealth Scholarship and Fellowship
The Commonwealth Scholarships Commission offers these scholarships to students from the Commonwealth countries (such as India) who can make a significant contribution to their home country. The scholarship is for students applying to masters and PhD programs in the UK.
Scholarship Eligibility–The candidate should be an Indian Citizen, and should have completed education in the English medium. S/He should have secured at least 60% in Social Sciences and Humanities or at least 65% in Engineering, Technology, Science and Agriculture. PhD candidates have the same eligibility criteria for application. The Ministry of Human Resource Development conducts preliminary interviews for shortlisting applicants.
Expenses Covered – The scholarship covers tuition fee, economy return airfare, and other living expenses. However, some research costs will not be provided.
Areas of Study – Candidates wanting to study Engineering and Technology, Sciences (Pure and Applied), Agriculture, and Humanities & Social Sciences should apply for the scholarship.
Application Time – Applications open in August every year for batches starting the next year.
4. Erasmus Mundus Scholarships
The European Union funds the Erasmus Mundus Scholarships and are directed at students from EU and non-EU students to study at European Universities under approved Erasmus Mundus Action Joint Programmes.
Scholarship Eligibility – The Award can be offered to students who are selected to attend one of the Erasmus Mundus Joint Programs at Masters or Doctoral Level. Each Erasmus Mundus Joint programme has its own eligibility criteria, and students should consult with their representatives before applying.
Expenses Covered – The Award covers full scholarships including tuition, travelling costs, insurance costs, and living expenses for students. However, the students have to just take care of the documents needed.
Areas of Study – The Award covers about 116 master's courses and 29 doctoral courses. Areas of study include Engineering, Agriculture, Veterinary Sciences, Mathematics & Computing, Manufacturing, Health & Welfare, Social Sciences, Arts, and Business & Law.
Application Time – The Application time for the next session is in the months of October to January.
5. UBC International Leader of Tomorrow Award
The University of British Columbia offers this for international students applying to their undergraduate courses. Students who hold an outstanding academic record, and have achievements in the field of Sports, Performing Arts, Debating, etc. are encouraged to apply.
Scholarship Eligibility – A nominated student by the school which s/he currently attends. It should be the student's first undergraduate degree, and the student should meet all requirements for the English Language as well as the program applied for. The student should also demonstrate financial need that would prevent them from pursuing a program of their choice.
Expenses Covered – The scholarship is given based on financial needs. An assessment is made by the university about the financial situation of the candidate. The scholarship can cover tuition fee, as well as living expenses. However, the Award can be renewed for all three years of undergraduate study provided the student display satisfactory academic performance and financial need.
Areas of Study – The scholarship is applicable to any of the undergraduate programs.
Application Time – The deadline to complete applications is November for sessions starting the next year.
Well, there you go! Don't let your dreams of flying away to a foreign destination for education wither away due to financial constraints. With these scholarships, you will get through your education years smoothly, and will never have to look back.
Related article- Indecisive About Your Career Path? Read This
Virtual Scuba Diving To Beat The Heat
India saw an extension in the lockdown on May 30. The month of May and its scorching heat has got us all uncomfortable. In addition, due to the lockdown we cannot even travel. Therefore, its the boredom and heat both bogging us down.
Worry not! To help you kill the boredom and to help you beat the summer heat, read this post. This post is about the different places where you can set out to do Virtual Scuba Diving.  Since all of us have missed traveling in these summer vacations, you can dive deep in the water here.
What is Scuba Diving?
Scuba diving is the act of diving deep under the waters. While doing this, this diver is self- contained with all the necessary equipment. For instance, the diver carries a breathing apparatus called as scuba with them. The apparatus helps the divers to breathe underwater.
A scuba diver attaches fins to their feet that help them to navigate underwater. By doing this one can explore the different creatures.
Though at this moment, scuba diving is not possible, that does not restrict you from your tour. Here is where virtual scuba diving comes into the picture.
What is Virtual Scuba Diving?
Virtual Scuba Diving is a way to witness all that you can witness in a normal scuba diving session without getting wet. It gives a 360 degree view of marine life. You can watch amazing habitats, animals and different varieties of marine life.
National Geographic
The team of national geographic has created a full 36-degree view of marine life at different places. There are a lot of marine places that one can see here.
Sharks, coral reefs and ice glaciers are all at display here. Set on an adventure to do some deep-sea diving. Or tour the wild rivers of Canada. In addition, go underwater on Bermuda's Shipwreck.
Go Pro VR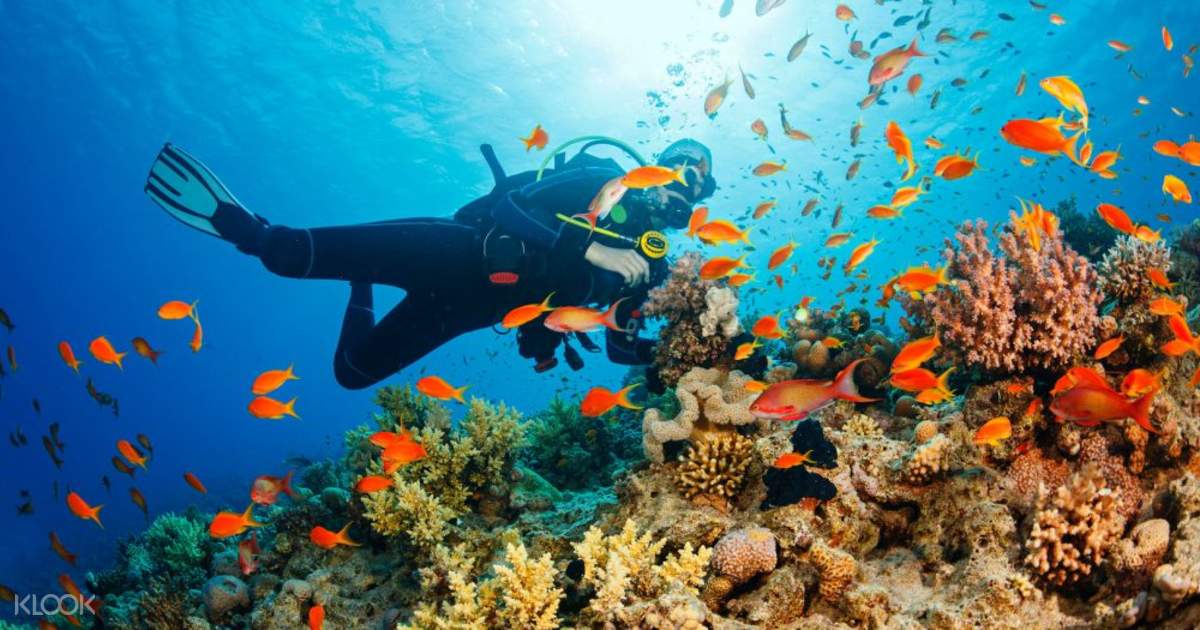 With Virtual Reality of Go Pro camera's, you get some additional dose of underwater life. Check it out here. Watch sharks and much more there.
National Marines Sanctuary
To educate people with marine life, here is National Marines Sanctuary with its 360-degree photos. Do check them out here.
In addition, also check Virtual Travel 2020: Sightseeing
The Most Beautiful Villages In The World
Who doesn't love big cities? But there are a lot of them around the world the feel remarkably similar. They consistently feature skyscrapers, crowded streets, and busy people in business suits.
Although, if you want to have the best way to travel experience it surely has to be a fundamentally different culture to explore the smaller villages away from the big cities.

Below are the 8 most beautiful villages in the world that immediately show how unique they truly are.
Shan State village, Myanmar
Situated on the banks of Inle Lake, Shan State village in Myanmar is definitely not the easiest village to get to. But if you get the chance, it is the opportunity of a lifetime!
Popeye Village, Malta 
Popeye village, located at Anchor bae in the north-west corner of the Mediterranean island of Malta. It was an also film set from the 1980 musical 'Popeye', now a theme park village with boat rides & food outlets.
Carvoeiro, Portugal 
It is a beautiful small town of Carvoeiro situated on the Portugal coasts. It is a fantastic destination to witness beautiful ambience and have a relaxed, peaceful holiday.
Simiane La Rotonde Village, France
Surrounded by olive groves and lavender fields, Simiane La Rotonde is a beautiful hilltop village depicting the ancient medieval vibes. It has flower filled cobbled streets lined with pretty houses and artistic studious to die upon!
Reine, Norway
A tiny and incredibly picturesque village situated in Norway is the best place to discover the Lofoten Islands.  Hub of fishing, the village has earned the title of the 'most beautiful village in the world.'
Rural Village, China
Situated on the rice field in southern China, this village is the significance of what peace looks like. It is located near Zhaotong District, Yunnan Province.
Hallstatt, Austria
Hallstatt is one of Austria's oldest and most famous towns. It has 16th-century Alpine houses and is home to scenic coffee shops and cafes. It also has a trail which leads to Echelon Valley glacier garden with beautiful glacier view.
Gifu village, Shirakawa Japan
Shirakawa, Gifu village in Japan. It is known for being the site of Shirakawa-go traditional village showcasing a building style known as gassho-zukuri. Moreover, it has enormous fields of sunflowers which is a delight to watch!
For more, checkout- Travel articles.
Is It Safe To Visit Nuclear Disaster Sites?
"Mankind invented the atomic bomb, but no mouse would ever construct a mousetrap." 
-Albert Einstein
There was a time when countries and nation-states were in the rat race to acquire the monopoly over nuclear weapons. That was the time when the nuclear proliferation of these weapons was growing at an increasing rate. The weapon states and non-weapon states were at loggerheads with each other. Sooner and later, every country embarked on their individual capacity to build nuclear reactors and now if we look back, no good was achieved. The hunger games to redistribute the balance of power has led to the loss of lives and abandonment of places where once life perpetrated in the underbelly of once-safe nuclear disaster sites. Nuclear disasters occurred and left a legacy no one wanted. We earned but at what cost? Now that we are tackling with an invisible enemy ourselves, here's a look at what these nuclear disaster sites look like today and whether it is safe to pay a visitation or not.
CHERNOBYL, 26 April 1986
More than 33 years ago, Chernobyl became the world's worst nuclear disaster site. The plant crew intentionally switched off the safety systems to test the turbine.
Chernobyl has been opened to tourists and public since 2011 when the government authorities deemed it safe to visit. Given that you follow the orders of the tourist guide, you can prevent the radioactive from perpetrating your body.
The main danger is not radiation anymore, but the unsafe structures which have been deserted for 30 years, and lots of metal has been stripped away. So go around in groups, and obey the guide's instructions.
FUKUSHIMA, 11 March 2011
The Dai-ichi nuclear power plant spewed radiation across dozens of towns, triggering a 10 mile evacuation zone. Following a major earthquake, a 15-metre tsunami disabled the power supply and cooling of three Fukushima Daiichi reactors, causing a nuclear accident on 11 March 2011. All three cores largely melted in the first three days.
9 years after the nuclear accident, Fukushima is expectantly opening up for Tokyo Olympic games 2020. The Japan government declares that Fukushima is under control.
TRINITY SITE, NEW MEXICO, 16 July 1945
One week after the establishment of White Sands Missile Range (WSMR), the world's first atomic bomb was detonated in the north-central portion of the missile range, approximately 60 miles north of White Sands National Monument.
This site is now open to the public twice a year. It is located on the White Sands Missile Range which is an active military installation in New Mexico. The atmosphere is quite a circus with people bringing screaming kids, strollers, beer coolers, bicycles, dogs, and everything else you could think of.
Related: How Introversion makes the best Traveller