Road Trips Around Delhi That Give Major Zindagi Na Milegi Dobara Feels!
 "Road trips are a way for the whole family to spend time together and annoy each other in interesting new places." – Tom Lichtenheld
Road trips are the best weekend getawayIf all you wanna do in life right now is to pack your bags and hit the road with your most favourite people in the world, and all you need is a list of the best places you can go to, we've got that list right here. So don't let your friends make any excuses this time, because we can assure you that you'll make a ton of priceless memories and see some places you won't ever forget, and get some major ZNMD feels of road trips and happiness.
Head over to these beautiful places for a beautiful weekend, bonding over good times and pretty places with your favourite people and a long drive!
Alila Fort, Bishangarh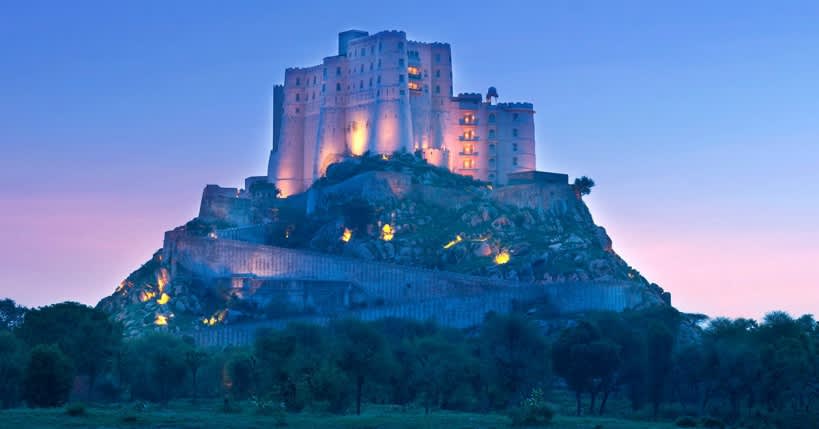 With 59 suites and 22 different layouts, Alila has something for every mood of yours, including a magical spa (in the dungeons!) that'll work when nothing else does! The grand windows in the suites offer gorgeous views of the countryside, taking advantage of its spectacular location – atop a granite hill, with vast expanses of greenery and beautiful views of the sky. This magical fort in the middle of the Aravallis is the perfect weekend getaway and everything you're looking for!
Where | Alila Fort – Off NH-8 At Manoharpur, Bishangarh, Rajasthan
Distance | 223 Kms (4 Hrs By Road)
ITC Mughal, Agra
One of the finest five-star hotels in the country, ITC Mughal at Agra finely expresses the unbridled luxury of a royal getaway, standing in a city of rich royal heritage, in close proximity to the Taj Mahal. If you're looking for a luxurious, royal refuge, where you can experience every moment to its fullest, feeling like the king/queen of the world, then this is the place to be! For all born-to-be-royals out there, do not miss out on this experience in one of India's most visited cities!
Where | ITC Mughal – Taj Ganj, Agra
Distance | 242.8 Km (3 Hrs 34 Mins By Road)
JW Marriott Hotel, Chandigarh
Situated in Chandigarh's most happening district, Sector 17, the hotel personifies style and elegance at its finest! Their rooms are not just luxurious, but extremely warm and comfortable – the kind of quality we all look for in a road trip getaway! Spend a few days chilling away with the family in their comfy beds and rooftop pool, and hogging away in their fine-dining restaurants. Plus, you'll have an expansive lawn at your disposal, for making the best of sunset views – what better place to enjoy a few days away from the rest of the world than this glorious hotel!
Where | JW Marriott Hotel – Plot No 6, Sector 35B, Dakshin Marg, Chandigarh
Distance | 242.3 Km (3 Hrs 56 Mins By Road)
The Baradari Palace, Patiala
Since us Indians are super filmy and super serious about the films we love, there's no way we couldn't have included this heavenly palace in the middle of Patiala – the palace where Phillauri was shot! That's reason enough to visit RN, no questions asked! But if you still want more reasons to go and enjoy yourself in this sprawling garden-palace, we'd ask you to go check out their gorgeous interiors! This architectural marvel oozes vibes of historical and royal magnificence, making it THE place to head to for a culturally rich, warm and happy trip!
Where | The Baradari Palace – Rajinder Kothi, Baradari Gardens, Patiala
Distance | 253.4 Km (4 Hrs 21 Mins By Road)
Hill Fort, Kesroli
Another gem restored by the Neemrana Hotels, this is one of our favourites, thanks to its charming architecture hailing from the 14the century, and the utter beauty and (we are too speechless for words here) of its expansive landscape, arched verandahs and majestic turrets.
There's nothing ordinary about this unbelievably charming fort, which has a rich history and a luxurious present! Do not miss this experience out – it's got to be in your best travel memories – there's just NO other way!
Where | Hill Fort, Kesroli – Near M.I.A Post Office-Bahala, District Alwar, Kesroli
Distance | 174.9 Km (3 Hrs 22 Mins By Road)
Laxmi Vilas Palace, Bharatpur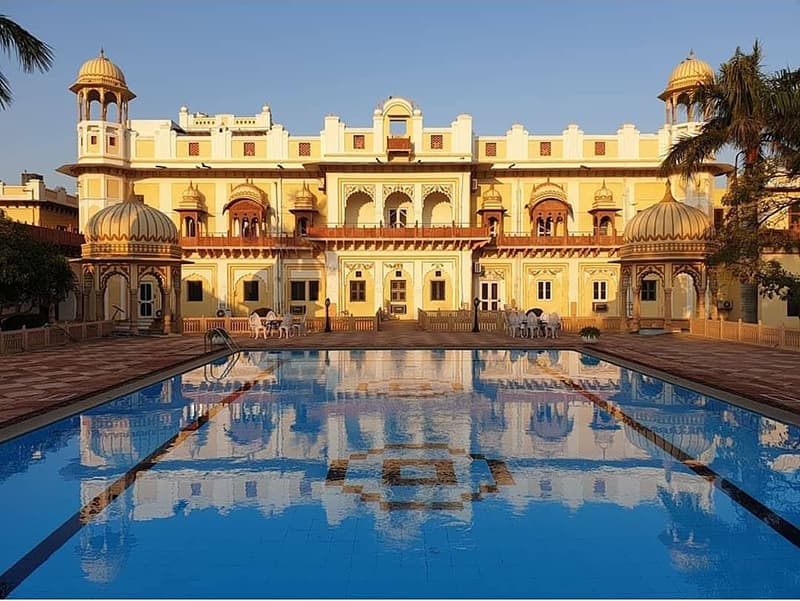 Close to the Bharatpur Bird Sanctuary, the Laxmi Vilas Palace in Bharatpur speaks of the kingdom's rich and powerful history, having been witness to royal weddings, courts, hunting and everything else royalty. And we can definitely feel that vibe when we enter the palace – the chandeliers, the elegance, the classic interiors – right down to the flooring and the wallpaper, all speak of a bygone era, making it feel like nothing less than a palace even today!
Where | Laxmi Vilas Palace, Bharatpur – Old Agra Achhnera Road, Kakaji Ki Kothi, Bharatpur
Distance | 221.8 Km (3 Hrs 58 Mins By Road)
Road trips for the win! So what are you even waiting for!? Pack your bags and get on to the best road trips. Vacation away at these gorgeous havens of beauty, style and luxury with your loved ones!
Best Travel Movies For You To Binge Watch!
We all know how difficult the time has been lately due to COVID-19. Moreover, after WHO declaring it as a pandemic there has been extreme situations all across the world. The worst affected sector has been travel in terms of economically as well as mentally. It must be very difficult to calm your inner wandered during these tough times as well. Right now, the best you can do is sit at home and binge watch some travel movies!
Here, we present you some of the best travel movies to help you soothe your wanderlust- 

INTO THE WILD
An unimaginable true story of a fine student and athlete, the protagonist abandons everything and goes hitchhiking to the Alaska is a movie which will stay with you forever. This one movie should be your must-watch when it comes to theme of travel.
HIGHWAY
A movie which you wish never ended, Highway takes you to the beauty of India; not only has it showed the scenic beauty of the mountains and villages but also visits the plains of Delhi, Punjab and Haryana and has beautifully conveyed the essence of travel.
ENCOUNTERS AT THE END OF THE WORLD
Antarctica is that one continent or place which has always fascinated us, and this movie is just here to fascinate you even more about this place. An incredibly beautiful and funny travel movie, it takes you on a tour of Antarctica and into the lives of people and animals living there.
ZINDAGI NA MILEGI DOBARA
A movie which holds a special place in the hearts of the Indians, takes you through a road trip in the country of Spain and the once-in-a-lifetime adventures like deep-sea-diving and the Tomatina festival. The movie is sure to encourage you to travel with your best people and discover yourself through all of this.
THE BUCKET LIST
A sentimental, predictable yet a movie which could make your heart feel warm; it inspires you to tick off your bucket list. Filmed in various locations of India, China, France and many more, the film is sure to give you some ideas for your next trips.

QUEEN
A movie which teaches self love, takes you and the protagonist to Amsterdam and Paris. She learns that you are enough and through the movie travels these places and discovers her identity and gains a new perspective of living life on own terms.
Apart from movies, you can also watch many interesting short films if you're not much of a binge fan. Checkout the link give below!
Top 7 short films you can watch during lockdown.
Your Mini-Guide On How To Be A Minimalist Traveller
The Minimalist Traveller packs only what she/he needs. The What-if thinking has made us all pack multiple bags that made our trips heavy… physically and mentally. Long holidays require small backpacks. Allow yourself to be free and truly enjoy the places you visit by becoming a minimalist traveller.
These little tips will help you decide what to and what not to eliminate. 
"He who would travel happily must travel light." Antoine De Saint-Exupéry
A Small Bag Helps
Every minimalist traveller starts packing with a small bag in hand. Of course, the more space you have, the more unnecessary items you end up packing.
Can't decide what to leave at home? These three questions will automatically make your bag lighter…
Items not used on the last trip?

 
Like the extra formal dress you packed, the heels you did not bother looking at, your own shampoo, 5 packets of chewing gum, ( you better not take that to Singapore … ), a different accessory for every dress you packed, the list is endless.
Consider packing one pair of shoes that are good for your trip. This means choosing something that allows comfortable exploration. 
Is there a habit you want to let go of?
This "habit" could be as innocent as curling your hair every morning, or could simply be eating a lot of packaged items like chocolates, gums and Nachos. 
Minimalist travellers embrace their natural look whenever travelling. So their Toiletries-bag ends up being lighter than those who regularly style their hair. Also, enjoying the local cuisine would help enhance your experience of visiting the places on your itinerary.
Is there a smaller version of the things I use?
Consider swapping books you want to read while travelling with e-versions on your phone. It is also useful to create a check list for your essential items.
The Mindset of a Minimalist Traveller
Bringing memoirs back from trips has always been a cool thing to do, and has been a trend for a long time. So has our need to stick to things for mental comfort, which makes our life cluttered. Buying a lot of things along the way will reduce the ease with which you travel, especially on a long trip with multiple destinations.
Minimalist Travellers usually avoid buying items on trips until necessary. Consider making this your Mantra!
Want to know more about travelling?
Read:
Top Seven Travel Books To Soothe Your Mind
Books are a man's best friend because if you love reading books, you will never be alone. They take you in a totally different world filled with imagination and magic. It is like living a parallel life without having to teleport. Apart from this, the other great thing in life is travelling. What if we combine the two? Yes, we are talking about those books that inspire you to travel.We may not be able to venture far right now, but these travel books, from classics to comic travelogues, take us on journeys around the world.
1. Eat, Pray, Love by Eliza Gilbert
This book always comes first when we talk about travel. It is the story of Eliza Gilbert who is a modern-day American woman, who leaves behind her life to examine different aspects of her nature. She goes for pleasure to Italy, for devotion in India and finally to Bali. While she travels the different countries, you would want to travel with her. This book is everything that will inspire you to explore your life while exploring the world around you.
2. In a Sunburned Country by Bill Bryson
Bill Bryson is a name which is synonymous to travel writing. You can't pick up just one by him that's good because they all are. This book chronicles his journey across Australia, as he goes from the east to the west, through tiny towns, coastal cities, and forgotten forests. He travels around the country in awe, and sometimes in fear. This book will make you want to travel to Australia!
3. The Art of Travel by Alain de Botton
With so much travel literature telling us where to go, we can lose sight of the purpose behind traveling at all. Alain de Botton's, The Art of Travel" serves as a reminder of the how and why when it comes to hitting the road, said Michelle Halpern, travel blogger at Live Like It's The Weekend. Many travel-themed books play to our daydreams about travel, but de Botton takes a brutally honest and philosophical look.
4. The Alchemist by Paulo Coelho
Most travelers are searching for something on their adventures, whether it's amazing archeological sites or the most delicious meal. But while you're busy seeking something external, you usually end up discovering a piece of yourself you never knew was there. That's exactly what happens in Paulo Coelho's book, The Alchemist. 
5. Full Tilt: Ireland to India with a Bicycle by Dervla Murphy
Few travel writers of any era compare to Dervla Murphy. Now in her late 80s, she's been responsible for dozens of travel books, dwelling on destinations as varied as Cuba, Laos, Romania and Cameroon. Her 1965 debut remains her best known work, and tells the account of an astonishing solo bicycle expedition to Delhi.
6. Jerusalem: Chronicles from the Holy City by Guy de Lisle
Canadian cartoonist Guy de Lisle is no standard travel writer and his books are far from standard travelogues. Using simple, unfussy, comic-strip illustrations, he recounts his first-hand experiences of living in some of the world's knottiest destinations, from Myanmar to North Korea. The result is a series of graphic memoirs that brilliantly juggle the subtleties and oddities of being a stranger in a strange town.
7. Venice by Jan Morris
Recent reports suggest the now-quiet canals of Venice are at their clearest for 60 years, with dolphins and swans spotted in recent days. The city, of course, has always had a touch of fantasy about it. Venice is a cheek-by-jowl, back-of-the-hand, under-the-counter, higgledy-piggledy, anecdotal city, writes Jan Morris in this 1960 masterpiece. Read this book for a ray of hope.
Related content- How Coronavirus Is Affecting Travel Plans?