Popular COVID Related Food Myths, Debunked!
As we all are battling COVID since the past couple of months now, there have been a lot of popular food myths that are doing rounds. The riskiest thing while battling such a disease is to stay away from myths. So here we are busting popular food myths and giving you a proper fact check!
1. Myth: Eating frozen foods such as ice-cream spreads the Coronavirus.
Fact Check: False. There is no scientific evidence that hygienically made frozen foods and ice-cream spread the Coronavirus.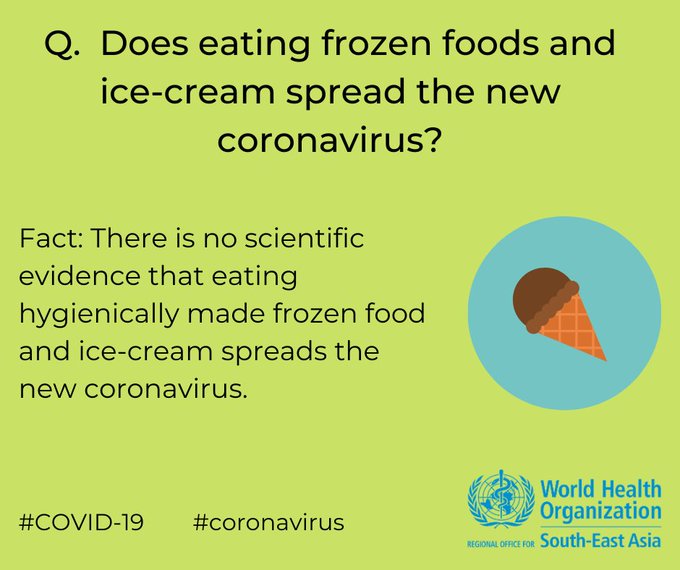 2. Myth: Adding pepper to your soup or other meals prevents Coronavirus.
Fact Check: False. Hot peppers in your food do not help in the prevention or cure of the Coronavirus.
3. Myth: Drinking lots of water every 15 minutes helps flush out the Coronavirus.
Fact Check: False. There is no evidence that drinking lots of water flush out the Coronavirus. However, for good health, it is recommended by WHO to have adequate water.
4. Myth: Lemon and turmeric help prevent Covid-19.
Fact check: False. There is no scientific evidence that lemon/turmeric prevents COVID-19. In general, however, the WHO recommends consuming adequate fruit and vegetable as part of a healthy diet.
5. Myth: Coronavirus can be treated by gargling with warm water mixed with salt and vinegar.
Fact Check: False. Coronavirus can not be treated by gargling with warm water mixed with salt and vinegar.
6. Myth: Eating garlic helps prevent infection with Covid-19.
Fact Check: False. Garlic is a healthy food that may have some antimicrobial properties. There is no evidence that eating garlic has protected people from Coronavirus.
7. Myth: Drinking fresh bitter gourd juice can cure the Coronavirus.
Fact Check: False. Drinking bitter gourd juice cannot cure Covid-19.
8. Myth: Eating chicken causes spread of new Coronavirus.
Fact Check: False. Eating hygienically prepared and well-cooked chicken is safe and does not cause the spread of the Coronavirus.
9. Myth: Using Mustard Oil in cooking can help prevent the spread of Coronavirus.
Fact Check: False. Mustard oil does not help to prevent Covid-19.
10. Myth: Spraying alcohol or chlorine all over your body kills the virus.
Fact Check: Spraying alcohol or chlorine all over your body can not kill the new Coronavirus.False.
Make Cajun Spiced Potatoes At Home With These Simple Steps!
Who doesn't love Barbeque Nation and their Uber delicious buffet? Potatoes are something which no one can resist. But do know you can make Cajun Spiced potatoes at home? Also, you can also make the Cajun Spice Mix at home and store for a month ahead. If you don't have time, Cajun Spice Mix is readily accessible on the market these days.
Just combine 4 tablespoons of mayonnaise, 1 teaspoon of tomato ketchup and 2 tablespoons of cajun spice mix when you decide to make these delicious cajun potatoes. In a jiffy, Mayo Cajun dressing is set.
Ingredients to make Cajun Spiced Potatoes Mix-
a. one teaspoon garlic powder
b. 1/2 teaspoon oregano
c. teaspoon onion powder
d. half teaspoon black pepper
e. 1/2 teaspoon dried thyme
f. 1 teaspoon red chilli powder paprika)
g. salt to taste
Making the Cajun Mayonnaise Dressing-
In a bowl, combine the mayonnaise, tomato ketchup, and all the spices mentioned in the Cajun Mayonnaise Dressing ingredients section. If the dressing is too thick, you can add 1-2 tablespoons of milk. To get the correct consistency, milk is always a good option!
Preparing the Potatoes-
1. To get rid of any dirt, scrub the baby potatoes. Cook the baby potatoes with skin until just tender (90 percent cooked). You can either use:
Instant Pot- 'MANUAL / PRESSURE COOK' on HIGH and fast release manually for 4 minutes.
Stove Top Pressure Cooker- Cook for 1 whistle.
If Microwave- 5 minutes would be good to go.
Stove Top Pot- Boil them for 10-15 minutes.
2. Finally, when all done. Drain the water and let the potatoes cool.
3. When the potatoes cool down, place them on a flat surface or a chopping board. Take a heavy spoon and press the baby potato till it's skin breaks up. Make sure you do not break the potato completely.
4. Pick up a little cornflour and sprinkle on both sides on potatoes. Do it until the potatoes are fully covered.
SHALLOW FRY METHOD FOR CRISPY CAJUN PICED POTATOES:
Heat some oil in a shallow pan on a medium-high flame, fry the coated baby potatoes in a shallow pan until they turn crispy and golden brown colour.
AIR FRYER METHOD FOR CREAMY CAJUN POTATOES:
Placed the coated baby potatoes in one single layer now. Brush some oil on top of the potatoes. Select AIRFRY using the display panel, then adjust the temperature to 395°F (200°C) and set the time to 16 minutes, then touch START. Then preheating begins for 3 minutes. The monitor shows "Add Food" by placing the cooking tray in the middle position. When the show indicates " Turn Food " carefully flip the potatoes.
Serve-
Lay the crispy potatoes in a plate and pour the Cajun spiced mayonnaise on each potato. Also, add some finely chopped onions and coriander for a mouth watering taste.
Read: Japanese souffle pancakes heres how you can make this at home!
Japanese Souffle Pancakes- Here's How You Can Make At Home!
Ever heard of Japanese Souffle Pancakes? These are soft, airy, delicate pancakes that may look too fancy for breakfast on a weekday, but you can't resist taking them on a weekend. A must-try is these pillowy, fluffy pancakes. The fizzy, bubbly sound of souffle pancakes can't be missed when you split them open for fun!
It's all about the eggs at Souffle Pancakes. Egg yolks and egg whites are mixed. Also, to make the meringue, the whites are pounded. Much like how you can make chiffon cakes or savoury and sweet souffle.
Until rigid peaks form, the egg whites are beaten and then folded gently and carefully into the remainder of the batter. Since the air bubbles keep their form within the pancake batter, the souffle pancakes are extra fluffy.
The pancakes are, as a result, super airy, like a souffle. You can also hear the sound of air bubbles escaping as you cut the pancakes! So, let's get started!
Ingredients for Japanese Souffle Pancakes
a. Two large eggs
b. one and a half Tbsp whole milk
c. tsp pure vanilla extract
d. ¼ cup cake flour (30 g; If you're using a cup measurement)
e. tsp baking powder
f. 2 Tbsp sugar
g. 1 Tbsp neutral-flavoured oil (vegetable, canola, etc) for greasing the pan.
h. a little bit of water (for steaming)
Steps to make Pancakes-
1. Collect all the ingredients. You will also need a 12-inch non-stick frying pan (big enough to simultaneously cook 3 pancakes) with a lid as well.
2. In two different containers, detach the egg whites and egg yolks. Place the bowl in the freezer for 15 minutes with the egg whites.
3. Meanwhile, apply the egg yolks to the milk and vanilla and whisk until thick and frothy.
4. Into the tub, sift the cake flour and baking powder.
5. Whisk thoroughly to blend (but do not over-mix). Only set aside.
6. Take the bowl with the egg whites out of the freezer after 15 minutes. Egg whites should be frozen in half. Start to beat egg whites now.
7. Add sugar steadily (approximately 1⁄3 at a time) as the egg whites turn frothy and light white. Continue to whip the whites of the egg.
8. The whites of the eggs would become more shiny and solid. When you raise the hand mixer and the egg whites stand right up with stiff peaks slightly bending over, avoid beating.
9. Over the lowest heat, heat the large non-stick frying pan to 300 F. Rub with cooking oil and scrape any noticeable oil gently. As you blend the egg whites and the egg yolk mixture, keep the heat on. Take 1/3 of the egg whites and apply to the mixture with the egg yolk. Whisk together.
10.  Next, take half of the egg whites and add them to the mixture of egg yolk. Gently fold in the egg whites avoiding to break the air bubbles. Now transfer the egg yolk mixture into egg whites. Carefully fold in two mixtures together without breaking the air bubbles.
Read for more easy pancake recipes!
What Your Favourite Food Says About You
Are you an extrovert? A risk-taker? A traditionalist? Don't know? Here are some quirky facts about You and your personality that your favourite food indicates. Sounds a bit crazy, yes. But just read through the article and everything will begin to make sense.
If you put hot sauce on your hot sauce.
If your motto is "it's not a meal if your lips aren't burning," then chances are you like to live on the edge, according to a study presented at the Institute of Food Technologists (IFT) Annual Meeting & Food Expo. Spicy foods set off pain receptors, which you'd think would be a deterrent to eating them, yet for some people, that's the allure. The researchers found that people who love their food spicy hot are also adrenaline junkies, desiring novel and intense stimulation.
If your go-to happy food is pizza!
Pizza tops the list of favorite foods for many people. One reason you can't resist a slice is that pizza is the most addictive food, according to a study published in PLOS One.  The combination of fats and simple carbs makes the brain light up like a Christmas tree. But if you love that cheesy, crusty goodness, it also shows that you may be an extrovert, Kessler says. Pizza is the ultimate party food—convenient, cheap, feeds a crowd—which makes it the go-to dish for people who love to be surrounded by others.
If your favorite dessert is an ice cream sundae with a cherry on top.
"People who love ice cream often have a child-like innocence or a sense of wonder," Kessler explains. Because there are so many options for toppings, cones, mix-ins, and variety, it gives you a feeling that anything can happen, which really appeals to those who love the mystery of life, she adds. And the cherry on top? You love to look for little, surprising moments of joy.
If your secret favorite meal is chicken nuggets and mac-n-cheese.
Forget about fancy Gruyére macaroni and cheese or panko-coated chicken tenders—if you like your pasta straight from the blue box and chicken in a take-out carton, it means that you romanticize your childhood. You're the one who calls your sister just to share a favorite story about that time the car broke down on the way to Disney.
If your idea of fast food is sushi.
Sushi is portable, convenient, bite-sized, and delicious—the ultimate "fast food" if you think about it. But a spicy tuna roll with wasabi is no burger and fries. Eating sushi as your favorite food-on-the-go shows that you're sophisticated and open to a wide variety of experiences.
If your favorite accessory is your portable coffee mug.
If your outfit isn't complete without a Starbucks cup in hand, and you can't imagine how you'd survive without your daily coffee infusion, then you're likely a classic type A personality.  You're likely competitive, impatient, and operate under a constant state of stress but you're also highly organized, ambitious, and great at juggling a busy schedule.
You love gummi worms and everything alike!
Who doesn't love a good sweet/sour combo? Yet there's something particularly crave-worthy about those sour fruity candies, especially if you often feel conflicted or frustrated with your life, says Alanna Kessler, RD, a certified dietitian nutritionist in New York City and founder of Be Well. If you constantly crave the two flavors together it may indicate that you get overwhelmed easily but you're also good at bringing balance back to your life.
Thanks for reading!
Also read- How cutting down on junk food is sustainable
And watch this video- https://www.youtube.com/watch?v=Zn1RFrSVOL4