Now Stay At The Royal Palace Of Jaipur For USD 8000 A Night!
If you've ever wondered what it's like to live like royalty now's your time to find out. The royal family of Jaipur just recently listed their palace on Airbnb. The City Palace of Jaipur, built-in 1727, is the actual home to Jaipur's Royal Family. Over the last three centuries, the palace has hosted several famous dignitaries including former President Bill Clinton, Prince Charles, Jackie Kennedy, and more. And now, it will host you too if you wish.
Starting November 23, 2019, the Gudliya Suite at the City Palace will be bookable via Airbnb to outside guests. That makes His Highness Maharaja Sawai Padmanabh Singh the first King to host on Airbnb.
"I am thrilled that my family and I are partnering with Airbnb. To bring the splendour of Rajasthan to life for travellers from around the world." His Highness consequently shared with Airbnb. "My own travels with Airbnb have made me feel very welcome in new cities and cultures. And now I am happy that the experience of quintessential Indian hospitality will be shared with others."
Inside the suite, guests will find royally-appointed interiors including "large and airy reception halls, crystal chandeliers, gilded wall decorations, intricate carvings. And also in addition to the royal residence, the sprawling palace complex houses a large, internationally recognized museum," the suite's Airbnb listing explains.
The Gudliya Suite
The Gudliya Suite, located within one of the private sections of a royal palace. This will include its own lounge, kitchen, bathroom, and even a private indoor swimming pool. Also, during their stay, guests will have a private butler to attend to their every need. Consequently, those interested in exploring more of the city will also have access to a guide. The guide can build curated city tours.
Guests will also eat like the royals with Rajasthani meals prepared daily. This can be eaten on their own private terrace overlooking the Aravalli hills. And, before guests leave, they can sit in the palace's gardens for a spot of afternoon tea to savour one last sip of royal life.
Virtual Scuba Diving To Beat The Heat
India saw an extension in the lockdown on May 30. The month of May and its scorching heat has got us all uncomfortable. In addition, due to the lockdown we cannot even travel. Therefore, its the boredom and heat both bogging us down.
Worry not! To help you kill the boredom and to help you beat the summer heat, read this post. This post is about the different places where you can set out to do Virtual Scuba Diving.  Since all of us have missed traveling in these summer vacations, you can dive deep in the water here.
What is Scuba Diving?
Scuba diving is the act of diving deep under the waters. While doing this, this diver is self- contained with all the necessary equipment. For instance, the diver carries a breathing apparatus called as scuba with them. The apparatus helps the divers to breathe underwater.
A scuba diver attaches fins to their feet that help them to navigate underwater. By doing this one can explore the different creatures.
Though at this moment, scuba diving is not possible, that does not restrict you from your tour. Here is where virtual scuba diving comes into the picture.
What is Virtual Scuba Diving?
Virtual Scuba Diving is a way to witness all that you can witness in a normal scuba diving session without getting wet. It gives a 360 degree view of marine life. You can watch amazing habitats, animals and different varieties of marine life.
National Geographic
The team of national geographic has created a full 36-degree view of marine life at different places. There are a lot of marine places that one can see here.
Sharks, coral reefs and ice glaciers are all at display here. Set on an adventure to do some deep-sea diving. Or tour the wild rivers of Canada. In addition, go underwater on Bermuda's Shipwreck.
Go Pro VR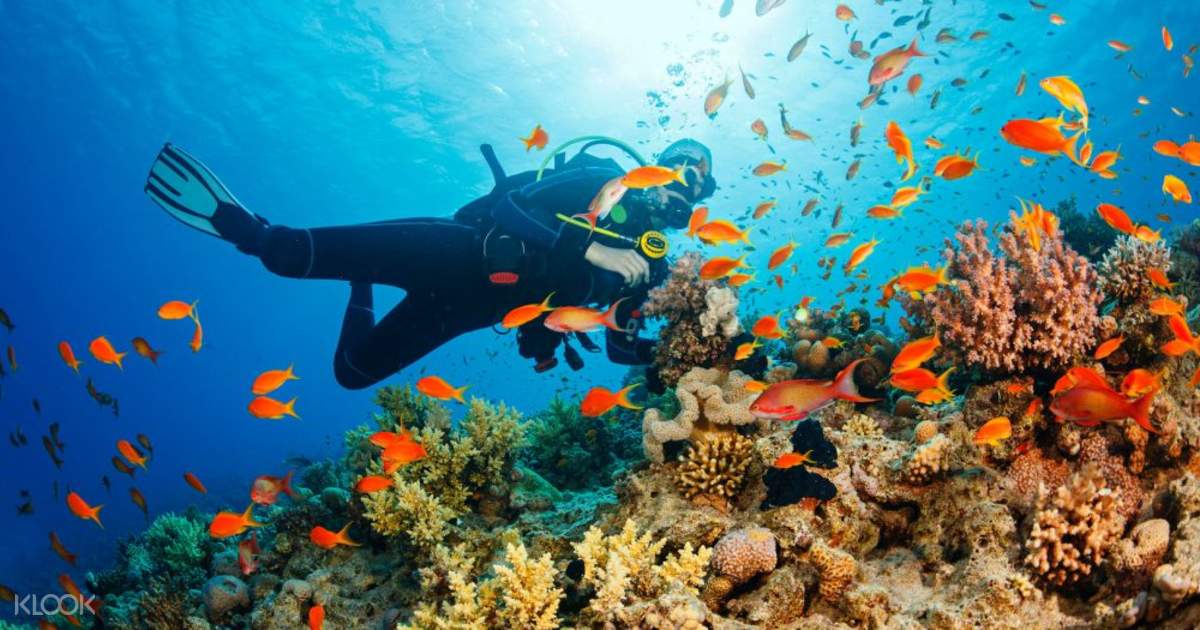 With Virtual Reality of Go Pro camera's, you get some additional dose of underwater life. Check it out here. Watch sharks and much more there.
National Marines Sanctuary
To educate people with marine life, here is National Marines Sanctuary with its 360-degree photos. Do check them out here.
In addition, also check Virtual Travel 2020: Sightseeing
The Most Beautiful Villages In The World
Who doesn't love big cities? But there are a lot of them around the world the feel remarkably similar. They consistently feature skyscrapers, crowded streets, and busy people in business suits.
Although, if you want to have the best way to travel experience it surely has to be a fundamentally different culture to explore the smaller villages away from the big cities.

Below are the 8 most beautiful villages in the world that immediately show how unique they truly are.
Shan State village, Myanmar
Situated on the banks of Inle Lake, Shan State village in Myanmar is definitely not the easiest village to get to. But if you get the chance, it is the opportunity of a lifetime!
Popeye Village, Malta 
Popeye village, located at Anchor bae in the north-west corner of the Mediterranean island of Malta. It was an also film set from the 1980 musical 'Popeye', now a theme park village with boat rides & food outlets.
Carvoeiro, Portugal 
It is a beautiful small town of Carvoeiro situated on the Portugal coasts. It is a fantastic destination to witness beautiful ambience and have a relaxed, peaceful holiday.
Simiane La Rotonde Village, France
Surrounded by olive groves and lavender fields, Simiane La Rotonde is a beautiful hilltop village depicting the ancient medieval vibes. It has flower filled cobbled streets lined with pretty houses and artistic studious to die upon!
Reine, Norway
A tiny and incredibly picturesque village situated in Norway is the best place to discover the Lofoten Islands.  Hub of fishing, the village has earned the title of the 'most beautiful village in the world.'
Rural Village, China
Situated on the rice field in southern China, this village is the significance of what peace looks like. It is located near Zhaotong District, Yunnan Province.
Hallstatt, Austria
Hallstatt is one of Austria's oldest and most famous towns. It has 16th-century Alpine houses and is home to scenic coffee shops and cafes. It also has a trail which leads to Echelon Valley glacier garden with beautiful glacier view.
Gifu village, Shirakawa Japan
Shirakawa, Gifu village in Japan. It is known for being the site of Shirakawa-go traditional village showcasing a building style known as gassho-zukuri. Moreover, it has enormous fields of sunflowers which is a delight to watch!
For more, checkout- Travel articles.
Is It Safe To Visit Nuclear Disaster Sites?
"Mankind invented the atomic bomb, but no mouse would ever construct a mousetrap." 
-Albert Einstein
There was a time when countries and nation-states were in the rat race to acquire the monopoly over nuclear weapons. That was the time when the nuclear proliferation of these weapons was growing at an increasing rate. The weapon states and non-weapon states were at loggerheads with each other. Sooner and later, every country embarked on their individual capacity to build nuclear reactors and now if we look back, no good was achieved. The hunger games to redistribute the balance of power has led to the loss of lives and abandonment of places where once life perpetrated in the underbelly of once-safe nuclear disaster sites. Nuclear disasters occurred and left a legacy no one wanted. We earned but at what cost? Now that we are tackling with an invisible enemy ourselves, here's a look at what these nuclear disaster sites look like today and whether it is safe to pay a visitation or not.
CHERNOBYL, 26 April 1986
More than 33 years ago, Chernobyl became the world's worst nuclear disaster site. The plant crew intentionally switched off the safety systems to test the turbine.
Chernobyl has been opened to tourists and public since 2011 when the government authorities deemed it safe to visit. Given that you follow the orders of the tourist guide, you can prevent the radioactive from perpetrating your body.
The main danger is not radiation anymore, but the unsafe structures which have been deserted for 30 years, and lots of metal has been stripped away. So go around in groups, and obey the guide's instructions.
FUKUSHIMA, 11 March 2011
The Dai-ichi nuclear power plant spewed radiation across dozens of towns, triggering a 10 mile evacuation zone. Following a major earthquake, a 15-metre tsunami disabled the power supply and cooling of three Fukushima Daiichi reactors, causing a nuclear accident on 11 March 2011. All three cores largely melted in the first three days.
9 years after the nuclear accident, Fukushima is expectantly opening up for Tokyo Olympic games 2020. The Japan government declares that Fukushima is under control.
TRINITY SITE, NEW MEXICO, 16 July 1945
One week after the establishment of White Sands Missile Range (WSMR), the world's first atomic bomb was detonated in the north-central portion of the missile range, approximately 60 miles north of White Sands National Monument.
This site is now open to the public twice a year. It is located on the White Sands Missile Range which is an active military installation in New Mexico. The atmosphere is quite a circus with people bringing screaming kids, strollers, beer coolers, bicycles, dogs, and everything else you could think of.
Related: How Introversion makes the best Traveller