Hygiene Tips For COVID-19
These are really unusual times for everyone in the world right now. And Hygiene, which probably isn't your priority is now a priority for everyone in the world. So here are few tips to prevent COVID-19 to spread, for you and your loved ones. Because we wouldn't want you to fall sick :).
Washing/Sanitizing Hands Regularly
Regularly and thoroughly clean your hands with an alcohol-based hand rub or wash them with soap and water. Why? Because washing your hands with soap and water or using an alcohol-based hand rub kills viruses that may be on your hands. Further, If you cannot carry a sanitizer, refrain from touching surfaces.
Maintain Distance
Maintain at least 6 feet distance between yourself and others. Because when someone coughs, sneezes, or speaks they spray small liquid droplets from their nose or mouth which may contain the virus. If you are too close, you can breathe in the droplets, including the COVID- 19 viruses if the person has the disease.
Avoid Touching Eyes, Nose & Mouth
Avoid touching eyes, nose and mouth. Why? Because Hands touch many surfaces and can pick up viruses. Once contaminated, hands can transfer the virus to your eyes, nose or mouth. From there, the virus can enter your body and infect you. Also, you might do it unconsciously, maybe to adjust your glasses or itch your nose. That is why washing and sanitizing your hands is of utmost importance.
Sneeze/Cough Correctly
This is not just for COIVD-19, but actually any disease, even a common cold. If you've been sneezing or coughing and covering it by your hand, then you've been doing it wrong. Because it is usually your hands which are the carrier of disease. It is advised to sneeze/cough on your elbow or shoulder. Further, you could also use a paper tissue.
Clean Maks & Gloves
Face masks are the key to fight the virus. If you are using masks and gloves, you are doing a great job! But are they clean? Face masks are directly in contact with your face. Therefore it is of utmost importance to wear clean ones. If you have been using one mask over-and-over, it is advisable to either clean it or replace it. As for rubber/latex gloves, it is better to sanitize or wash it, the world doesn't need more plastic!
For more information on COVID-19, https://www.who.int/emergencies/diseases/novel-coronavirus-2019
For more articles on lifestyle, visit- https://littleletterslinked.com/category/lifestyle/
Tips To Take Care Of Your Plants During Monsoon
Monsoon is the time we all long for. Despite of the low temperature and humidity Monsoon is the best time to have plants. They offer roots the potential for growth. During the summer season, your indoor plants can absorb the humidity in the air and get rid of the excess sunlight they have.
Yet during this time of year you have to take extra care of your plants as well. There are many things to watch out for, from irrigation to bringing in fertilizers.
Really, there is not a weekly or monthly task list. You need to run your eye over them everyday when you've plants. Doesn't mean looking at every single one in-depth every day – just go to the places where the plants are to see if any of them look sad. Make sure you water them when they are hungry, and if they are dusty clean them with my hoodie's collar.
In addition to that, crack the neem oil and cloth to clean them every month or so, but a schedule is not required. Just do that when I come across a lot of dusty plants.
Technically, make sure all your plants are watered before you clean the house on a Saturday, but this is more so because you don't want to trail the soil on a freshly vacuumed carpet. We highly recommend linking your homework with plant care-it's so good when all is watered clean.
Few tips to take care of your plants-
There is no restriction in following a routine for your plants, but their regular updates and changes must be noted down. If you're a plant lover you must be knowing how difficult and full of patience it is to have plants. Make sure you take care of them in such a way only.
1. Be sure to test their pots before watering them. They need only a small amount of water during this time. Overwatering can cause root damage.
2. Never water them after 3 PM.
3. Make sure the pots drainage system is correct, as there can be no stagnant water.
4. During the monsoon season the plants are vulnerable to worms. So, don't forget to regularly check the beds for any infections. Earthworms are good for them, however, as they dig holes in the soil which helps to nitrate.
5. During the monsoon, the humidity level is high, so ensure plants get proper ventilation and light.
6. When you need fertilizers to be applied to your plant, do so between 7 am and 11 am in the morning.
7. Apply pesticide and fungicide once a week in your indoor plants to prevent pests and diseases, as they continue to attract pest easily during monsoon.
8. Instead of plastic sheets, you can use perforated sheets to cover your plants on the terrace or verandah if they are on. It will help in sprinkling water on them.
9. Pruning them before the Monsoon is always advisable.
10. Don't forget to keep the saplings in the right place to save them from rain.
Also, read- 5 indoor plants to grow inside your home right now
Mahabharata And Its Many Sides
Mahabharata is one of the greatest Indian epics. It has been told and spread from ages. In addition, it is not just the Indians but also foreign scholars who look at the book in awe. Similarly, in modern days, more and more authors are presenting the text from different perspectives. Read about this book here in this post.
Mahabharata
The reason why the book is so popular and looked up to is that every possible dynamic of human relations, of statesmanship, of politics, warfare and diplomacy are all there in the book. Moreover, what makes it even more special is that all the things that have been written about are still relevant even today day.
However, Mahabharata was written centuries ago. Therefore, it is much different from what things are today. For instance, we got the term feminism now, women are much different than those times. Most women today even take up jobs and work for earning. In addition, due to the freedom of speech, more people can take up artistic fictional perspectives on the great epic.
Books that are Retelling of Mahabharata
The Palace of Illusions
The book is written by Author Chitra Banerjee Divakaruni.  The book talks about the tale of Mahabharata from the perspective of Draupadi. Draupadi or Panchaali was the daughter of the King of Panchaal and the wife to five Pandav brothers. It is a celebration of womanhood, sacrifice and the strength of Draupadi. She indeed has seen a lot of hard times and this was beautifully captured from the woman's perspective in this book by the author.
The book was available for free on Kindle when the lockdown started and it was surely a big gain for the readers.
Get the book here. 
Jaya: An Illustrated Retelling of Mahabharata
This book is one of the books written by famous mythological author Devdutt Patnaik. In addition, the speciality of the book is that it has more than  250 illustrations by the author himself. He has done a great job of simplifying the Sanskrit verses and adding details that are lesser-known.
Karna's Wife: The Outcasts Queen
This is another of the feminist retelling. Kavita Kane is a famous feminist writer. It tells the story of Mahabharata from Uruvi, Karna's wife's perspective.
I, Duryodhana
The book is written from the perspective of Duryodhana who is rather not on the good side as everyone may say. Get the book here.
The Kurukshetra War series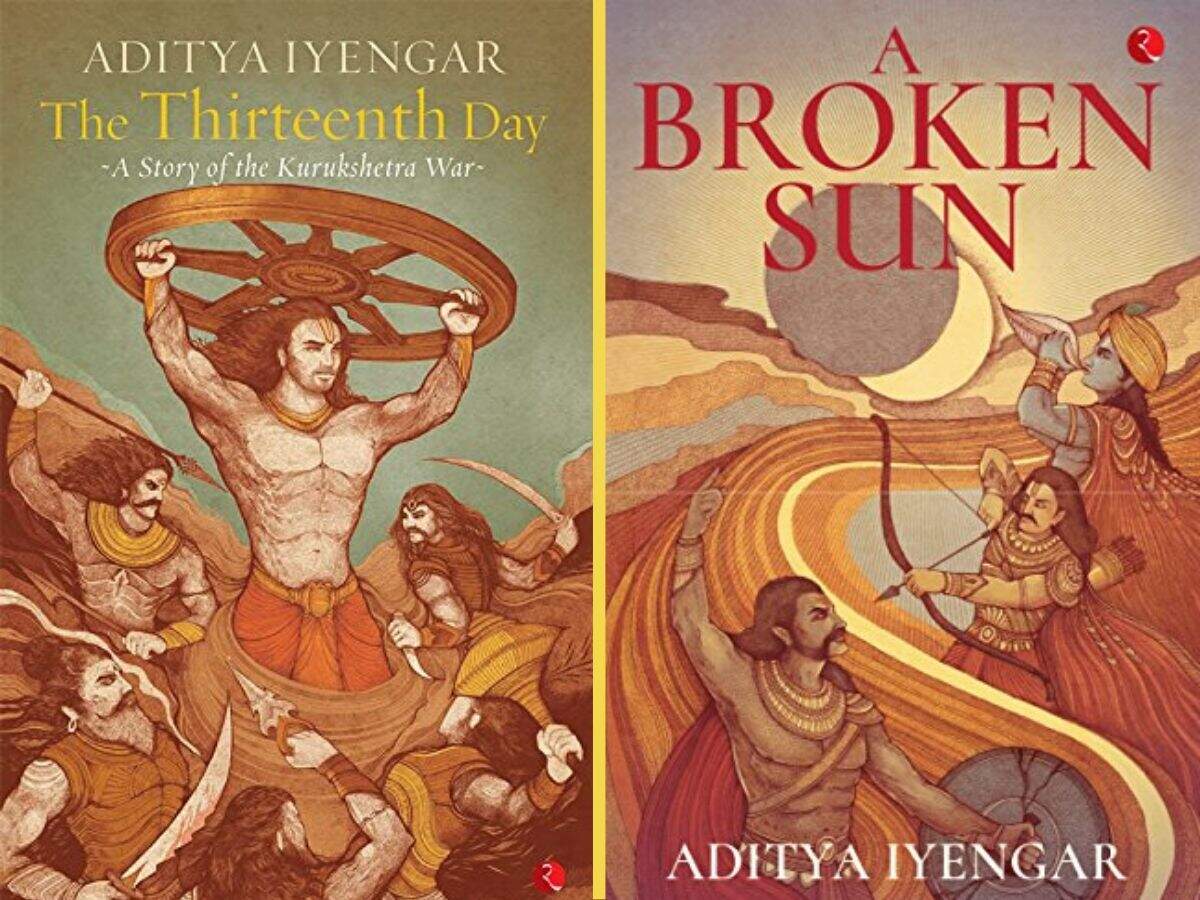 This series written by Aditya Iyengar consists of two books. The first book is about the thirteenth day of the way when the three most sought after warriors of the Kaurava clan left the battle. Similarly, the second part of the series follows the events that take place after the thirteenth day.
Ajaya
Jaya means victory in Hindi. In Ajaya, author Anand Neelkantan has shown the other side of victory. That is, he has written the book from the Kauravas point of view. Get the book here.
Arjuna: Saga Of A Pandava Warrior-Prince
The book is a detailed retelling from the perspective of Arjuna. It follows his life right from his birth till his death. In addition, it also reveals a lot of the emotional side of Arjuna.
Yudhistar and Darupadi
The text is written in the form of a poem. The Hindi translation of the book is done by none other than Gulzar.
Mahabharat series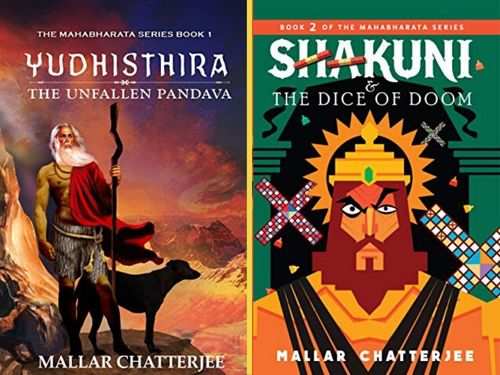 This is also another series of two books. However, it is quite different from other series. Each of the two books puts forth two opposing views of the great war. For instance, one of it tells the story from the Pandavas side. On contrary, the other one says the story from the opposite view of the Kauravas.
Don't forget to read Dr. Shashi Tharoor On What To Read
How To Tackle Emotional Blackmail In A Relationship
Emotional blackmail is when a person tries to manipulate you to make you do things their way. They use your feelings to control your behavior. And this kind of nature might be seen in some relationships where one partner manipulates the other to get their work done.
The examples of emotional blackmail are very subtle and they are generally exhibited in one's body language and disappointment. So, people should prevent this kind of behavior when they feel that they are manipulated in a relationship. So, here's everything you should know about it.
Examples of emotional blackmail and how to handle this?
Signs of emotional blackmail
These are the subtle signs of this behavior:
Demand: They will demand from their partner to not meet a particular friend or do a specific thing. This would be conveyed in a subtle way.
Resistance: If the other person tries to resist it, then their partner will push again indirectly to make that happen.
Pressure: Next, they will pressurize directly. There are high chances that they will try to criticise or demean the person.
Threats: When nothing is working, they will directly threaten to get the things done.
Compliance: Then, they'll have to agree with their partner and listen to what they say. The conflict will be over and their partner will be nice to them for doing what they want.
Repetition: When such a situation arrives, they will know how to play with your mind to make you do their work. They will keep controlling their behaviour.
Other examples of emotional blackmail
Some people use other tactics to manipulate their partner's feelings such as the following:
Punish: They will punish their partners for not obeying their orders.
Self-Punishers: Here, people will punish themselves to make their partner feel bad for not listening to them.
Tantalizers: People will use kind gestures and words to manipulate their partner's mind. They will be extremely nice while demanding something.
What to do?
Handling this kind of situation is quite tricky. You have to be calm and think wisely to react to such things. So, here's what you can do:
First, keep calm and take time to think about what your partner wants.
Start a conversation with him or her. Try to convey your feelings. Tell them how you feel when they demand something illogical.
Show them that love doesn't include blackmail. It may seem common knowledge, but we do forget at a rapid rate as things are always going left right and center when we are alive. You need to instil the knowledge that whenever they demand something from you, they must be prepared for yes or no and not threaten you or start whining about hurting themselves when they get a response they did not expect.
You can also seek professional help to resolve these matters.
FIN
Please visit LLL Lifestyle for fresh and informative articles