Frozen, Fresh Or Canned Food: What's More Nutritious?
In recent weeks, as shoppers have looked to stock up on food that lasts, sales of canned and frozen have surged. But many of us are taught to believe that when it comes to fruit and vegetables, nothing is as nutritious as fresh produce.
Here, you'll find what's more nutritious for you and your family: 
These are the different processes which will help you understand how your stocked up food is made and preserved to help you understand the nutritional content.
SPEED FREEZE (Frozen Food)
The method is a relatively new innovation for food industry. The food industry has come up with ways to freeze the produce in a very short time. Almost immediately after it's harvested.Speed is important in the frozen food industry. It is a nutritional race against time. Innovation has shortened the process of freezing foods over last few decades. It includes the freezing time of peas. Peas are individually quick frozen.
There exists a crucial caveat. Before freezing the produce, it is blanched. This inactivates enzymes that work to degrade texture and colour during frozen storage. But this reduced nutrient content.
CANNED CONTENT
The nutritional content lost in freezing method pales when compared to the amount of heat production is exposed to when tinned. Food with more vitamin A and E, found n canned carrots and tomatoes fare better during heat treatment. But, these have some less desirable content in them.It is concluded that frozen food is preferred more. It is because of added salt as well as sugar in canned products.
But canning improves the safety of foods. The sterilisation process results in nutrient loss. But, once the product is kept in the can, it can be stable for years. Moreover, it goes through a process that kills all microorganisms. This keeps canned products safe.
FRESH TAKE
A good diet consists of all frozen, canned and fresh produce. Hence, what's important is to eat all variety. While having frozen and canned produce isn't a problem, they cannot take the place of fresh produce. Additionally, it is advised to buy local and organic produce. It is because organic crops consist of more phenolic compounds. This repels insects and disease more. Organic products also retain more nutrients.
Some experts suggest that what important is to have vegetables and fruits in your diet. Whether frozen, canned or fresh, the takeaway is simply to eat fruits and veggies. Any of these forms can prove to be nutritious.
Related – The top condiments for a tasty sandwich.
7 Delicious and Healthy Breakfast Smoothies
Breakfast is the most important meal of the day. While we all love different pot meals to start our day, starting your day off with delicious, fruit-filled smoothie is not a bad idea! There are different ways to make smoothies. Some might be confusing some might be simple. It is a 5-minute recipe with hardly 4-5 ingredients but, the task is to gain the freshness and fruitiness in a perfect balance.
Here are 7 breakfast smoothies recipes to kick start your day- 
Base Mango Smoothie Recipe
1 1/2 cup mango
1 1/2 cup blending liquid
1 tablespoon chia seeds
Isn't the simple one, the best of all? Simple Mango smoothie is full of taste and refreshment.
Anti-Inflammatory Turmeric Frozen Smoothie Packs 
1 1/2 cups frozen pineapple chunks
1/4 teaspoon of turmeric
1 pinch of black pepper
1 tablespoon chia seeds
1 cup packed spinach or kale
1 1/2 cups blending liquid
Turmeric with some greens? Why not call it a pure tropical bliss! As the name suggests, it is a pack full of anti-inflammatory resources.
Blueberry Coconut Water 
1 1/2 cups frozen blueberries

1/2 cup yogurt full-fat plain or greek

1/4 teaspoon coconut extract

1 tablespoon hemp heart

1 cup coconut water
Full of anti-oxidant rich blueberries, hydrating coconut water. It also gets a boost of protein with hemp.
Green Mango Superfood 
1 cup spinach packed

1.5 cups frozen ripe mango chunks

1 teaspoon ground flax

1 tablespoon chia seeds

1/8 teaspoon almond extract

1 1/4 cups almond milk
Packed with nutrients in the form of chia, spinach and flax, this drink is surely one nutritional one. Moreover, some almond extract with mango makes it tastes up to the notch.
Goji Peach Cherry 
1 cup frozen cherries

1/2 cup frozen peach slices

1 tablespoon goji berries

1 1/4 cup almond milk

1 tablespoon chia seeds

1 teaspoon ground flax
Cherries can improve your sleep pattern and we would proudly love to name this smoothie as "Good night wellness." Surprisingly, a combination of goji berries and cherries will provide you with a subtle chocolaty flavour when mixed together.
Strawberry Mango Chai

3/4 cup frozen mango chunks
3/4 cup frozen strawberries
1/4 teaspoon vanilla extract
1 1/4 cups almond milk or more as needed to blend
1/8 teaspoon chai spice blend
1 tablespoon chia seeds
1 teaspoon ground flax
1 cup spinach
Subtly sweet with a great depth of flavours from vanilla and chai blend. A handful of chia seeds and spinach makes this even healthier!
Matcha Avocado Smoothie 
3/4 cup frozen mango chunks

1/4 cup frozen avocado chunks

1/8 teaspoon vanilla extract

1 tablespoon chia seeds

1 teaspoon of this matcha powder

1 1/2 cups almond milk
The avocado helps in making the smoothie green, creamier & thicker which is, of course, more healthy-looking and it tastes much better than the regular one.
For more, checkout- Food articles.
Popular COVID Related Food Myths, Debunked!
As we all are battling COVID since the past couple of months now, there have been a lot of popular food myths that are doing rounds. The riskiest thing while battling such a disease is to stay away from myths. So here we are busting popular food myths and giving you a proper fact check!
1. Myth: Eating frozen foods such as ice-cream spreads the Coronavirus.
Fact Check: False. There is no scientific evidence that hygienically made frozen foods and ice-cream spread the Coronavirus.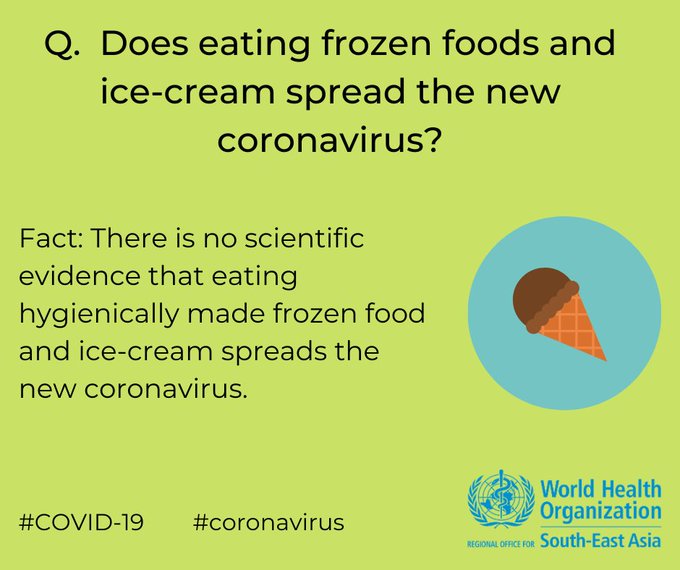 2. Myth: Adding pepper to your soup or other meals prevents Coronavirus.
Fact Check: False. Hot peppers in your food do not help in the prevention or cure of the Coronavirus.
3. Myth: Drinking lots of water every 15 minutes helps flush out the Coronavirus.
Fact Check: False. There is no evidence that drinking lots of water flush out the Coronavirus. However, for good health, it is recommended by WHO to have adequate water.
4. Myth: Lemon and turmeric help prevent Covid-19.
Fact check: False. There is no scientific evidence that lemon/turmeric prevents COVID-19. In general, however, the WHO recommends consuming adequate fruit and vegetable as part of a healthy diet.
5. Myth: Coronavirus can be treated by gargling with warm water mixed with salt and vinegar.
Fact Check: False. Coronavirus can not be treated by gargling with warm water mixed with salt and vinegar.
6. Myth: Eating garlic helps prevent infection with Covid-19.
Fact Check: False. Garlic is a healthy food that may have some antimicrobial properties. There is no evidence that eating garlic has protected people from Coronavirus.
7. Myth: Drinking fresh bitter gourd juice can cure the Coronavirus.
Fact Check: False. Drinking bitter gourd juice cannot cure Covid-19.
8. Myth: Eating chicken causes spread of new Coronavirus.
Fact Check: False. Eating hygienically prepared and well-cooked chicken is safe and does not cause the spread of the Coronavirus.
9. Myth: Using Mustard Oil in cooking can help prevent the spread of Coronavirus.
Fact Check: False. Mustard oil does not help to prevent Covid-19.
10. Myth: Spraying alcohol or chlorine all over your body kills the virus.
Fact Check: Spraying alcohol or chlorine all over your body can not kill the new Coronavirus.False.
Tips & Tricks To Bake The Perfect Cake
Quarantine time has got everyone to be baking cakes. Be it for just getting rid of boredom or having to spend some quality time with family, cakes are a great way indeed! Perfectly baked desserts are easier than you think. Try these simple tips for moist, tender cakes that rise to any occasion. Bake a cake right away!
1. Everything At Room Temperature
Everything in add in the cake batter mixture has to be in room temperature. That means the butter, eggs, milk everything. Creaming room temperature butter with sugar aerates it, giving your cake that light texture. Do not add anything directly from the fridge. Adding cold milk or eggs will solidify that creamed butter. Mixing up different ingredients at different temperature will be a messy business.
2. Use Abundant Parchment Paper
Grease first, then fit the bottom with a piece of parchment paper. Place the paper in the pan and grease the parchment. Add flour to the pan and tap until the bottom and sides are floured. Shake out excess. No matter what the pan shape, grease, line, and flour the pans. The cake will eventually peel off with ease when you use a parchment paper.
3. Do Not Mess With The Ratios Of Cake
Don't adjust the cake recipe unless you're really experienced. You don't want to make adjustments to the ingredients or you could throw off the ratios and you don't want to change the mixing method because you could get a totally different texture than you expected. The one important factor your cake depends is the ratios. So you do not want to experiment and waste some precious batter out there.
4. Always Check Oven Temperature 
Always check your oven temperature before popping in your cake batter. Get yourself an oven thermometer. They're cheap. Pop it into your oven and make sure the degrees you've set your oven to, is what's showing up on your thermometer, then adjust as needed. Some cakes need preheating of the oven. Some cakes like the mug ones do not need any any heating and are ready to go.
5. Be Patient While Baking The Cake
This one might go without saying, but don't open your oven a hundred times to check the cake. You'll let out too much heat, which will hurt your baking time and could cause the cake to sink. Also, when baking cakes with fruit in them like banana, carrot, zucchini or pumpkin, let them sit overnight before serving them. This helps the flavors to meld together and they're much tastier the next day.
6. Baking Powder Is Not Baking Soda 
Don't substitute baking soda and baking powder. They aren't exactly interchangeable. Without going in to too much scientific detail here, you'll use soda when an acid is added to the batter like lemon, buttermilk etc. Baking soda is much stronger than baking powder, so don't try subbing them out equally. You could mix them both on occasion but always keep the quantity of baking soda to a minimum.
7. Remove Cake From The Pans To Cool
Have you tried all the tips mentioned but still fail on the perfect baked cake? This tip might just be life saver in that cakes. For an evenly baked cake, you should flip the cake from the pan immediately after the specified time. The cakes will continue to bake in the hot pans. After removing from the oven, set the timer for 5–10 minutes. Invert the cake out of the pan and onto a wire rack to cool completely.
8. Creaming The Cake Is The Key 
Cake recipes often call for beating, or creaming, butter with sugar for several minutes sometimes up to 10 or 15. Although it can be tempting to cut this step short, particularly when you're using a hand mixer, it's important to stick with it. This beating is where the texture and structure of a cake is made. Air is a vital ingredient in cakes, and it takes time to properly incorporate it into the batter. As you beat, the butter will lighten in color there is an increase in volume in the bowl.
Also read- Rum Cake And Why Is It So Special!