Ethnic Style Guide: Bottom Wear Pieces And Kurtis
Ethnic clothes are gaining more and more popularity these days. It's the sheer comfort of the clothes and the great looks that make the style so appealing. In addition, there are a lot of colors, contrasts and styles to experiment within Ethnic Fashion. Take a look at this Ethnic Style Guide to know about the bottoms you can opt for with your ethnic dresses.
Ethnic Style Guide: Bottom Wear Pieces You Can Opt For
1. Patiala Pants
Patiala pants are like the god of bottoms when it comes to ethnic wear. It goes with anything and everything. If all other bottom wears fail you can surely count on Patiala Pants. These pants surely get an iconic status from Geet In Jab We Met (Kareena Kapoor Khan).
2. Palazzo Pants
Palazzo pants look wonderful with western as well as Indian wear. They are wide-legged and look beautiful under most of the Kurtas. In addition, they are also super breezy making one feel at ease.
3. Salwars
For all those who can't stick to one, Salwars come to the rescue. They are a perfect combination of Patiala and palazzos. Therefore, giving one the benefits of both of them. It has a well-defined form that people prefer. In addition, like a Patiala, salwar too go with almost any style of kurtas.
4. Sharara's
Shararas have rocked most looks from the 90's fashion. However, the trend is not going to die there. For instance, many ethnic lovers still love to wear shararas. They are many times paired with festive ethnic clothes. They go the best with shorter Kurta's. In addition, they also look good with tunics that have higher slits.
5. Dhoti's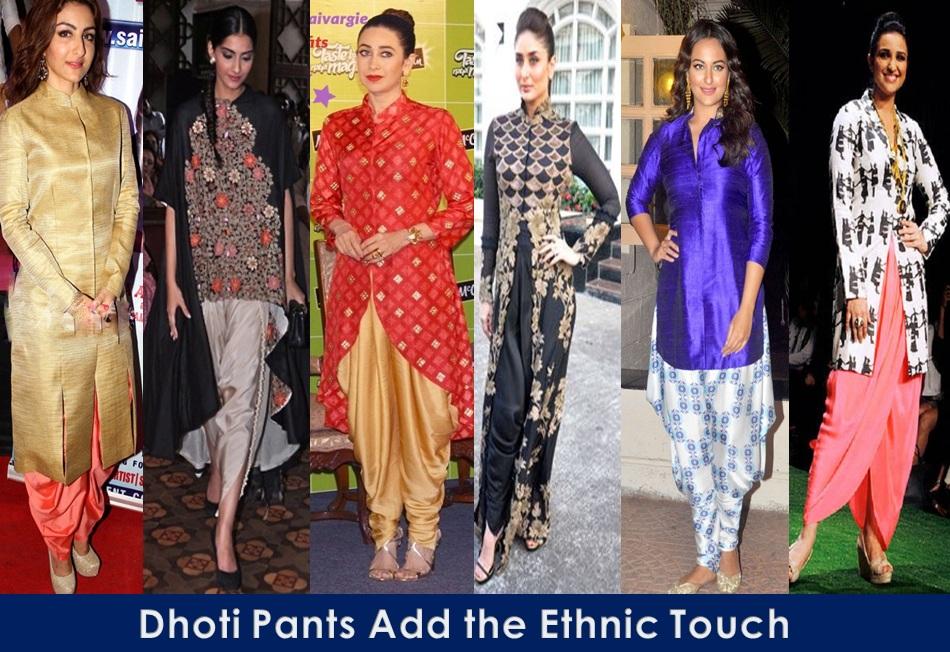 Many a time, people like to experiment with newer ways and wearing a dhoti with a kurta is one of them. At face value, it makes up a grand and impactful outfit. It is not something that everyone will be daring enough to wear. The dhotis are definitely comfortable. However, they can be hard to manage as they are very wide.
6. Leggings
Leggings are the most widely used, widely available and comfortable pairing with ethnic kurtas. In addition, they are available in many different colors and brands.
7. Cigarette Pants
Cigarette pants are the latest trend in bottom wears that go with ethnic wears. It is a rather contemporary outfit designed with smartness. These pants are cut off above your ankle level. They look the best when worn along with kurtas that have a short hemline.
8. Churidars
Also known as Form fitted pants, Churidars are a common bottom wears that we see many times. They are best to be worn with A-Line Kurtas, Angrakhas and Anarkali suits. The trick to getting the best look is to keep the upper part of the apparel closer to the bottom wear.
9. Culottes
Culottes are pants that are wide and short. The perfect kind of bottom wear for those who are constantly on the run and love their ethnics. Culottes are like are a more funky version of the classic palazzos. These look the best with kurtas that have experimental hemlines. For instance, those with rounded off edges and those that are asymmetrical.
10. Lehenga or Skirt
This outfit has become quite a hit in Bollywood divas these days. The two heavy pieces combined to give a great festive or wedding look.
Also Check out Karisma Kapoor: The Diva And The Fashion Guru
From Mouni Roy to Katrina Kaif, Stars Who Shared Their Hot Bikini Looks
COVID-19 took away our travel privileges. We have literally missed travelling more than anything else! Who doesn't want to seek refuge in the breathtaking mountains or tranquil beaches? Since travelling resumed in several places, our celebrities hopped on the first plane to enjoy and work. However, there are a few of them who just stayed home and shared throwback pictures of them vacaying. From Mouni Roy to Katrina Kaif,  here are a few stars who shared their hot bikini looks on their Instagram handles. These bikini looks will take your breath away!
Mouni Roy
Mouni Roy is soaking the sun in Maldives. She is in Maldives for a photoshoot. Mouni shared a picture featuring her in a "cozy nook" at a luxury resort. Donning a bright yellow bikini, Mouni accessorised her look with a pair of black sunglasses as she struck a sultry pose in the backdrop of the huge ocean landscape.
Ileana D'cruz
Ileana D'Cruz took to her Instagram handle reminiscing her travel days. She captioned,
Tb to when pool days and getting gloriously toasted in the sun was no big deal
#goodtimes #normalcy#fingerscrossed
Moreover, she wore an orange-black bikini making her fans weak in the knees.
Jacqueline Fernandez
Jacqueline owns a great sense of style and never fails to impress us. Her sultry black bikini amazed us!
Tara Sutaria
Tara Sutaria wore a brown polka dot bikini posing on the beach. She looked ravishing!
Anushka Sharma
Mommy-To-Be Anushka Sharma showed-off her baby bump in a black bikini. The pregnancy glow on her face was quite apparent. She is leaving no stone unturned to give Kareena Kapoor a competition.
Sara Ali Khan
Sara Ali Khan celebrated her 25th birthday in Goa with brother Ibrahim Ali Khan and mom Amrita Singh. Sara is beach baby which quite apparent from pictures on her Instagram handle. She is frequently seen dipping in the pool or posing on water balloons.
Sophie Choudhry
Sophie Choudry is known for her sultry looks. She wrote a lengthy captioning remembering her travel days. She said,
"To travel is to live…" ✈️
On world tourism day as I go through my photo gallery it's hard not to smile and shed a tear as all the memories come alive. For someone who is on a flight at least once a week, this year has been so challenging. But I try to stay positive by believing that I will get back my travelling joy, that I will see my fave cities again & that I will make new memories in countries I haven't been to before. Til then from #Maldives to #Monaco, #Paris to #Saigon, #StMoritzto #Salzburg & #London to #Agra and more , grateful for the beautiful sights I have seen. Here's just a few of my faves❤️ #worldtourismday#wanderlust #sophiechoudry#sophstylin
Katrina Kaif
Beach baby, Katrina Kaif loves to be around water. She looked super hot in a white bikini, the actress flaunted her curves in the mesh swimsuit.
Amyra Dastur
A little sun, wind in my hair and a good dose of vitamin sea. #2020 ✨
Kareena Kapoor Khan
Kareena Kapoor Khan also shared her throwback picture vacaying at a beach. We all know that she is a travel junkie and of course, she misses every bit of it. She has teased her fans several times by sharing her super hot bikini looks!
Read: Most Beautiful Places To Visit In Oregon
Accessories For Men To Complete The Formal Look
Less is more. Is this true with male jewellery? How do you know which ones to wear? How many should you wear? Jewellery and accessories can provide subtle touches that tie an outfit together in a great way.
From your rings to your cufflinks, to your watch, jewellery can amp your style as long as you wear them right. There are many different forms of jewellery, but that doesn't mean you have to use ALL of them. Knowing how and when to wear jewellery can be the difference between a confident look and a loud look, the latter being the one in which most men should try to avoid. Developing a sense of how to wear jewellery and accessories is essential, but first, we'll look at the different types of accessories and jewellery, and describe their functions.
Watch
The watch's most basic function is to tell time, but when dressing formally, it can do much more than that. A watch can subtly complement an outfit and add class to a man's appearance. The best watches for formal attires are simpler watches. Not watches with a million designs or hands or numbers. 12 numbers, 3 hands, and a nice plain face will nicely complement an already nice outfit.
Rings
Rings are interesting pieces because they usually represent something significant. You can agree that it makes our Godfather, Al Pacimo, look more classy.
Men usually don't go out to a store and buy a ring for themselves, but instead, they'll receive a ring as a special gift or from a special event. Class rings, wedding rings, and championship rings from sports teams are all significant pieces that should be worn with pride in a situation where formal clothes are called for.
Cufflinks
When wearing French Cuffs on a dress shirt, cufflinks aren't just an accessory, but a necessity as well.
A French-cuffed shirt is usually called for during formal times, so being able to wear cuffs for such occasions is a bonus.
There are plenty of designs and colors available when it comes to cuffs, and most will work as long as they don't call attention to themselves.
Tie Clips
The main function of a tie clip is to keep a man's tie from being blown over his shoulder by the wind when he's outside.
Aside from their ability to keep a man's look together when he's on-the-go, tie clips add a classy look to a well put together an outfit, and also tend to add a very business-like look to the working man at the office.
The most acceptable colors for a tie clip are usually gold or silver (and silver goes perfectly with a classic black suit, white shirt and black tie) but other colors are acceptable as long as they compliment the rest of the outfit.
 Hats
When a hat is worn today, it almost seems as if it's a salute to the style of past generations where men would always wear hats if they left the house. Although the hat may have lost its appeal over time, it hasn't necessarily lost its style.
A good hat can add flavor to an outfit, and it can also have many practical uses, such as keeping the sun out of your eyes, keeping your hair neat on a windy day, and keeping your head dry on a rainy day. You can't deny, Indy's hat had its own personality.
A Good Cologne
When you're wearing a suit, you cannot wear a fresh, sporty fragrance. You need something intense. With notes like Vanilla, Leather, Wood, Spice, oud & Tobacco to be your priority. That's what your perfume needs to have to be in sync with your outfit.
NEVER FORGET
The single most important part of any accessories or pieces of jewellery is to make sure that they complement an outfit, not distract from it or override it. The most important part of a formal outfit is the suit, and everything else – the tie, the belt, the shoes, the pocket square – everything, is designed to complement the suit.
Thanks for reading
Also read- Exotic Leather Boots Trends For Men
A Brief History Of The Iconic Anarkali Dress
The history of Anarkali suits and its existence takes back somewhere to the Mughal era. Dressing then and now has a vast difference. But we still do have that essence of Mughal dressing reflected in our dressing and styles of Anarkali Salwar Suits. Today's demand of Anarkali designer suits is high. It is not only a traditional outfit but has become an essential or staple for casual wear too. This brought a rise in the fashion of Indian traditional wear as an evergreen fashion trend in salwar kameez types.
The Kinds of Anarkali Styles
   1. The Empire Line Anarkali Dress
This one has a basic yoke length just ending under the bust-line from there the kalis start getting flared as they go downwards till the hemline for the whole circumference hem. This can be in any kind, a different fabric is used normally for the yoke. This looks great if you need to create more emphasis on your bust-line this is good even to hide those round stomachs.
2. Mid-waist Yoke Anarkali 
These are the yokes which length on the mid-waist and flare-up in kalis from beneath the mid waist section till the hemline (Check out the Anarkali Salwar Suits Types). These have a good trend for which they suit all body types. This gives a firm neutral look with someone who has a heavier bottom.
3. Lower Waistline Anarkali 
These lower waistline yokes on an Anarkali salwar suit would be like corsets and flare from the waist, this is a party style. These can be found in designs where there are a net base and cutwork to look. This is for someone slim and petite, it holds a proper fitting shape from up till your lower waist. The traditional handcraft embroideries and embellishments to the typical pattern cuts of Anarkali salwar suits has been in fashion from an earlier era which has been revived every season still keeping its charming spirit to influence fashion of India.
4. Angrakha Pattern Anarkali 
The pattern was quite famous in royal wear, those asymmetric pattern yoke and panels attached making it look like a wrap-around was then revived as per the current fashion. They have a loose fit from the yoke, which ends beneath the bust line or maybe mid-waist so it is more comfy and perfect for a fuller stomach and heavier bottom. Semi-formal to formal occasions this looks very sophisticated and rich embroideries and fabrics will give it a complete heavy royal look.
5. Broad Border Anarkali Dress
A style that looks very classy and elegant. The use of heavy borders or panel work on hemline in a mixture of many other borders and panels gives this a very heavy rich look. Was very famous then and equally adored now as well.
6. Overcoat Anarkali 
The trend of wearing a body-hugging coat in a deep neck cut on top of the kameez existed for a very long time. Here the style of ethnic wear in Anarkali salwar kameez was spread during the Mughals. It's easier to add fashion to attire by adding this overcoat waistcoat style.
7. Short Above knee-length Anarkali Dress
These flew in a fashion not very sooner but had a good stand as a trend. It is not much flared or flared up with empire line yoke to straight panels on kameez. This looks surprisingly very fashionable with dhoti salwar, Patiala and other kinds of Indo western bottoms. Love how Payal Singhal as spread the trend of short Anarkali and dhoti patialas.
Also read- Most Iconic Tiaras Of The Royal Family