Bra's Every Girl Should Own!
Who needs a handbag?
I put my money in my Bra's
– Neneh Cherry
Every women has a love and hate relationship with their bra's. It can be your best friend or your worst enemy. To avoid the latter, we have listed the most essential bra's, that every women must own. With time, one can expand their collection, but a basic nude one in every style is your bestfriend. With the wide variety and styles available in today's market, knowing the must-haves is an absolute must.
Confused by the many types of bra's available in the shops? Here are few types of Bra's you must have in your wardrobe!
Contour, Wireless and T-shirt Bras
The everyday bra or tee shirt is a no show bra. It is seamless and almost invisible under fitted tees and tops. Also invest in a basic nde and black pair.
Underwire Bras
The 'killer' but extremely supportive and an absolute must-have if you want a no-movement hassle free support. A must have for a busty women.
Push-Up Bras
A magical weapon for a those dresses that demand a little heavy bust or for those date nights when you want to make a statement.
Demi and Balconette Bras
A balcony bra, or balconette bra, is typically a half or three-quarter coverage bra that covers the nipples and lifts the top half of your breasts. It creates nice, rounded cleavage, but doesn't fully cover your breasts. A must have for V neck tee shirts or tops.
Bralettes
A bralette is a bra without wires or molded cups, think on par to a sports bra, but without the intensity to hold you in. They have thin or lacy straps like a regular bra, and provide a reasonable amount of support for small to average busted women.
Convertible and Strapless Bras
Strapless and convertible bras perfect for halters, off-the-shoulder and one-shoulder tops. They are an absolute must-have in today's age.
Sports Bras
Fitness is the key to good health. Whether it is the treadmill in the gym or just your yoga mat at home, your sports bra is the best companion to keep
Love it, Hate it, You cannot ignore it!
Hope that helped your wardrobe.
What Are Milind Soman's Top Lifestyle Tips?
Milind Soman has inspired scores of Indians now to want to be healthy. His initiatives and lifestyle are very invigorating and encourage everyone to adopt healthier lifestyles. Soman was a supermodel and an actor before. So, read on to find out what tips he has in store for you.
Milind Soman trains his mind to be fit
His tip here is for you to train your mind actively. Do not be disheartened that you are too old to start a new physical activity. Start something at your own pace. By doing so, you will build up the confidence to do more and more. So – never give up on yourself.
Soman eats nuts on the daily
Milind Soman believes that nuts are truly gems for our body. And so, that is why he always has almonds in the morning. Moreover, he eats them right before breakfast as a snack. It has loads of proteins and nutrients. Keep a bowl of dry fruits within reach in your workplace or at home. That way, you can munch on them from time to time throughout the day. Additionally, if you are feeling snacks between meals, they are a great alternative. Nuts can help you avoid that extra packet of chips or a can of Coke.
You have to consciously choose healthy living
Healthy living is not a new year's resolution. It is more of a choice you have to make every single day. Making small changes every day can actually go a long way in improving your overall lifestyle. Allow for more healthy options to come into your life. Try to walk more, drink more water, give your eyes rest, etc.
Give your body the rest it needs
We often go long hours and days without much sleep. Work keeps piling up and we keep at it. But that is not a way to ensure good health. For Soman, his sleep is a great priority. So make sure it is for you as well. There are plenty of resources online that can guide you to sleep. If you are unable to sleep still, do consult your doctor.
Quit smoking
Soman was once a cigarette addict himself. He says that though the fight is not easy, it is definitely worth it. Procrastinating away the urge to smoke actually helped him. If possible, you can reach out to your friends and family to help you out. When the environment you are in also supports your fight to quit, you will be able to succeed more easily.
For more exciting content on lifestyle, click here.
5 Things To Spend Less On & Save More!
Do not save what is left after spending, but spend what is left after saving. Warren Buffet
Most millennial's think it's close to impossible to save some money at the end of the month, with the kind of salaries they draw. But truth be told, it's less about how much they earn, and more about their ability to tuck some dough away, for a rainy day. Not convinced? Well, think back to simpler days, when our parents barely made a living for themselves, and yet, were able to put aside some cash. Slowly but steadily, they built it up to a sum that would ultimately amount to enough, to do something worthwhile with. Whether it was to put down a deposit on a car or to simply purchase the new Walkman that was advertised around town – they managed to do it themselves, without whining about it, or begging and pleading with their parents for a loan. Well, most of them, at least. But today, we often find ourselves in a dilemma when it comes to financial planning. We absolutely suck at it, and there's no greater certainty. Our parents and grand parents wise advice to spend less, save more makes more sense as we grow.
When Gen-Y moves away from home, after fighting for independence from the rigid parental rule, they suddenly find themselves fancy free, yet burdened with responsibilities they never saw coming. Out of the blue, they have to watch how long they let the AC run, to ensure the electricity bill doesn't induce a panic attack. They have to be mindful of how much they spend eating out, or ordering in. Adulthood hits hard, and then the money crunch starts.  Needless to say that when your mother or father gives you a lecture on how you "Need to spend your money cautiously," it does nothing but frustrate you even more. You probably think – "I don't even have enough to spend on the basics, how on Earth am I supposed to save?" Well, if you did these things, you'd probably know the answer to that!
Stop

Eating Restaurant Food

We don't mean to be a complete killjoy by advising you to stop eating out. Do it occasionally. We may not even realise it, but with the amount we spend on eating out or ordering in, we could easily have decent savings. Restaurant food may be delicious and tempting, but it's not the healthiest for your body. Hiring a cook to whip up your favourite dishes at home is a lot more economical. Do yourself a favour, and delete Zomato and Swiggy, maybe?
Cut Down

Weekend Clubbing

Weekends call for a little bit of unwinding and that's fair. But do you really need to go bananas at the club every weekend? Hell no! Find other ways to have fun, instead of swiping your debit card at the bar, until it is declined and you're left embarrassed and stressed out. Once a week is more than enough, so plan your night about town wisely, and set aside a limit on how much you aim to spend. Also, some will power is required for this one, because we all know how after the third tequila, we become free spirited and callous.
Say
No

To Starbucks

Coffee culture has become the "in" thing, and that's not only harmful for those with anxiety (read: most of Gen-Y) but also for our bank accounts! Instead of wasting hundreds and hundreds on fancy drinks, topped with whipped cream and chocolate sauce – buy the ingredients and whip up a mocha or creamy cold coffee at home. The money you spend at these pretentious cafes today, can be the money you desperately need for something important, tomorrow.
Quit/Reduce

Binge Shopping Online

The internet is saturated with websites that urge you to purchase those shoes and that dress that they claim are "only a few left in stock" Well, don't fall for that ploy and take a minute to think, before you "add to cart" or more importantly, "check out" You may not notice it, but your online shopping sprees could quite possibly be going way out of hand!
Say

Bye

To
Taxis!
Now we know the struggle is real, but if you want to be able to have some money in the bank at the end of the month, you're going to have to toughen up and ride the train/metro! While we may crib and cry about how sweaty and taxing public transport can be, let's face it – it's WAY cheaper than booking a cab or taking a kaali-peeli.
This One Trick Can Help You Lose Weight
We all try our best to lose weight, isn't it? We try so many things out of comfort zone. These include gym memberships, strict diets, disciplined lifestyle, herbal teas! Yes, we try so hard only to shed a few kilos off our body weight or fat percentage. But what if we tell you that there is one simple tip which can massively help you lose weight? Yes, just a simple lifestyle change and you are done!
Firstly, let us tell you what happens when you overthink about losing weight. Thinking about losing weight often leads to losing your mind. Thus, in such circumstances, you ruin your eating habits. Then, either you stop eating, each leads to starvation and starvation leads to bloating. Or you eat too much, which again is ruins the game plan!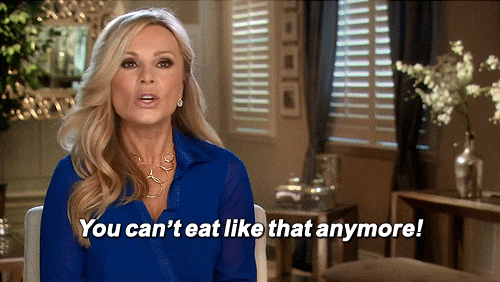 Source: Giphy.com
So, what is the secret trick?
By now, you must be really curious as to what is the secret trick, right?
Well, the tip is to simply change your eating habits. That is, to eat your dinner 2 hours prior to sleep. Now, that sounds too easy for massive weight loss, isn't it? But what if we assure you that this minor lifestyle change in your eating habits will be the number one help in losing weight? Will you believe us then?
For instance, if you are planning to sleep at 10:30 p.m., eat your dinner by 8:30 p.m. and so on!
But remember another thing, you need to let go of carbs for your dinner or else even a 2-hour gap would not help in the digestion. And we do not want any fat getting stored in our body, is it?
So start by the following table:
Day 1; 8:30 p.m. Vegetable soup with extra tofu, broccoli and mushrooms.
Day 2; 8:30 p.m. Grilled chicken or tofu with extra veggies and clear soup.
Day 3; 8:30 p.m. Besan cheela with tomato or onion gravy or baked potato with brown rice.
Day 4; 8:30 p.m. Repeat Day 1
Day 5; 8:30 p.m. Repeat Day 2
Day 6; 8:30 p.m. Repeat Day 3
Day 7: CHEAT DAY!!
So, from today onwards, all you have to do is time your dinner and sleeping schedule. Believe us, soon you will notice many changes, especially in your belly. A flat stomach and tight core is definitely coming your way! The only question is what are you ready for the change and reach your fitness goals?
If you know more such simple tips and tricks to lose weight, mention them in the comments.
For more such news, visit here.