Alia Bhatt's Beetroot Salad 
It happens so many times that you decide to stay fit and maintain a healthy diet. Its always easier said than done. So many new year resolutions are just about eating healthy. But they are seldom followed. Worry not! This post is about Alia Bhatt's beetroot salad which happens to be her favorite.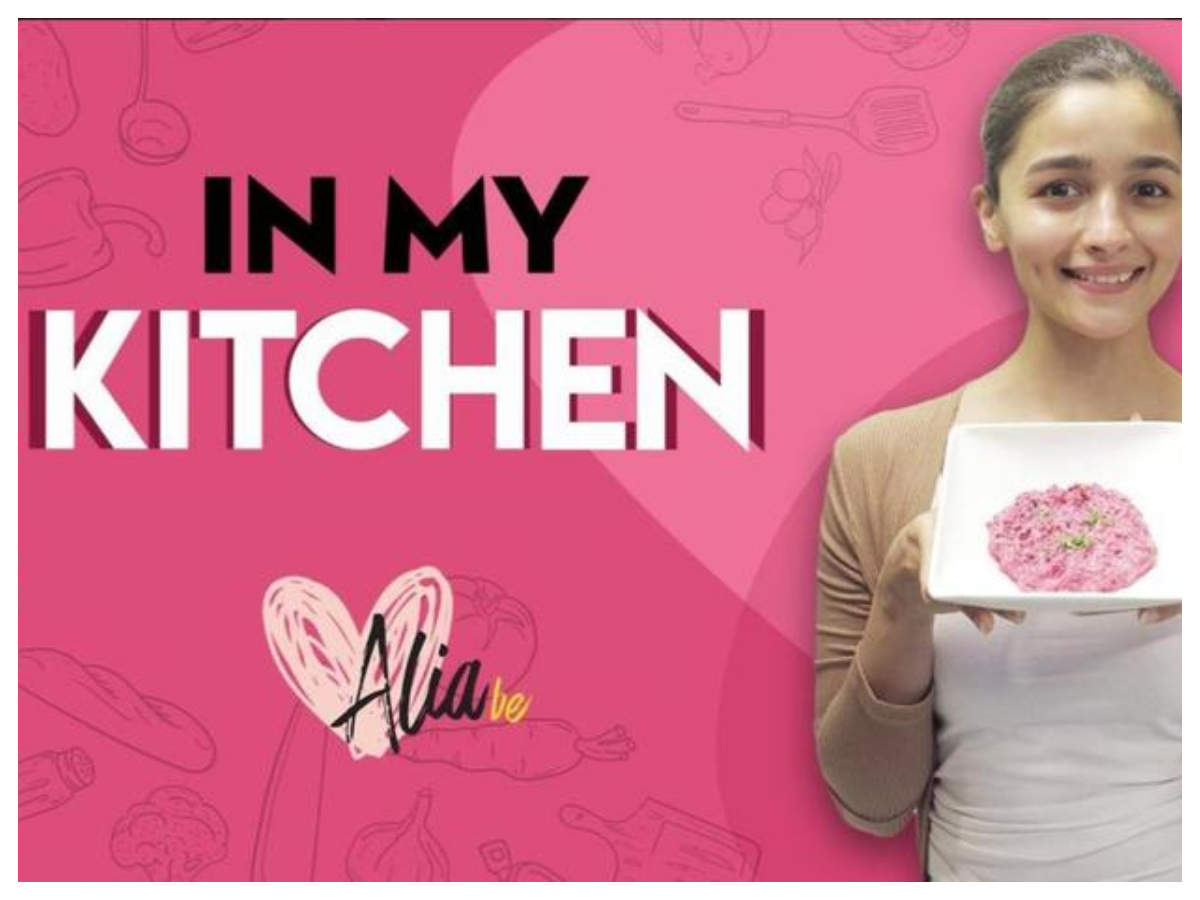 It usually so happens in today's busy life that we get our breakfast out of different cartons. The ever so busy self then gets lunch from Swiggy. Pro-social contribution to the business of Swiggy. However, just so against what you've planned for yourself. And after a long tiring day, all you can put up for dinner is a slice of cheese and some veggies, toasting it to call dinner.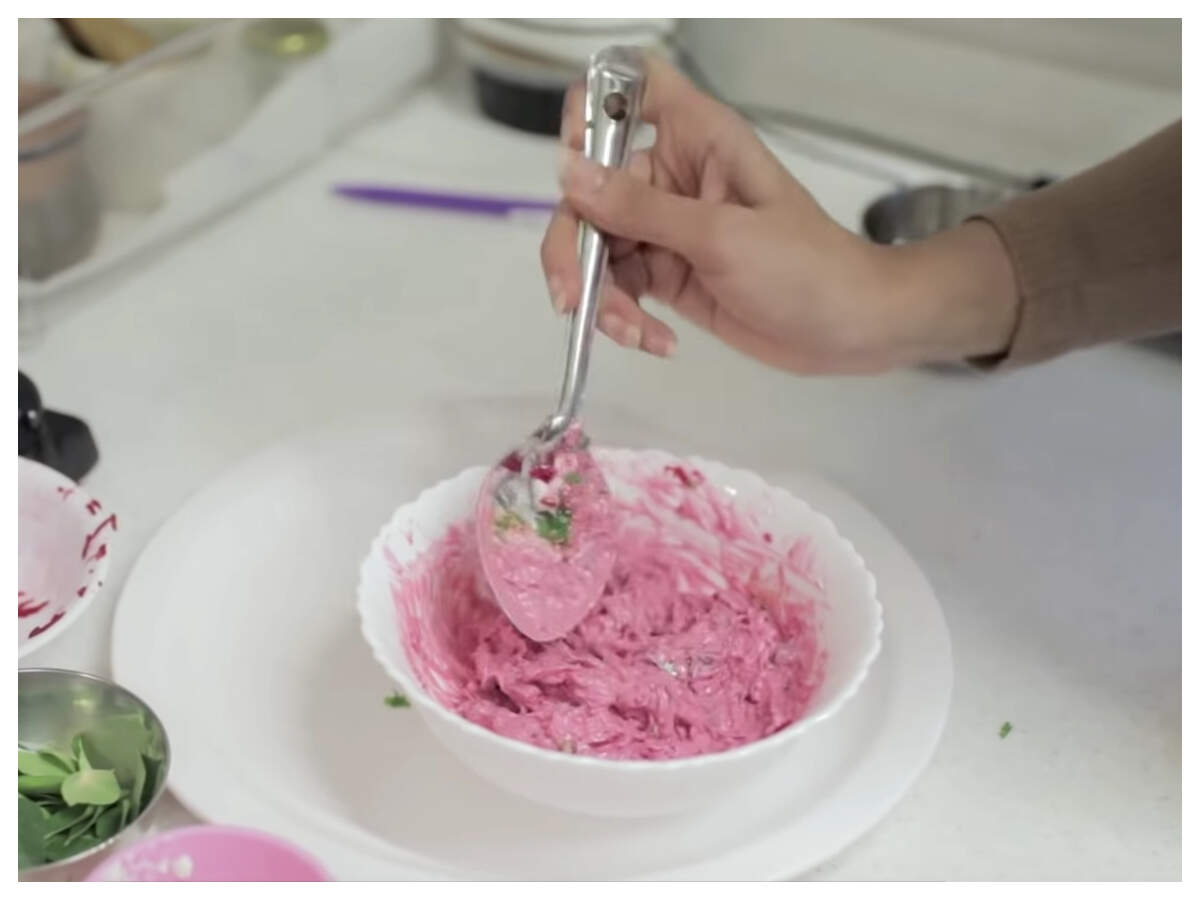 But what if I give you a great dish to get back on your resolution. This is Alia Bhatt's Beetroot Salad which is healthy, looks amazing and can be made in just minutes.
Alia Bhatt's Beetroot Salad: Ingredients
The dish preparation has two parts to it. One, making the salad. Apart from this, you also have to make a tadka to give the dish its awesome taste.
INGREDIENTS FOR THE SALAD
1 beetroot (boiled and grated)
1 cup of Yogurt or Dahi
1/2 tsp chaat masala
1/2 tsp black pepper
few coriander leaves
FOR THE TADKA
1/2 tsp oil
cumin seeds (jeera)- 1 tsp
black mustard seeds (rai)- 1 tsp
asafoetida (hing)- 1 tsp
curry leaves
Beetroot Salad: Directions
FOR THE TADKA 
Heat the oil.
Add black mustard seeds (rai), cumin seeds (jeera) and asafoetida (hing) to the heated oil.
 Add curry leaves once the spices begin to splutter.
FOR THE SALAD
Take a boiled beetroot.
Grate the beetroot.
Take a bowl and combine the grated beetroot and curd in it. Mix well.
Add Black pepper, chaat masala and some coriander leaves to the mixture.
Prepare the tadka as told in the steps above.
Pour the tadka over the mixture and mix well.
And your beetroot salad is ready!
Alia Bhatt's Beetroot Salad
Watch Alia herself making this delicious salad here.
Apart from this salad, you can also maintain good health by consuming antioxidant foods. Take look at what these are here.
10 Unique Facts About Indian Cuisine
There are a lot of stereotypes about Indian Food. However, some of them are true and some of them are not. Also many times, these are half-truths. Therefore, check out these facts about Indian Cuisine:
Facts About Indian Cuisine
1. A Mix Pot of Different Tastes
We have often heard that Indian food is spicy. Indian food is not suitable for most people as it is hot. However, that's not the case. As said, most of the stereotypes are half-truths, this one is as well.
Indian Cuisine is a mixing pot of 6 different tastes. For instance, one can experience the following tastes:
Sweet (Madhura)
Salty (Lavana)
Astringent (Kasya)
Bitter (Tikta)
Sour (Amala)
Pungent (Katu)
2. Land of Spices 
We all know that India is a land of spices. Indeed, it is true. Over 70 % of the spices in the world come from India. Also, in many ancient texts, India has been famously praised for the variety of spices that India offered and still offers.
3. Historical Staple Diet
The grains and legumes that Indian produce and consume have a long history to it. They are being cultivated for a long time and have been consistent. Common staple foods include wheat, rice, lentils and different forms of these. This is constant from about 6,000 B.C.E.
4. Categories of Food 
As per the Ancient Indian school of Ayurveda, there are three categories of food. For example, there is Satvik, Tamasik and Rajasic food.
Satvik Food- Natural and Minimally processed food. Have a calming effect on the mind and body.
Tamasic Food- Overly processed, toxic food that is difficult to digest. Has a negative effect on mind and body.
Rajasic Food- Oily, spicy, salty or bitter foods. Drives competition and ambition.
In addition, read Eating Habits recommended by Ayurveda
5. Veg or Non-Veg
A lot of people outside India think that people in India only eat vegetarian food. However, this is not true. For instance, only 29 % of Indians follow a vegetarian diet as per a survey conducted by the Government of India. Therefore, it is evident that most of the population does consume non-vegetarian food.
6. Booze 
Indian have their own preferences when it comes to booze. Also, they are certainly not dependent on other countries for booze. For instance, Indians have their own creative ways of producing booze. With the available local resources, Indians have come up with a variety of alcoholic drinks. There are drinks life the Toddy, Kallu and many more northeastern local drinks.
7. Inclusion Of Other Imports as Staples
Some of the staples like potatoes, tomatoes, and chillies are not native to Indian. However, Indians have very openly included these in their diets and made these ingredients their own!
8. Indian Candies
Though we love Western varieties of Candies, Indians have their own version of it. The candy is locally known as Khanda. 
Also read Tasty Pickles: The Underrated Pride Of Our Thali
9. Love for Spice 
As we know Indians love spicy food. Similarly, India is home to the Hottest Chilly in the World. This chilly is the bhut jolokia or the ghost pepper. In addition, it is 400 times spicier than the hot Tabasco sauce.
This chilly is grown in regions of Assam, Manipur, Nagaland, and Arunachal Pradesh. In 2007, it got the tag of the hottest chilly by Guinness World Records.
10. External Influences
Indians have readily even welcomed external cuisines in their routine cuisines. For example, samosa's, jalebis and gulab jamun are all imports from other cultures.
Also, read 5 Michelin-Starred Indian Restaurants Which Are Not In India
How To Make The Best Pizza At Home!!!
Pizza… ahh… What a wonderful word! Everyone loves pizza. So It's a wonderful dish, which can be enjoyed anytime, anywhere! During these pandemic times, you probably are worried about your safety. Therefore, You might not want to order a pizza from a restaurant and want to take that extra step for safety. Even though the top pizza places might promise the utmost hygiene procedures… So, If you don't want to order and want to enjoy your favorite meal, this article is for you!
METHOD:
"Bloom" the yeast by sprinkling the sugar and yeast in the warm water. Let sit for 10 minutes, until bubbles form on the surface.
In a large bowl, combine the flour and salt. Make a well in the middle and add the olive oil and bloomed yeast mixture. Using a spoon, mix until a shaggy dough begins to form.
Once the flour is mostly hydrated, turn the dough out onto a clean work surface and knead for 10-15 minutes. The dough should be soft, smooth, and bouncy. Form the dough into a taut round.
Grease a clean, large bowl with olive oil and place the dough inside, turning to coat with the oil. Cover with plastic wrap. Let rise for at least an hour, or up to 24 hours.
Punch down the dough and turn it out onto a lightly floured work surface. Knead for another minute or so, then cut into 4 equal portions and shape into rounds.
Lightly flour the dough, then cover with a kitchen towel and let rest for another 30 minutes to an hour while you prepare the sauce and any other ingredients.
Preheat the oven as high as your oven will allow, between 450-500˚F (230-260˚C). Place a pizza stone, heavy baking sheet (turn upside down so the surface is flat), or cast iron skillet in the oven.
Meanwhile, make the tomato sauce: Add the salt to the can of tomatoes and puree with an immersion blender, or transfer to a blender or food processor, and puree until smooth.
Once the dough has rested, take a portion and start by poking the surface with your fingertips, until bubbles form and do not deflate.
Then, stretch and press the dough into a thin round. Make it thinner than you think it should be, as it will slightly shrink and puff up during baking.
Sprinkle semolina onto an upside-down baking sheet and place the stretched crust onto it. Add the sauce and ingredients of your choice.
Slide the pizza onto the preheated pizza stone or pan. Bake for 15 minutes, or until the crust and cheese are golden brown.
Add any garnish of your preference.
Nutrition Calories: 1691 Fat: 65 grams Carbs: 211 grams Fiber: 12 grams Sugars: 60 grams Protein: 65 grams
Enjoy!
Pizza Ingredients(For 16 Servings): 
2 ½ cups warm water

(600 mL)

1 teaspoon sugar
2 teaspoons active dry yeast
7 cups all-purpose flour

(875 g)

, plus more for dusting
6 tablespoons extra virgin olive oil, plus more for greasing
1 ½ teaspoons kosher salt
¼ cup semolina flour (30 g)

MARGHERITA

tomato sauce
fresh mozzarella cheese, torn into small pieces
fresh basil leaf
If you want to learn more about food, visit- https://littleletterslinked.com/category/food/
All The Popular Food Trends During Lockdown
When we look back at our lockdown days, we realise that they shouldn't be looked back at, at all! It was a time of hopelessness, unpreparedness and unassuredness. However, some trends and challenges kept us alive and added a little verve and spunk to our rather dead lives. One of such trend were the many food trends during the lockdown.
Everyone cooked and uploaded their successful recipes on social media: it was like Quarantine Got Talent! While everyone has brushed their skills well, let us recall all the popular food trends during lockdown that kept us in our kitchens.
From Dalgona Coffee to Mug Cake, these recipes marked our lockdown recipe success stories!
DALGONA COFFEE
The Korean Dalgona coffee trend became exceptional because of its picturesque quality.  The task was to whip your coffee granules so thick that they began floating on the surface of your glass of milk. In no time, the trend became a task for the people in quarantine: some got creative to add their personal touch to the trend, some found an opportunity to meme about it, and the others found faults. Nonetheless, it will be wrong to say that this wasn't one of the most searched recipes during the lockdown.
MAC' AND CHEESE
Macaroni and cheese aka Mac' and Cheese have always been a recipe that we all wanted to try our hands at but the time was an investment that we didn't have. All we need are some macaroni, cheese, bread, milk and seasonings to enhance the taste. This was one of the most cooked recipes during the lockdown as well.
BANANA BREAD
Since the operations of bakeries were barred, we all had to awaken the bakers within us. The banana bread was a trend, however, it may not have been as popular as other trends. The recipe was a win-win and is a great addition to your baking resume. If you missed the recipe, here's a recap.
MUG CAKE
An easy-peasy recipe that took the social media by storm was the Mug Cake recipe! It was a spongy, moist cake, like the one they served in a fancy restaurant. The recipe had taken the internet into gaga of experiments and they experimented with diverse flavours. All you needed was 5 minutes of your time, a microwave and some ingredients such as butter, flour, egg yolk, white sugar, milk, vanilla extract, baking powder and chocolate chips. Voilà!
MAGGI OMELETTE 
This fusion may have already been popular and known by some households. You cook your regular Maggi the way you do. Add capsicum, coriander, onions, chillis, 2 eggs, salt and water to your Maggi. Cover with a tight lid and let it cook, uninterruptedly. Your fusion cuisine is now ready. Watch the recipe to know more.
Also read: 10 of the world's best burgers