Alia Bhatt's Beetroot Salad 
It happens so many times that you decide to stay fit and maintain a healthy diet. Its always easier said than done. So many new year resolutions are just about eating healthy. But they are seldom followed. Worry not! This post is about Alia Bhatt's beetroot salad which happens to be her favorite.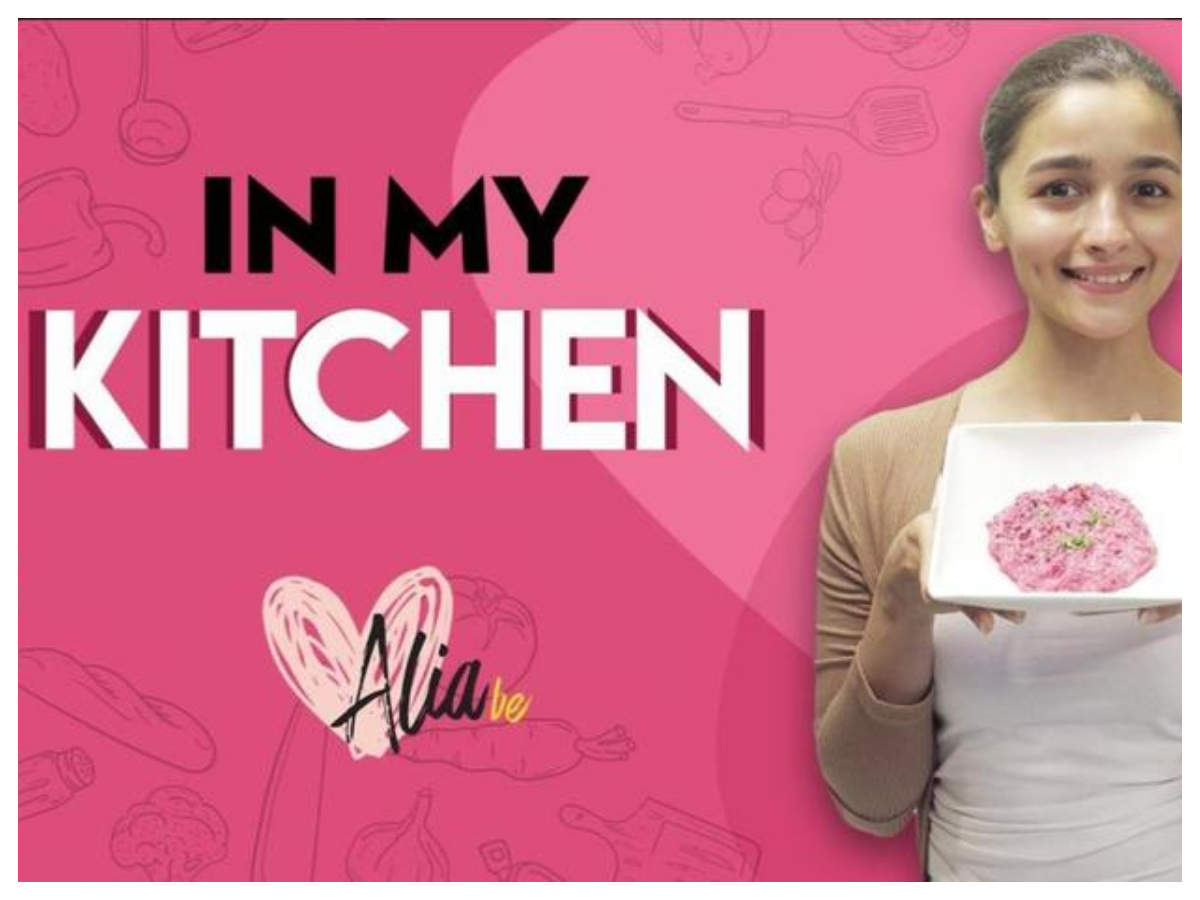 It usually so happens in today's busy life that we get our breakfast out of different cartons. The ever so busy self then gets lunch from Swiggy. Pro-social contribution to the business of Swiggy. However, just so against what you've planned for yourself. And after a long tiring day, all you can put up for dinner is a slice of cheese and some veggies, toasting it to call dinner.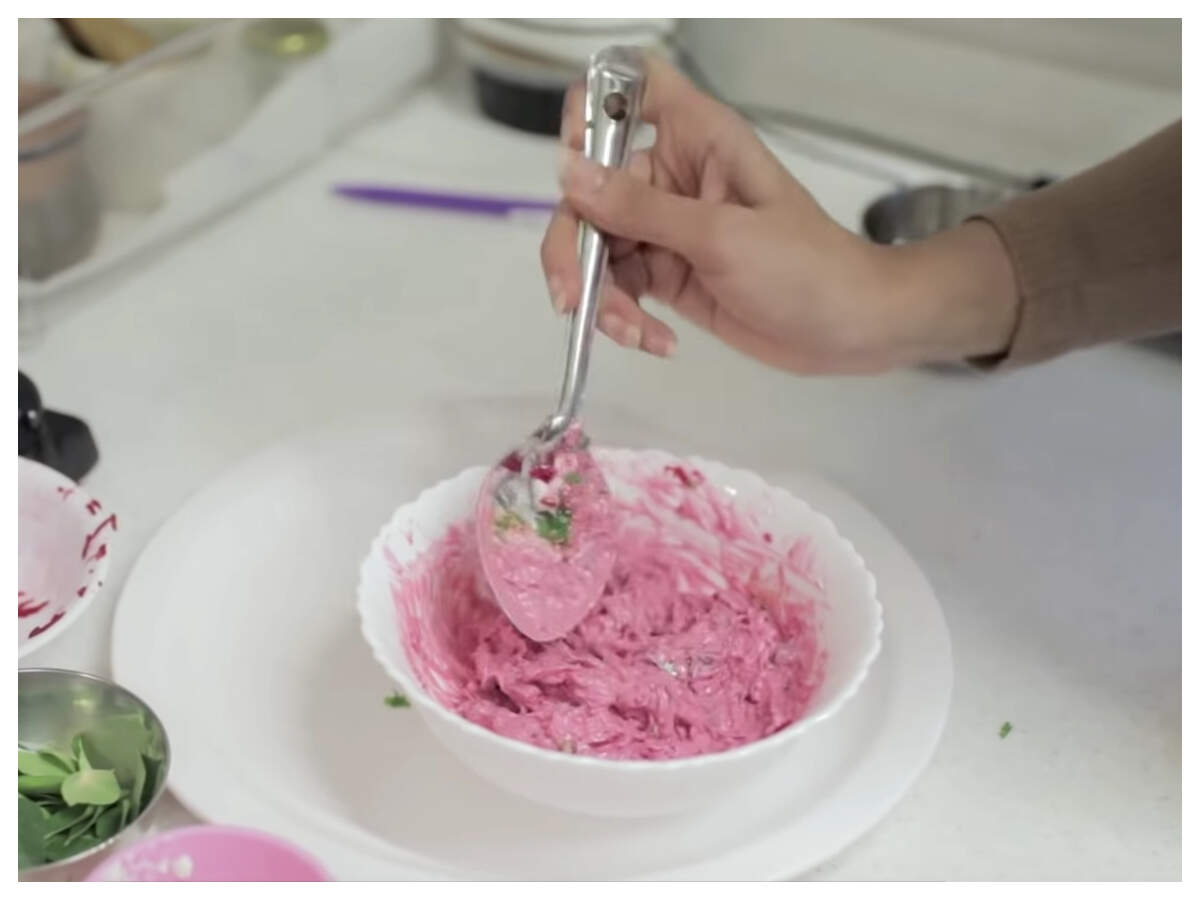 But what if I give you a great dish to get back on your resolution. This is Alia Bhatt's Beetroot Salad which is healthy, looks amazing and can be made in just minutes.
Alia Bhatt's Beetroot Salad: Ingredients
The dish preparation has two parts to it. One, making the salad. Apart from this, you also have to make a tadka to give the dish its awesome taste.
INGREDIENTS FOR THE SALAD
1 beetroot (boiled and grated)
1 cup of Yogurt or Dahi
1/2 tsp chaat masala
1/2 tsp black pepper
few coriander leaves
FOR THE TADKA
1/2 tsp oil
cumin seeds (jeera)- 1 tsp
black mustard seeds (rai)- 1 tsp
asafoetida (hing)- 1 tsp
curry leaves
Beetroot Salad: Directions
FOR THE TADKA 
Heat the oil.
Add black mustard seeds (rai), cumin seeds (jeera) and asafoetida (hing) to the heated oil.
 Add curry leaves once the spices begin to splutter.
FOR THE SALAD
Take a boiled beetroot.
Grate the beetroot.
Take a bowl and combine the grated beetroot and curd in it. Mix well.
Add Black pepper, chaat masala and some coriander leaves to the mixture.
Prepare the tadka as told in the steps above.
Pour the tadka over the mixture and mix well.
And your beetroot salad is ready!
Alia Bhatt's Beetroot Salad
Watch Alia herself making this delicious salad here.
Apart from this salad, you can also maintain good health by consuming antioxidant foods. Take look at what these are here.
Hibiscus Tea: The Secret To Blooming Health
Hibiscus Tea is made using the petals of the Hibiscus Flower. It lowers your blood pressure, blood sugar and aids in weight loss. Consumed both hot and cold, it is a caffeine free alternative that can be taken individually or added to caffeinated tea. The antioxidants in the tea can also help reduce cell damage in your body.
Preparing Hibiscus Tea At Home
Step 1: Drying Petals
You can either buy Dried Hibiscus leaves (loose or in tea bags) or prepare them yourself at home. Separate the calyx and the flower from the stem. Then Remove the Seed Pods from the Calyx and separate the leaves.
Step 2: Steeping in Water
You can directly use the leaves procured above for your tea or you can use them later. They can be used all dried out as well. Steep the hibiscus leaves in hot water for about 5 minutes. If you want a stronger flavour, steep for 5 minutes.
Step 3: (Optional)Adding Other Flavours
Variants in the market include lemongrass along with the hibiscus leaves. You can also infuse the tea with cinnamon for added benefits  . Hibiscus does not contain caffeine, however, you can add it to your black tea. To tackle the tart flavour of hibiscus, try adding natural sweeteners.
Make it Iced
Refrigerate the hibiscus leaves along with mint, lime, cinnamon in a jar of water. Your drink will be ready after 8-10 hours. Remember to separate the leaves and cinnamon sticks before serving.
PRECAUTIONS
Hibiscus tea cannot be taken by pregnant women.
It does not react well with certain kind of medications including those of malaria.
It is always wise to inform you doctor about its consumption.
Diabetics should be careful as a high consumption might lower blood sugars dangerously
Alternating the consumption of this tea along with other herbal and non-herbal teas will give a fresh burst to your life.
.
.
.
Time to sip health!
These 90s Candies Filled Our Life With Sweet Memories
As we are growing old, memories of our childhood are becoming vague. However, little nostalgia like the smell of first rain, the jingle of Nirma washing powder and these days Shaktimaan are taking us back to the most loved times, The 90s. Oh and how can we forget the 'oh sweet candies' of 90s! Let us take a journey back to the 90s candies that filled our life with the sweetest memories.
 1. Guru Chela
Remember the packs with the face of Guru on one and the face of Chela on the other? Those were the days!
2) Phantom sweet cigarettes
Was it just I or y'all were too curious as well as scared to try these? Let's be honest, we all faked smoking anyway!
3) Chiclets
Just look at the irresistible packaging! No doubt, it was our favourite chewing gum back then.
4) Cadbury Nutties
I've still seen these packs around but the chocolaty nostalgia can never be forgotten.
5) Boomer
Remember the boomer man? Does anyone know how he's doing now? Yea,me neither! 🙁
6) Coffy Bite
In case you're addicted to coffee, you must have been addicted to coffee bite too. Coffee candies!
7) Mango Bite
Wish we could get mango bites photocopied using a mango too! 🙁
8) Pan Pasand
This is the pan that won't make you spit! You can still find them around at pan shops.
9) Magic Pops
The sparkly party inside the mouth makes me want to grab a pack RN!
10) Kismi
I am sure some of the love stories bloomed by offering these candies.
The Taste Of Nostalgia: Best Childhood Snacks
The Tasteful Old Days: Snacks That will take you back to your seven-year-old self
There is hope in the future, but there is magic in the past. And there is nothing more magical than a smell or taste that takes you back to the days of your childhood. A pocketful of money that Daadi gave and we were all set to buy our favourite midday vacation snacks. We cannot bring back those days but we can give you a tasteful glimpse of those mystic times.
 Here are your favourite childhood snacks; keep digging, keep drooling:
1. World Cup Special Lays
Every time the cricket World Cup Series would come up, our all-time favourite Lays would launch a series of special flavours. International flavours were infused and packaged in beautiful colours. No one remembered the names of the flavours, all we could ask for were orange or dark green or the light blue packet from the shopkeeper.
2. Maggi Rice Noodle Mania
Maggi came up with a special range of noodles that were rice-based. They were available in lemon, pudina, and masala to name a few. Everyone tried them at least once and needless to say, we hated them in our childhood and we'll hate them now.
3. Chatmola
For every road trips to train journeys, Chatmola was always a part of our food package. If we could get our hands on this amazing chooran goli today, even us grownups wouldn't let go of them.
4. Magic Pops
That one product that looked as mesmerising as it tasted, Magic Pops were a blast in the mouth. Though they came in a variety of flavours, the effect of the pop was nonetheless the same in all of them.
5. Fun Flips Masala
These rice puffs were available in so many flavours, but the Masala flavour remains a classic. A small packet was enough for us and our friends.
6. Chand Sitare
The perfect classroom candy, having them in our coats was like carrying around some expensive item.  No could ever differentiate between the taste of the moon and the stars, but everyone had a preference.
7. Sunfeast Dream Cream Biscuit
The only thing better than cream biscuits is cream biscuits that come with a free gift. Sunfeast Dream Cream Biscuits came with interesting surprise gifts like stamps, sharpeners and sun themed rings that we used to make our friends jealous of us.
8. Rasna 
Remember how we would come home exhausted after hours of playing with friends, and our mummy would be ready with tumblers of Rasna. The taste of Cola and the goodness of fruit, could there be a better beverage?
9. Diptrix
Bringing together the best of both worlds- butter biscuits with flavoured creamy dips. There was a variety of flavours ranging from strawberry to chocolate, it was a perfect snack to have with our friends.
10. Cadbury Dairy Milk Wowie
This special edition that featured timeless Disney characters in milk chocolate at the centre of the classic Cadbury was a favourite among kids. It was discontinued within months but was very popular as long as it stayed.
For a guilt-free binge, check out these great food options: https://littleletterslinked.com/keep-your-weight-in-check-in-quarantine/