A No-No To Things You Tend To Do While Having Sex With Someone New!
Sex is inevitable and also a great source of pleasure. However, sex with someone new is somewhat problematic because we as humans often tend to do offensive things. These things create awkward moments between you and your sexual partner, further making you somewhat go away with clouded thoughts.
Here are some things that are likely to go wrong on your part and thus an awareness regarding the same will make you somewhat cautious. Here, give a quick read!
1. Insulting Their Genitals
Hello! No one needs to know that their genitals aren't fancy or likeable!! It is so wrong at so many levels. You don't need to tell a woman that her vaginal hair is bothersome or a man that his dick size isn't what you'd expected. All one needs to do when in bed with someone new is to keep shut about such delicate things. It's offending and also, a MAJOR turnoff!
2. Surprise Hickies
Exciting and arousing your partner is very important, especially when you like to play it wild. In a scenario otherwise, what happens is a series of painful attacks on ears, neck, shoulders, etc. It would be better if you do it gently in such a case.
3. Climaxing Too Soon Or Too Late
Here's something for the men- Well, make sure you know and have some control over your muscles. After all, it is important for you to ejaculate at the right time. Too soon and you may leave your partner unsatisfied; too late and it might leave your partner feeling as if they're doing nothing. To avoid this, we suggest, spend a lot more time on foreplay.
4. Subtly Glancing At The Time
Why do you need to know the time at all?? Well, if it is that much a necessity, then be witty enough to check the time without making your partner feel a bore. It is way too offensive to do such a thing when in bed with someone new, or probably someone you're starting out to form a bond with.
5. Not Opening Your Mouth
Sex needs communication and this is something the majority of us has to know. Not speaking about things that are making you uncomfortable during sex is a turn-off for your own self. Therefore, try communicating with your partner at all points during the act. Trust me, it does wonders!
6. Referencing Someone Else's Style
Woah! Don't even think about it! Also, think twice before uttering some sort of non-sense from your mouth. No one likes to be humiliated this bad. Be with your partner physically and mentally- think and talk about ONLY them!!
7. Calling Out The Wrong Name
It's almost similar to what we've mentioned above except for the part where you actually name your ex-sexual partner. Well, you know what the consequences would be. If not, then let's just say, VERY BAD!
8. Not Kissing
Sex is not just about penetration. It needs to be felt and enjoyed by both parties. Foreplay and kisses are extremely important while having sex. You need to stimulate your partner enough, make them thoroughly happy and then expect a sexual pleasure in return.
9. Passing Gas
Farting a blast of death and destruction in someone's face and then trying to continue without giving me a damn minute to recover is unacceptable. Nobody is that eager to go down until the air is cleared. There's nothing so hard to understand about that!
10. Not Shutting It
Well, talking dirty is one thing and actually performing it is something other. Just a reminder~ that a bed isn't your arena to just keep talking but actually doing what you're in there for! Therefore, one needs to keep their mouth shut after some time, especially while having sex with someone new.
Related Article: Misconceptions About Sex That You Should Get Right!
Writing Routines Of Famous Authors To Inspire You
The dream to write and the will to actually write are two very different things. If you're a budding author who wants to begin writing, you're at the right place. Here's a list of authors sharing their writing routines that might help you out!
1) Haruki Murakami
Haruki Murakami, the renowned Japanese author of books like 'Kafka on the Shore' and 'Norwegian Wood' in an interview said that "When I'm in writing mode for a novel, I get up at four a.m. and work for five to six hours. In the afternoon, I run for ten kilometers or swim for fifteen hundred meters (or do both), then I read a bit and listen to some music. I go to bed at nine p.m."
2) Maya Angelou
Maya Angelou is, the acclaimed author, poet and civil right activists described her writing routine. According to her, "I usually get up at about 5:30, and I'm ready to have coffee by 6, usually with my husband. He goes off to his work around 6:30, and I go off to mine.
I keep a hotel room in which I do my work — a tiny, mean room with just a bed, and sometimes if I can find it, a face basin. I keep a dictionary, a Bible, a deck of cards and a bottle of sherry in the room. I try to get there around 7, and I work until 2 in the afternoon.
If the work is going badly, I stay until 12:30. If it's going well, I'll stay as long as it's going well. It's lonely, and it's marvellous. I edit while I'm working. When I come home at 2, I read over what I've written that day, and then try to put it out of my mind."
3) Stephen King
Stephen King is the world-renowned author who is known for his fantastic horror novels like IT and The Stand. He, in an interview with George RR Martin who is best known for his A Song Of Ice And Fire series said that "Here's the thing, okay? There are books, and there are books. The way that I work, I try to get out there and I try to get six pages a day. So, with a book like End of Watch, and … when I'm working I work every day — three, four hours, and I try to get those six pages, and I try to get them fairly clean. So if the manuscript is, let's say, 360 pages long, that's basically two months work. … But that's assuming it goes well."
4) William Gibson
William Gibson is credited with pioneering the science fiction sub-genre known as cyberpunk. According to him, "When I'm writing a book I get up at seven. I check my email and do Internet ablutions, as we do these days. I have a cup of coffee. Three days a week, I go to Pilates and am back by ten or eleven. Then I sit down and try to write. If absolutely nothing is happening, I'll give myself permission to mow the lawn. But, generally, just sitting down and really trying is enough to get it started. I break for lunch, come back, and do it some more. And then, usually, a nap. Naps are essential to my process. Not dreams, but that state adjacent to sleep, the mind on waking."
5) Ernest Hemingway
Ernest Hemingway, the Nobel laureate who wrote 'The Old Man and the Sea' was interviewed and this is what he had to say about his writing process, "When I am working on a book or a story I write every morning as soon after first light as possible. There is no one to disturb you and it is cool or cold and you come to your work and warm as you write."
6) Kurt Vonnegut
Kurt Vonnegut, the American novelist known for his acclaimed work 'Slaughterhouse-five' had a lot to say when it came to his writing process. In a letter to his wife, he wrote, "I awake at 5:30, work until 8:00, eat breakfast at home, work until 10:00, walk a few blocks into town, do errands, go to the nearby municipal swimming pool, which I have all to myself, and swim for half an hour, return home at 11:45, read the mail, eat lunch at noon. In the afternoon I do schoolwork, either teach or prepare. When I get home from school at about 5:30, I numb my twanging intellect with several belts of Scotch and water… cook supper, read and listen to jazz (lots of good music on the radio here), slip off to sleep at ten. I do pushups and sit-ups all the time, and feel as though I am getting lean and sinewy, but maybe not. Last night, time and my body decided to take me to the movies. I saw The Umbrellas of Cherbourg, which I took very hard. To an unmoored, middle-aged man like myself, it was heart-breaking. That's all right. I like to have my heart broken."
7) Leo Tolstoy
Leo Tolstoy who is one of the literary greats. He wrote books that impacted the literary scene of the times like 'War and Peace' and 'Anna Karenina.' His writing process goes something like this – "I must write each day without fail, not so much for the success of the work, as in order not to get out of my routine"
8) Mark Twain
Mark Twain, the renowned author known for his novels like 'Tom Sawyer' and 'The Adventures of Huckleberry Finn' had something to say of his own method. He says that "His routine was simple: he would go to the study in the morning after a hearty breakfast and stay there until dinner at about 5:00. Since he skipped lunch, and since his family would not venture near the study — they would blow a horn if they needed him — he could usually work uninterruptedly for several hours."
You can find more articles like this HERE.
5 Books By Robin Sharma That Make Life Easier
Robin Sharma is an influential writer; he is often known for his 5 am club and the Monk who sold his Ferrari series. Robin has a magnetic personality and mostly trains leadership qualities and how to own success in life. He is a motivational speaker and has tried to embed all his teaching into books to impact lives. Robin Sharma has inspired people through his self-help books and wonderful quotes.
1. The 5 am Club
Winning starts at your beginning. And your first hours are where the great heroes are made. Own your mornings and you'll master your life. 
The 5AM Club is Robin Sharma's masterwork, blending his original insights into legendary leadership, uncommon creativity and exponential productivity with battle-tested tools to help you produce work that allows you to dominate in your field while you live a life that inspires the world. This life-changing book is handcrafted by the author over a  four-year period. You can discover the early-rising habit that has helped so many accomplish results while upgrading their happiness, helpfulness and feelings of aliveness.
2. The Monk Who Sold His Ferrari

A Remarkable Story About Living Your Dreams
Now published in over 42 languages, this #1 International Bestseller by Robin Sharma gently offers answers to life's biggest questions. It's also a practical process to help you create prosperity, vitality, happiness and inner peace. This inspiring tale provides a step-by-step approach to living with greater courage, balance, abundance, and joy. It is a wonderfully crafted fable. The Monk Who Sold His Ferrari tells the extraordinary story of Julian Mantle, a lawyer forced to confront the spiritual crisis of his out-of-balance life.
3. The Leader Who Had No Title
Sometimes it isn't about making a right decision, it's more about making some decision.
For the first time, Sharma makes his proprietary process available to you, so that you can get to your absolute best while helping your organization break through to a dramatically new level of winning in these wildly uncertain times.
In The Leader Who Had No Title, you will learn-
How to work with and influence people like a superstar, regardless of your position
A method to recognize and then seize opportunities in times of deep change
The real secrets of intense innovation
An instant strategy to build a great team and become a "merchant of wow" with your customers.
4. Who Will Cry When You Die 
Live a life such that when you die there are people who will cry for you which means to live a life that has meaning and happiness into it.
Does the gem of wisdom quoted above strike a chord deep within you? Do you feel that life is slipping by so fast that you just might never get the chance to live with the meaning, happiness and joy you know you deserve?. If so, then this very special book by leadership guru Robin S. Sharma, the author whose Monk Who Sold His Ferrari series has transformed the lives of thousands. It will be the guiding light that leads you to a brilliant new way of living. In this easy-to-read yet wisdom-rich manual, Robin S. Sharma offers 101 simple solutions to life's most complex problems.
5. Family Wisdom
Bring true balance into your life and live with greater simplicity, festivity, and fulfillment.
Robin reveals a surprisingly easy yet strikingly effective system that shows you how to awaken the natural leadership potential of your child while restoring your own balance, joy, and inner peace in the process. Written as an entertaining and heartwarming story, Family Wisdom follows the continuing adventures of the now famous Julian Mantle, who first appeared in the worldwide publishing sensation The Monk Who Sold His Ferrari.
Related article- Top 6 Must-Read Books/Novels Of 2019
Bridesmaids, Do You Have A Bridal Survival Kit Yet?
We can hear the wedding bells, can you? Of course, you can! You are the bridesmaid. Well, this means there are lots of responsibilities over your head, right? Do not worry as the bridal emergency kit will help you. Whether it is your best friend's wedding or your sister's wedding, this bridal survival kit is a life saviour.
Are you wondering what should the bridal survival kit have? Well, you should as there could be moments like…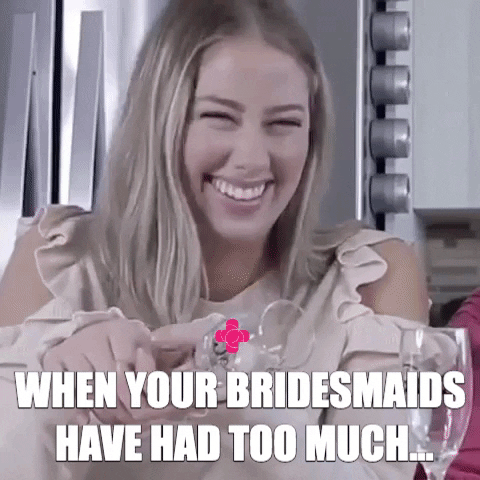 Source: Giffy.com
Worry no more as we brought to you ultimate check list, check it out:
Sewing Kit
Of course, you do not want wardrobe malfunctions, do you? You must carry a sewing kit with you, being the bridesmaid. Safety pins, extra buttons, hooks, thread, you will have everything!
Bandage/ Antiseptic Creams
What if the bride gets hurt? You do not want her foot bleeding of the shoe bite she just had and walk into the ballroom like that, do you? This is why bandage and tropical or antiseptic creams are a must.
Light Snacks And Juices
Last minute anxiety can make your bride hungry and you cannot rely on room service or give her anything which will make her tummy bloat, that dress is already tight enough! Hence, carry some healthy snacks and juices with you.
Tissues/ Wet Wipes/ Blotting Paper
You should carry these without any doubt. Ruined makeup, sweat, smudged kajal or too much spray on the hair, everything can be solved if you have tissues, wet wipes or blotting paper with you.
Dry Shampoo
Hairstyling is risky when you don't like how it turned up to be. Washing hair, again and again, is a task and honestly, the bride does not have the time for that, hence a dry shampoo is an important necessity.
Slippers
Wearing heels all night is pretty tiring and hurts the feet. Your bride would be overjoyed knowing you carried an extra pair of flats for her. Look at you acing the bridesmaid game!
Mints
Yes, anxiety is a real thing and it strikes right before you have to say 'I DO,' so make sure you have a handful of mints for your bride who is feeling anxious or nauseous at the last moment.
Bobby Pins/ Hair ties
No amount of bobby pins and hair ties are enough for a girl and you would agree to it. So carry an extra bunch of them as your bride would definitely need them.
Perfume/ Body Mist
There is a huge possibility that the bride forgets to bring her body mist or perfume, so being a good bridesmaid, you must carry her favorite one or any other nice fragrance for her.
Tampons/ Sanitary Napkins
You know how stress can mess up with the hormones, hence the change in the mensuration date. So, keep some extra tampons or sanitary pads with you for an emergency.
Super Glue
This must be the most underrated item in the list but we swear to you, you will need it and it is a blessing in disguise. So remember the next time the heel broke, you have a super glue with you.
Scissors
An extra thread or lace, scissors are always a help. Even if it comes to opening a package, you do not want to ruin your nails, isn't it?
So, that is all guys, pick up all the stuff and put it in a pretty bag, box or pouch, as the way you like!
The above is an example of how to go with it. Though you can always do it your style and add some more items which you think your bride will require.
For more such news, visit here.