7 Habits Of Successful People By Stephen Covey
In his book The 7 Habits of Highly Successful People (1989), Stephen Covey describes how you can be happier and more effective in life. This book is the result of a long-term study into the principles of success. Success is especially measured by personal performance, skills and status. Stephen Covey argues that lasting success is only possible if you live according to a number of fundamental principles. So what are they? Find out yourself-
1. Be Proactive
We're in charge. We choose the scripts by which to live our lives. Use this self-awareness to be proactive and take responsibility for your choices. The first habit that Covey discusses is being proactive. What distinguishes us as humans from all other animals is our inherent ability to examine our own character, to decide how to view ourselves and our situations, and to control our own effectiveness.
Put simply, in order to be effective one must be proactive. Reactive people take a passive stance — they believe the world is happening to them. They say things like:
There's nothing I can do.

That's just the way I am.
They think the problem is "out there" — but that thought is the problem. Reactivity becomes a self-fulfilling prophecy, and reactive people feel increasingly victimized and out of control. Proactive people, however, recognize they have responsibility or "response-ability," which Covey defines as the ability to choose how you will respond to a given stimulus or situation.
2. Begin with the End in Mind
Start with a clear destination in mind. Covey says we can use our imagination to develop a vision of what we want to become and use our conscience to decide what values will guide us. Most of us find it rather easy to busy ourselves. We work hard to achieve victories promotions, higher income, more recognition. But we don't often stop to evaluate the meaning behind this busyness, behind these victories we don't ask ourselves if these things that we focus on so intently are what really matter to us.
Habit 2 suggests that, in everything we do, we should begin with the end in mind. Start with a clear destination. That way, we can make sure the steps we're taking are in the right direction. Covey emphasizes that our self-awareness empowers us to shape our own lives, instead of living our lives by default or based on the standards or preferences of others. Beginning with the end in mind is also extremely important for businesses. Before we as individuals or organizations can start setting and achieving goals, we must be able to identify our values.
3. Put First Things First
In order to manage ourselves effectively, we must put first things first. We must have the discipline to prioritize our day-to-day actions based on what is most important, not what is most urgent. Habit 3 is about actually going after these goals, and executing on our priorities on a day-to-day, moment-to-moment basis. In order to maintain the discipline and the focus to stay on track toward our goals, we need to have the willpower to do something when we don't want to do it. We need to act according to our values rather than our desires or impulses at any given moment.
All activities can be categorized based on two factors: Urgent and important. Take a look at this time management matrix-
Quadrant II is at the heart of effective personal management. It deals with things like building relationships, long-term planning, exercising, preparation all things we know we need to do but somehow seldom get around to actually doing because they don't feel urgent. In order to focus our time in Quadrant II, we have to learn how to say no to other activities, sometimes ones that seem urgent. We also need to be able to delegate effectively to be successful.
4. Think Win-Win
The idea is to have the courage to seek mutual benefit from all human interactions instead of having winners on the one side and losers on the other. Achieving a Win-Win way of interacting with others is more than just being nice or looking for a quick fix. In fact, a Win-Win solution isn't easy. he Fourth Habit has a profound impact on the quality of your relationships. It helps build long-lasting trust that will make all interactions a lot easier.
In Covey's terms, the Fourth Habit helps make deposits in the emotional bank account of the person you are dealing with. Working with a mentality of abundance can change how you see work and life in general. Rather than feeling envious for someone else's success, you will be genuinely be energized by it. It takes conscious practice so start today. Real successful people win both in personal and professional lives.
5. Seek First to Understand, Then to
Be Understood
Before we can offer advice, suggest solutions, or effectively interact with another person in any way, we must seek to deeply understand them and their perspective through empathic listening. Unfortunately, we do a mistake in our everyday interactions with others. We prescribe a solution before we diagnose the problem. We don't seek to deeply understand the problem first.
Next time you're watching two people communicating, cover your ears and watch. What emotions are being communicated that might not come across through words alone? Was one person or the other more interested in the conversation? Write down what you noticed. Next time you give a presentation, root it in empathy. Habit 5 says that we must seek first to understand, then to be understood. In order to seek to understand, we must learn to listen. Successful people have always been keen listeners.
6. Synergize
By understanding and valuing the differences in another person's perspective, we have the opportunity to create synergy, which allows us to uncover new possibilities through openness and creativity. The combination of all the other habits prepares us for Habit 6, which is the habit of synergy. For example, if you plant two plants close together, their roots will co-mingle and improve the quality of the soil, so that both plants will grow better than they would on their own.
By putting forth a spirit of trust and safety, we will prompt others to become extremely open and feed on each other's insights and ideas, creating synergy. The real essence of synergy is valuing the differences the mental, emotional, and psychological differences between people. Synergy allows us to create new alternatives and open new possibilities. It allows us as a group to collectively agree to ditch the old scripts and write new ones. This is a habit of all successful habits for sure.
7. Sharpen the Saw
To be effective, we must devote the time to renewing ourselves physically, spiritually, mentally, and socially. The continuous renewal allows us to synergistically increase our ability to practice each habit and be successful. Habit 7 is focused around renewal, or taking time to sharpen yourself. It surrounds all of the other habits and makes each one possible by preserving and enhancing your greatest asset that is yourself.
As we focus on renewing ourselves along these four dimensions, we must also seek to be a positive person for other people. We must look to inspire others to a higher path by showing them we believe in them, by listening to them empathically, by encouraging them to be proactive. The real beauty of the 7 Habits is that improvement in one habit synergistically increases our ability to improve the rest of the habits mentioned. These successful habits will prove to be the best.
Related article- 2 Minute Habits That Will Change Your Life For Good
Mahabharata And Its Many Sides
Mahabharata is one of the greatest Indian epics. It has been told and spread from ages. In addition, it is not just the Indians but also foreign scholars who look at the book in awe. Similarly, in modern days, more and more authors are presenting the text from different perspectives. Read about this book here in this post.
Mahabharata
The reason why the book is so popular and looked up to is that every possible dynamic of human relations, of statesmanship, of politics, warfare and diplomacy are all there in the book. Moreover, what makes it even more special is that all the things that have been written about are still relevant even today day.
However, Mahabharata was written centuries ago. Therefore, it is much different from what things are today. For instance, we got the term feminism now, women are much different than those times. Most women today even take up jobs and work for earning. In addition, due to the freedom of speech, more people can take up artistic fictional perspectives on the great epic.
Books that are Retelling of Mahabharata
The Palace of Illusions
The book is written by Author Chitra Banerjee Divakaruni.  The book talks about the tale of Mahabharata from the perspective of Draupadi. Draupadi or Panchaali was the daughter of the King of Panchaal and the wife to five Pandav brothers. It is a celebration of womanhood, sacrifice and the strength of Draupadi. She indeed has seen a lot of hard times and this was beautifully captured from the woman's perspective in this book by the author.
The book was available for free on Kindle when the lockdown started and it was surely a big gain for the readers.
Get the book here. 
Jaya: An Illustrated Retelling of Mahabharata
This book is one of the books written by famous mythological author Devdutt Patnaik. In addition, the speciality of the book is that it has more than  250 illustrations by the author himself. He has done a great job of simplifying the Sanskrit verses and adding details that are lesser-known.
Karna's Wife: The Outcasts Queen
This is another of the feminist retelling. Kavita Kane is a famous feminist writer. It tells the story of Mahabharata from Uruvi, Karna's wife's perspective.
I, Duryodhana
The book is written from the perspective of Duryodhana who is rather not on the good side as everyone may say. Get the book here.
The Kurukshetra War series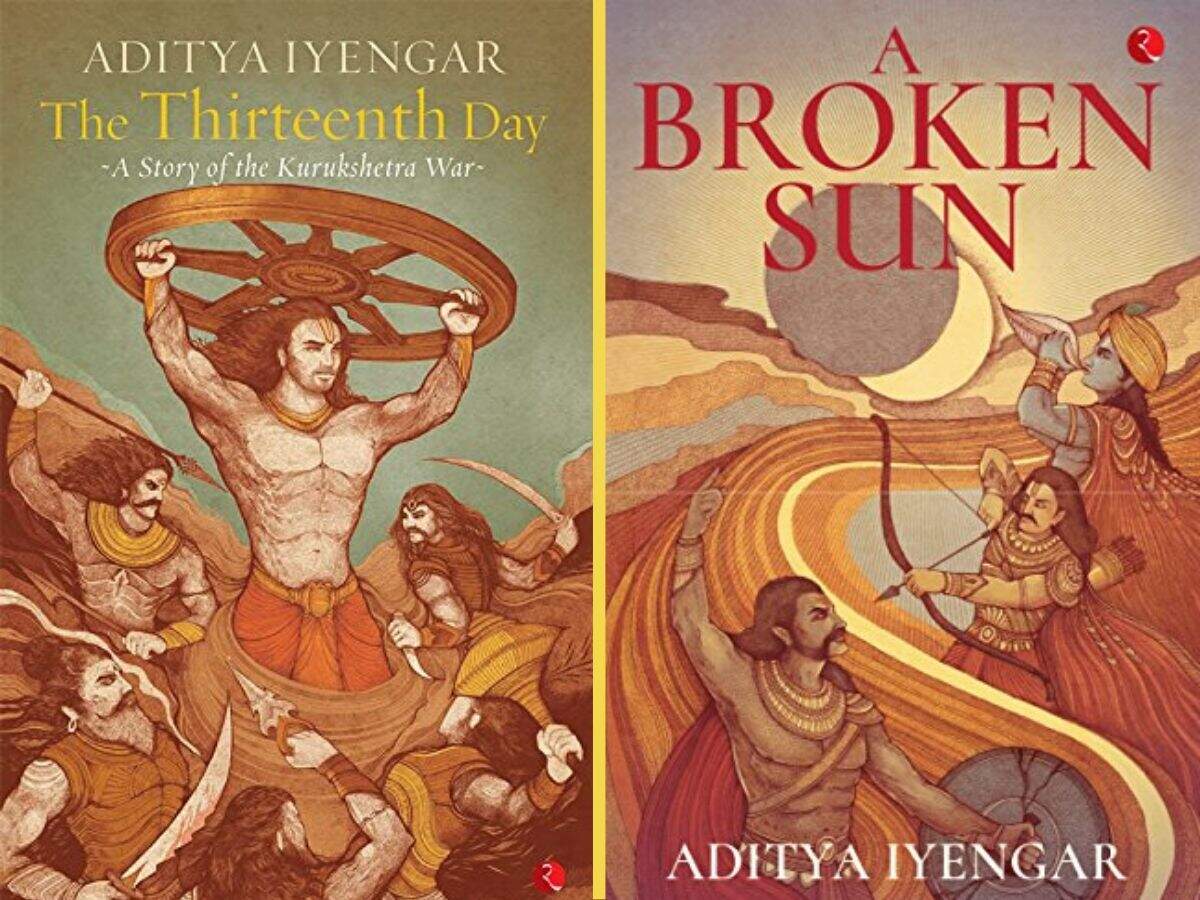 This series written by Aditya Iyengar consists of two books. The first book is about the thirteenth day of the way when the three most sought after warriors of the Kaurava clan left the battle. Similarly, the second part of the series follows the events that take place after the thirteenth day.
Ajaya
Jaya means victory in Hindi. In Ajaya, author Anand Neelkantan has shown the other side of victory. That is, he has written the book from the Kauravas point of view. Get the book here.
Arjuna: Saga Of A Pandava Warrior-Prince
The book is a detailed retelling from the perspective of Arjuna. It follows his life right from his birth till his death. In addition, it also reveals a lot of the emotional side of Arjuna.
Yudhistar and Darupadi
The text is written in the form of a poem. The Hindi translation of the book is done by none other than Gulzar.
Mahabharat series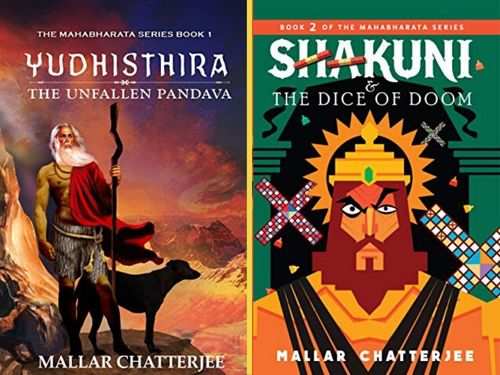 This is also another series of two books. However, it is quite different from other series. Each of the two books puts forth two opposing views of the great war. For instance, one of it tells the story from the Pandavas side. On contrary, the other one says the story from the opposite view of the Kauravas.
Don't forget to read Dr. Shashi Tharoor On What To Read
How To Tackle Emotional Blackmail In A Relationship
Emotional blackmail is when a person tries to manipulate you to make you do things their way. They use your feelings to control your behavior. And this kind of nature might be seen in some relationships where one partner manipulates the other to get their work done.
The examples of emotional blackmail are very subtle and they are generally exhibited in one's body language and disappointment. So, people should prevent this kind of behavior when they feel that they are manipulated in a relationship. So, here's everything you should know about it.
Examples of emotional blackmail and how to handle this?
Signs of emotional blackmail
These are the subtle signs of this behavior:
Demand: They will demand from their partner to not meet a particular friend or do a specific thing. This would be conveyed in a subtle way.
Resistance: If the other person tries to resist it, then their partner will push again indirectly to make that happen.
Pressure: Next, they will pressurize directly. There are high chances that they will try to criticise or demean the person.
Threats: When nothing is working, they will directly threaten to get the things done.
Compliance: Then, they'll have to agree with their partner and listen to what they say. The conflict will be over and their partner will be nice to them for doing what they want.
Repetition: When such a situation arrives, they will know how to play with your mind to make you do their work. They will keep controlling their behaviour.
Other examples of emotional blackmail
Some people use other tactics to manipulate their partner's feelings such as the following:
Punish: They will punish their partners for not obeying their orders.
Self-Punishers: Here, people will punish themselves to make their partner feel bad for not listening to them.
Tantalizers: People will use kind gestures and words to manipulate their partner's mind. They will be extremely nice while demanding something.
What to do?
Handling this kind of situation is quite tricky. You have to be calm and think wisely to react to such things. So, here's what you can do:
First, keep calm and take time to think about what your partner wants.
Start a conversation with him or her. Try to convey your feelings. Tell them how you feel when they demand something illogical.
Show them that love doesn't include blackmail. It may seem common knowledge, but we do forget at a rapid rate as things are always going left right and center when we are alive. You need to instil the knowledge that whenever they demand something from you, they must be prepared for yes or no and not threaten you or start whining about hurting themselves when they get a response they did not expect.
You can also seek professional help to resolve these matters.
FIN
Please visit LLL Lifestyle for fresh and informative articles
7 Great Ways To Be Kind To Yourself Today
Elizabeth Gilbert writes in her bestselling book, "Eat, Pray, Love", that one day she walked into a building in New York City in a hurry. She was dashing toward the elevator when she caught a glimpse of herself in a mirror. However, she didn't immediately recognize herself. Instead, she thought: "Oh, look! I know her. She's my friend." In order to recognize yourself as a friend, you have to be kind to yourself. If you're not sure how to do this, you're in the right place. Look at some ways you could be a little kinder to yourself today.
Carve Out Some Time For Yourself
Time is precious we all know. But how much have you invested in yourself? Give yourself the best gift anyone could give- time. Every day carve out some time for yourself and do something that brings you joy. You can draw, journal, write short stories, play a musical instrument, or do anything else that you love to do. Be kind to yourself by giving yourself some "me time" each day.
Believe In Yourself 
When things are as challenging as they are, sometimes the best course of action is to simply believe in yourself. Remember what you have done to get where you are and know that the same belief will get you to where you want to go. Once you start to believe again, step outside and scream it as loud as you can so the world can hear your conviction.
Give Yourself Recognition
Often, we're quick to acknowledge the achievements of others, but slow to acknowledge our own. That has to stop. Become aware of your own achievements and give yourself recognition. When you do something you're proud of, stop for a minute and dwell on it. Praise yourself and relish the achievement. Complement yourself. Pat yourself on the back and say the following: "Kudos to me!"
Positive Affirmations
Optimism is the key to any journey. The journey of self-kindness definitely needs a positive outlook. Give yourself that much-needed pep talk. You know the one. The one that starts with "I am great and I can do whatever I want" and ends with "And I know in my heart all of this to be true." Not only will it change your trajectory but it will also drastically improve a bad mood.
 

Respect Yourself
Self-respect is valuing yourself for who you are, and not allowing others to dictate your value. It's trusting yourself, thinking for yourself, forming your own opinions, and making your own decisions. In addition, it's refusing to compare yourself to others. Finally, self-respect is about keeping your promises to yourself and following through on what you tell yourself that you're going to do. Be kind to yourself by deeply respecting yourself.
Soothe Yourself
Did you have a tough day? Did you get into an argument with a co-worker or a friend?  Bombed your presentation? Was it one of those days in which everything that could wrong, did go wrong? Be kind to yourself by soothing yourself. Do the following: Soak in a hot tub. Add scented bath oil. Give yourself a scalp massage. Rub your feet. Do something to relax and rejuvenate.
Accept Yourself
Only in true acceptance lies happiness. Love is unconditional acceptance. Accept yourself as you are. You have strengths, and you have weaknesses. Sometimes you succeed, and sometimes you fail. Sometimes you're right and sometimes you're wrong. Allow yourself to fully be who you are. This is the beginning of your journey towards self-love and kindness.
Also read- Decoding Empathy