10 Scandalous Allegations Against Rhea Chakraborty
In the wake of the demise of 'Chhichhore' actor, Sushant Singh Rajput a myriad of scandalous allegations against Rhea Chakraborty have surfaced on the Internet. Recently, the bank statements of Sushant's bank account were released which show that it was an 'organised loot' led by Rhea. His finances significantly depleted in the span of three months where he spent a whopping Rs 3 Crores on Rhea- her hair and make-up, shopping, and her brother Showik's tuition fees to name a few. Moreover, Rhea is on a run as when the Bihar Police went to the house, she was nowhere to found.
Owing to health issues, KK Singh, Sushant's father said that even won't be able to go to Mumbai to fight the case. Sushant was found dead in his Bandra flat in Mumbai on June 14.
Here are some of the allegations made by Rajput's father:
➜ The case has been lodged under various sections of IPC including 341 (punishment for wrongful restraint), 342 (punishment for wrongful confinement), 380 (theft in dwelling house), 406 (punishment for criminal breach of trust), 420 (cheating and dishonestly inducing delivery of property) and 306 (abetment of suicide) and 120(B).
➜ KK Singh claimed that Sushant's suicide was a 'well-planned conspiracy' by Rhea.
➜ Rhea "befriended Sushant to climb the ladder of success in Bollywood" and added that, "she wanted to grab his son's wealth and interfered in every decision of his."
➜ He also asserted that the actress was aided by her family members, including her parents since they all were looking to "purloin the assets of my son worth crores of rupees and started interfering in all aspects of his life."
➜ KK Singh also wants the police investigation to ascertain where the Rs 15 crore deposited in a bank account held by Rajput was transferred.
➜ He also exclaimed that Rhea manipulated Sushant to leave his own residence and stay at a resort in the vicinity of Mumbai claiming his house was "haunted".
➜ Furthermore, he alleged that Chakraborty got Sushant treated by some "conniving" doctors for mental illness while keeping his family in the dark.
➜ "At one point in time, my son decided to give up films, settle down in Coorg and pursue farming. He was blackmailed by Chakraborty who threatened him that she would make his medical history public and let the world know that he was mentally unstable, putting his career in jeopardy," he alleged in the FIR.
Money Laundering 
➜ Rhea Chakraborty and five others stating that a sum of Rs 15 crores were taken from the late actor Sushant Singh Rajput's bank and had been transferred to accounts which had no relation to the late actor.
        ➜ "With a balance of over Rs. 4 crores, 62 lakh in November 2019, Sushant's bank balance reduced to just little over Rs. 1 crore in Feb 2020, documents showed.  From flight tickets worth Rs. 81, 000 for Showik Chakraborty,  Rhea's hair, makeup, shopping, parlour expense, worth over 1 lakh, to her expenses," Sushant's bank statements disclosed these.
Administering Drugs
Samee Ahmed, Sushant's trainer in the sting investigation, stated that things were 'different' when he was with Rhea.
➜  The fitness trainer alleges, "The medication that the doctor was giving… even before the medication did he do any counselling session with Sushant? You need to do counselling therapies as well. If the doctor himself didn't know about the counselling session, didn't know the root cause of his depression, then how could he prescribe him a medicine?"

We don't know if these allegations are true or not. But if these allegations are true, we pray that Sushant gets justice that he rightfully deserves.
Check Out.
Celebrity Twins Who Are Poles Apart
Nepotism in the film industry is a hot topic these days. People who are in this fraternity already, often give their family or friends a chance to join the same line of work as them. In Bollywood or in Hollywood, the siblings jump on the bandwagon of joining the film industry. We bring to you a few celebrity twins who poles apart. Not only they look different, but they are also far from what their famous siblings do.
Vin Diesel and Paul Vincent
Mark Sinclair, popularly known as Vin Diesel is an American actor, producer, director, and screenwriter. He is best known for playing Dominic Toretto in the Fast & Furious franchise, making him one of the highest-grossing actor of all time. While Vin Diesel has managed to earn worldwide stardom, and accumulate a wealth of an estimated $160 million, his twin brother, Paul Vincent (Sound editor), prefers to stay out of the spotlight. Therefore, very little is known about him. He has also collaborated with Vin Diesel for several of his movies, including the "Fast and Furious" franchise.
Ashton and Michael Kutcher
Ashton Kutcher is an American actor, producer, and entrepreneur. He recently starred in the movie The Long Home (2019) alongside other big stars like James Franco and Josh Hartnett. However, his twin brother, Michael Kutcher, is an American businessman, public speaker, and advocate for children with cerebral palsy and organ donation. By age three, Michael was battling significant developmental delays. He was diagnosed with Cerebral Palsy before he entered kindergarten and also had a life-saving heart transplant as a teenager as a result of heart failure brought on by a virus. The celebrity twin is hard to believe.
Rami and Sami Malek
Rami Malek, an American actor and producer who is best known for his American drama series Mr Robot. While his twin brother, Sami Malek, who was born four minutes later, has stayed away from the limelight. He is a qualified teacher. Moreover, they also have an older sister,  Yasmine Malek, who is a physician.
Scarlett and Hunter Johansson
Everybody who loves Hollywood definitely knows about Scarlett Johansson. From North to the Avengers Endgame, she has appeared in many movies. She one of the highest-grossing actress in Hollywood. His twin brother, Hunter Johansson is also an actor. He has played a major role in  Manny and Lo and Entertainment Night. Furthermore, Scarlet Johansson's upcoming movies are Black Widow and Sing 2 whereas his twin brother doesn't seem to have any upcoming projects.
Gisele and Patricia Bündchen
It is hard to believe but they actually are twin sisters. Gisele Bündchen joined her first modelling class with her twin sister Patricia, she was the only one to move up in the industry. Patricia Bündchen, however, didn't harbour any resentment towards her twin sister and decided to dedicate her time towards helping manage Gisele Bündchen's career. Over the years, Patricia Bündchen has worked as Gisele's manager as well as her spokesperson. This arrangement seems to suit them perfectly, especially since Patricia Bündchen is reportedly very shy, compared to Gisele's outgoing personality. The Celebrity twins support each other in hard times.
Check this out: https://littleletterslinked.com/the-jonas-family-welcomes-a-baby-girl-willa-jonas/
The Grand Welcome and Name of Baby Pandya!
Just a week ago we came to you with the amazing news about Hardik Pandya and Natasa who became proud parents of a baby boy. The celebrations have been going on in the Pandya household ever since then. In addition to the new parents, the cricketer's older brother and sister in law are also overjoyed with the arrival of the cute munchkin. Read this post about how the Baby Pandya spent his first week and much more.
Meet the Pandya Family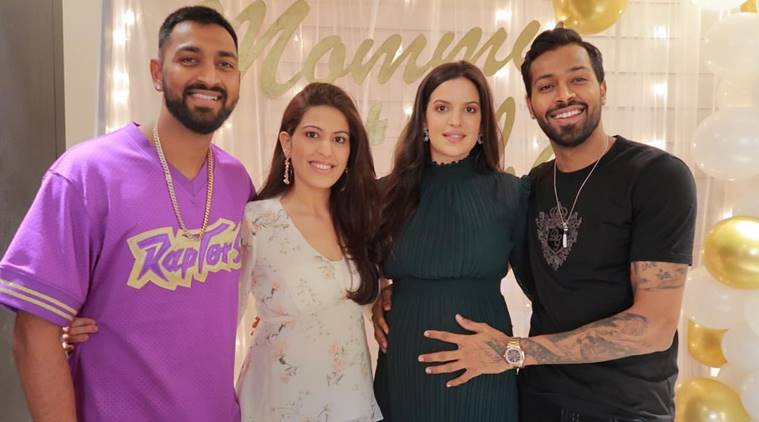 Not just Natasa and Hardik but it is the whole family who cannot contain their happiness since the arrival of the little one. In return, we get to watch cute pictures and celebrations that are taking place on the joyous arrival of Baby Pandya.
We saw the first glimpse of the Baby Pandya from an Instagram post made by the father himself, Hardik Pandya.
Later on, the parents celebrated with the team of doctors who brought their bundle of joy in the world. We also saw Natasha in her post-pregnancy glow. After all, that's the magic of motherhood right? It makes you forget all the pain, all the sleepless nights, and everything else and still gets you that glow which just becomes brighter when you are with your little one.
Not just Hardik, others from the family too shared their happiness and love for the little one. For instance, Krunal Pandya was one of the happiest as he became 'Bade Papa' to the little munchkin.
Even the sister in law, Pankhuri had a special message of Baby Pandya. "Welcome to the Mad House" read her post on Instagram.
Fatherhood
Hardik is getting used to the new life with the baby now at home. However, the humor won't easily die! For instance, Hardik, after shopping for diapers went ahead with a special way to inform the new mommy that the diapers were on their way.
The Homecoming
With the arrival of Baby Pandya, Pankhuri Sharma organized a surprise for the couple and a small welcome for the baby. Along with the welcome, we also got a peek into the name chosen for the baby.
The cute baby goes by the name 'AGASTYA'. The name appeared on the cake ordered to welcome the mother and the baby back home. "Welcome Nats and Agastya" read the cake. Check it out here.
TV Actor Sameer Sharma Found Dead At Mumbai Home
TV actor and model Sameer Sharma has been found dead at his home in Mumbai last night, police said.
The 44-year-old actor-seen in the popular television shows of Balaji Telefilms "Kyunki Saas Bhi Kabhi Bahu Thi" and "Kahaani Ghar Ghar Ki"-was found hanging in his Malad flat 's kitchen, police said, adding that they suspect himself was murdered. A security guard found his body which alerted other members of the apartment complex. The actor had been staying at the Malad home on loan.
An accidental death case has been reported. "We have not found any proof indicating that he might have been killed. So far, no suicide note has been found at the building. We are still investigating the case. It is believed that two days ago he hanged himself." said senior inspector George Fernandes of the Malad Police Station.
Later the members of the society told the police who rushed to the spot and took Sharma to a hospital where he was brought to death by doctors, another official said. Now, the body has been sent for autopsy and the officials are waiting for the reports.
ANI confirmed that the model, Bollywood and TV actor had been found hanging from his kitchen ceiling at his Malad West residence on Wednesday night, An accidental death report was registered, body sent for autopsy. Looking at the state of the body, it is believed that, two days ago, he died of suicide: Malad Police, ANI shared.
Sameer Sharma was found hanging from his Kitchen Ceiling.
TV actor & model Sameer Sharma was found hanging from his kitchen ceiling at his residence in Malad West last night. Accidental Death Report registered, body sent for autopsy. Looking at body's condition, it's suspected that he died by suicide two days back: Malad Police. #Mumbai

— ANI (@ANI) August 6, 2020
The 2009 Bollywood movie, "Hasee Toh Phasee," also starred Samir Sharma-a familiar face on the small screen- He has appeared in various TV shows- "Dil Kya Chahta Hai," "Geet-Hui Sabse Parayi" and "Left Right Left".
His Iss Pyaar Ko Kya Naam Doon is in tears, co-star Geetanjali Tikekar is unable to get over the sad news of Sameer's demise.
"I'm not in a place to get over the news. I'm deeply shaken. He was a good friend. Indeed, we've been in touch with each other throughout and even after the series. In fact, Sameer and my husband Sikandar Kharbanda were in contact with each other during the lockdown. He shared such a great bond with us all. Moreover, I bring a few people into my life who become an integral part. Sameer is one such friend." she said.
Expressing the grief over his sudden demise, Varun Dhawan posted a photo of Sameer Sharma to his Instagram stories and wrote "#ripsameersharma." On the other hand, Sidharth Malhotra shared the image of the late actor from their movie Hasee Toh Phasee, and wrote, "Very sad and unfortunate"
His parents are based in Bangalore. He was also living separately from his wife. Police is further investigating to find if he was having any financial difficulty.
❤️ Sameer Sharma

— Shraddha (@ShraddhaKapoor) August 6, 2020
Nearly two months after Bollywood actor Sushant Singh Rajput was found dead at his Mumbai home, condolences poured on social media as the news of his death spread. Death of the 34-year-old had sparked debate over mental health.