10 Motivational Quotes For The Girl Boss In You!
Girl power should always be encouraged. Even though many works towards women empowerment, often times the girl boss in us starts feeling low. In such cases, many movies and books can be a help. However, it is not always that the amazing girl boss and even the womentrepreneurs have time for this in their hectic schedule.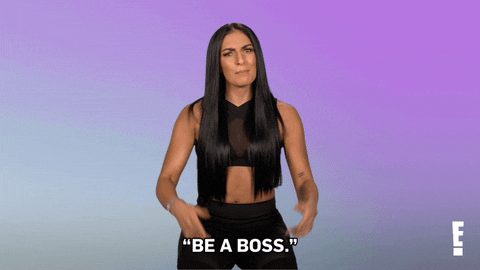 Source- Giffy.com
So, we present to you 10 mind-blasting, amazing and motivational quotes for the all-girl boss and womentrepreneurs out there:
Do you hear that girl?
Let us break those stereotypes, shall we?
Begin fulfilling all your dreams. The time is now!
'You,' is all you have forever.
The only person you need to find is you.
Every woman will relate to this.
Women for women, remember?
Always know your worth.
Don't let your emotions drive you.
Remember, you are powerful!
These were some of the most inspirational quotes which will help you pick up your yourself on the days you are feeling low and drained of energy. Remember girl, you are worthy of all the good things in life. So, never settle! Now, let us spread the word across and encourage women empowerment all across.
Are you ready for the change? And to build the empire of your dreams?
For more such news, visit here.
This One Trick Can Help You Lose Weight
We all try our best to lose weight, isn't it? We try so many things out of comfort zone. These include gym memberships, strict diets, disciplined lifestyle, herbal teas! Yes, we try so hard only to shed a few kilos off our body weight or fat percentage. But what if we tell you that there is one simple tip which can massively help you lose weight? Yes, just a simple lifestyle change and you are done!
Firstly, let us tell you what happens when you overthink about losing weight. Thinking about losing weight often leads to losing your mind. Thus, in such circumstances, you ruin your eating habits. Then, either you stop eating, each leads to starvation and starvation leads to bloating. Or you eat too much, which again is ruins the game plan!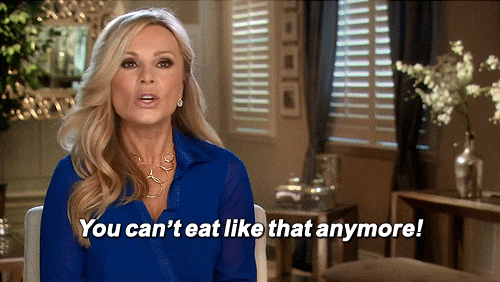 Source: Giphy.com
So, what is the secret trick?
By now, you must be really curious as to what is the secret trick, right?
Well, the tip is to simply change your eating habits. That is, to eat your dinner 2 hours prior to sleep. Now, that sounds too easy for massive weight loss, isn't it? But what if we assure you that this minor lifestyle change in your eating habits will be the number one help in losing weight? Will you believe us then?
For instance, if you are planning to sleep at 10:30 p.m., eat your dinner by 8:30 p.m. and so on!
But remember another thing, you need to let go of carbs for your dinner or else even a 2-hour gap would not help in the digestion. And we do not want any fat getting stored in our body, is it?
So start by the following table:
Day 1; 8:30 p.m. Vegetable soup with extra tofu, broccoli and mushrooms.
Day 2; 8:30 p.m. Grilled chicken or tofu with extra veggies and clear soup.
Day 3; 8:30 p.m. Besan cheela with tomato or onion gravy or baked potato with brown rice.
Day 4; 8:30 p.m. Repeat Day 1
Day 5; 8:30 p.m. Repeat Day 2
Day 6; 8:30 p.m. Repeat Day 3
Day 7: CHEAT DAY!!
So, from today onwards, all you have to do is time your dinner and sleeping schedule. Believe us, soon you will notice many changes, especially in your belly. A flat stomach and tight core is definitely coming your way! The only question is what are you ready for the change and reach your fitness goals?
If you know more such simple tips and tricks to lose weight, mention them in the comments.
For more such news, visit here.
Fashion Mantras To Look Your Best Every Day
"It's a new era in fashion – there are no rules." – Alexander McQueen
Fashion is different for all. We all have a different sense of fashion and our taste totally depends on our mood. But don't we all have a set of fashion mantras that we swear by? These mantras help us glide through everyday life without any stress. Well, if you've never thought about it, let's introduce you to our fashion mantras and maybe these will become your guide to looking your best every day. Here come the hacks.
Accessories: The More, The Merrier
You might have heard a lot of people tell you this, but honestly, the right accessory can completely change the way you look. You can wear your plain white shirt for a wedding if you accessorize it right. Yes! That's the power of accessories. Just wear a printed skirt and top your look with a statement neckpiece and you're good to go. Best part? You can also repeat the same outfit and look completely different from another pair of accessory!
Here Deepika has styled the most basic outfit with a pair of golden hoops & red heels, making a statement.
Always Wait For The Big Sale
Plan your shopping days around sales, and there are many these days, so you don't really have to wait for long. It'll be easier on your pocket and you'll be able to avoid impulsive buys. Speaking of sales, the most popular Black Friday Sale is here! Shop from your favourite brands at the Pacific Mall and avail amazing discounts.
Research Before Putting On A Look Together
Internet is a powerful tool. There are so many trends that keep coming and going. Going to a mall without knowing what you want can be time-consuming and a little heavy on the pocket.  Research before you put a look together so that it becomes easy for you to shop.
Try-On Clothes Before You Buy Them
How many times has it happened that you've picked something up from a store without trying it? You may be confident about your size when it's your regular brand, but you still need to try a piece of clothing on before you pay for it. Of course, you can always exchange/return, but more often than not, we get lazy and the outfit stays in the wardrobe for years. No wasting hard-earned money, right? So, try it before you buy it!
Know Your Body Type
Trends change really fast and know what suits your (beautiful) body type. We are the kinds who believe that fashion is about feeling good about yourself. Which is why knowing what suits your body is the best way to go about it. Know your body type and pick outfits that fit them well.
Reuse and recycle
Sustainability is the need of the hour! Even with your fashion choices, you can make a lot of difference and still make stylish statements. One example: Get your mother's old saree and make a great outfit out of that (maybe a maxi dress or a pretty skirt). You can also reuse your old T-shirt and tie a knot to turn it into a crop top. There are countless possibilities stored in your wardrobe right now, you just need to take a closer look.
Be confident
Self-confidence goes a long way. Try to embrace who you are and stay happy with the way you look. Confidence is the key to rock any look and that, my friend, is the only mantra you need sometimes!
Tips To Let Someone Down Gently In A Relationship
Not every relationship works out. And we cannot always say yes to every person we meet. It often happens that no matter how nice a person is, you still might not get along with them or they just won't be "the one" for you and you have to simply let them down.  It's very important to say no and let someone down without being rude and it's not as simple as it sounds.
Here are some tips to let someone down gently
1. It's very important to understand that you're being unfair to the other person if you haven't told them what's on your mind. You've been dragging them along while you have no plans of taking your relationship with them any further all this while and they have been emotionally invested in it. This is why it is very crucial to be upfront about your feeling with the other person without any delay whatsoever. Remember that the longer you wait, the more hurt they will be!
2. Never let someone down or end things with someone you've been in a relationship with via phone or text unless you're in a long-distance relationship. Getting closure is as important for them as it is for you so, don't deny them the opportunity to get the closure that they deserve.
3. Don't focus on their mistakes and the reasons why it didn't work and all the other negative aspects of your relationship. Simply focus on the positives and how it can open up new doors for both of you and the good memories you shared would be a better or rather a more positive way to end things.
4. Avoid making up excuses and lies in order to make things easier for you and your partner. Truth has a way of coming around and when it does it will leave your partner hurt and angry and it may even jeopardize any relationship you share in the future, be it friendship or anything else. Moreover, it often happens that your partner can tell if you're lying and it only adds more insult to the injury and makes things worse for them.
JUST SAY NO
5. Breakups are tough even if you were in a casual fling or whatever it may be. But it's important to ensure that when you let someone down, you don't leave anything lingering. You don't want them to live with hopes that things might turn around in the future. Ensure that you end things with immense clarity and make your stance very clear to them.
6. After you end things with a person, it's essential to give that person some space and let them heal. Don't expect them to immediately jump into a friendship with you because it might end up in a disaster. You do not want them to constantly struggle with their feelings just to keep you happy.
7. After letting someone down, you need to absolutely avoid jumping in bed with them. It's very easy to get back with your ex or simply hook up with your old fling but this only complicates things and makes them messy. Avoid making this messy mistake.
For more check out https://littleletterslinked.com/category/lifestyle/